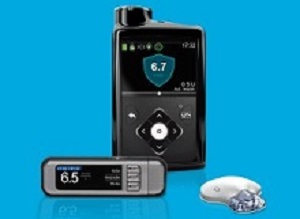 Among first-time users of a new insulin pump that automatically delivers insulin to people with type 1 diabetes, nearly one-fifth stopped using the device, primarily because of difficulties meeting the technical demands system, according to research e presented at ENDO 2019, the Endocrine Society's annual meeting in New Orleans.
Results of a real-world study of the hybrid closed loop insulin pump (Medtronic MiniMed 670G) were presented at ENDO 2019, the Endocrine Society's annual meeting in New Orleans.
"Closed loop insulin pump therapy is the most exciting new development in type 1 diabetes in decades because it acts as an artificial pancreas," said co-lead investigator Dr Gregory Goodwin, a senior associate physician in medicine at Boston Children's Hospital. "But this technology needs to become more user friendly."
The MiniMed 670G is the first US Food and Drug Administration-approved insulin pump that automatically delivers basal, or background, insulin to control blood glucose variations throughout the day, according to the manufacturer, which did not fund this study. Unlike standard insulin pumps, which can continue to deliver insulin even when blood sugar is too low, the new system turns off in that situation or delivers less insulin, Goodwin said. The device, he explained, still requires users to calibrate their blood sugar values between the accompanying sensor, called a continuous blood glucose monitor (CBGM), and their fingerstick blood tests.
Goodwin and his colleagues at the hospital's diabetes clinic prescribed the device to 83 patients who requested it between May 2017 and September 2018 and who had experience with an insulin pump and CGM. A manufacturer's representative trained patients on the system. Patients ranged in age from 6 years to 25 years, with most in their teens. The pump is now approved for ages 7 and up, but until June 2018, it was approved for patients ages 14 and older.
Sixteen patients (19%) stopped using the new technology within months, the research team reported. Goodwin said the main reasons for discontinuation were that it required too many calibrations or dissatisfaction with the device forcing exits from auto mode for various reasons. On average, 67 patients, or 81%, continued to use auto mode, as opposed to adjusting insulin levels manually, but time in auto mode ranged widely, from 10 to 90 percent.
A total of 58 patients who continued to use auto mode had haemoglobin A1C values – a measure of blood sugar control over several months – for six months before and six months after starting to use the device. On average, after 97 days using auto mode technology, the group had an A1C decrease of 0.27%. Although this improvement was statistically significant, the decrease was less than that reported in controlled research studies.
"Patients can reap the full benefits of the system in auto mode," Goodwin said, "but this technology is demanding and requires a technically sophisticated patient or parent to use it."
Abstract
An observation study was conducted at Boston Children's Hospital on patients with type 1 diabetes mellitus (T1DM) who elected to treat their diabetes with the FDA approved Medtronic 670G hybrid closed loop insulin pump. 83 pediatric and young adults were trained and started on the Medtronic 670G in automode between 5/30/17-9/7/18 (Age range 6-25 years). Average follow up time for the patient population was 8 months (range 3-18 months).
19% (16/83) of T1DM patients discontinued use of automode hybrid closed loop technology completely, often due to technical difficulties with the sensor or difficulties staying in automode. Calibration requirements, problems with sensor durability or adhesion, skin irritation and forced exits from automode were common areas of difficulty. 81% (67/83) continued to use automode although a wide range of percent time in automode was observed (10-90%).
A subset of 58 patients who continued to use automode technology and who had available hemoglobin a1c data obtained within 6 months before and within 6 months after starting automode were analyzed . A mean decrease in hemoglobin A1c of 0.27% (95% confidence interval is -0.5, -0.03) was seen after an average of 97 days using automode closed loop technology (P=0.025).
In conclusion, our data supports the observation that closed loop insulin delivery in subjects that are successful in using the technology improves glucose control (reduces HbA1c). Additional work is needed to understand barriers to successful implementation of technology.
Authors
Gregory Goodwin, Gretchen Waldman, Justine Lyons, Adeolu Oladunjoye, Garry Michael Steil
[link url="https://www.endocrine.org/news-room/2019/endo-2019—new-hybrid-closed-loop-insulin-pump-proves-hard-to-use-for-some-patients-with-diabetes"]Endocrine Society material[/link]
[link url="https://www.abstractsonline.com/pp8/#!/5752/presentation/17163"]ENDO 2019 abstract[/link]