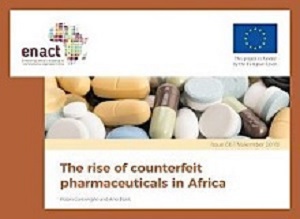 Almost half the fake and low-quality medicines reported to the World Health Organisation between 2013 and 2017 were found to be in sub-Saharan Africa, found an EU-funded report.
Moustapha Dieng came down with stomach pains one day last month he did the sensible thing and went to a doctor in his hometown of Ouagadougou, Burkina Faso's capital. The Times reports that the doctor prescribed a malaria treatment but the medicine cost too much for Dieng, a 30-year-old tailor, so he went to an unlicensed street vendor for pills on the cheap. "It was too expensive at the pharmacy. I was forced to buy street drugs as they are less expensive," he said. Within days he was hospitalised – sickened by the very drugs that were supposed to cure him.
The report says an EU-funded policy brief has found tens of thousands of people in Africa die each year because of fake and counterfeit medication. The drugs are mainly made in China but also in India, Paraguay, Pakistan and the UK. Almost half the fake and low-quality medicines reported to the World Health Organisation (WHO) between 2013 and 2017 were found to be in sub-Saharan Africa, said the report, also backed by Interpol and the Institute for Security Studies. "Counterfeiters prey on poorer countries more than their richer counterparts, with up to 30 times greater penetration of fakes in the supply chain," said the brief.
Substandard or fake anti-malarials cause the deaths of between 64,000 and 158,000 people a year in sub-Saharan Africa, the brief said.
The counterfeit drug market is worth around $200bn worldwide annually, WHO says, making it the most lucrative trade of illegally copied goods. Its impact has been devastating. Nigeria said more than 80 children were killed in 2009 by a teething syrup tainted with a chemical normally used in engine coolant and blamed for causing kidney failure.
The report says for Dieng, the cost can be measured in more than simple suffering. The night in hospital cost him more than double what he would have paid had he bought the drugs the doctor ordered. "After taking those drugs, the provenance of which we don't know, he came back with new symptoms … All this had aggravated his condition," said nurse Jules Raesse, who treated Dieng when he stayed at the clinic last month.
The report says fake drugs also threaten a thriving pharmaceutical sector in several African countries. That has helped prompt Ivory Coast – where fake drugs were also sold openly – to crack down on the trade, estimated at $30bn last year.
Ivorian authorities said last month they had seized almost 400 tons of fake medicine over the past two years. Able Ekissi, an inspector at the health ministry, is quoted as saying the seized goods, had they been sold to consumers, would have represented a loss to the legitimate pharmaceutical industry of more than $170m. "They are reputed to be cheaper, but at best they are ineffective and at worst toxic," Abderrahmane Chakibi, MD of French pharmaceutical firm Sanofi's sub-Saharan Africa branch.
But, the report says, in Ivory Coast, many cannot afford to shop in pharmacies, which often only stock expensive drugs imported from France, rather than cheaper generics from places like India. "When you have no means you are forced to go out onto the street," said Barakissa Cherik, a pharmacist in Ivory Coast's lagoon-side commercial capital Abidjan.
The EU-funded policy brief was released by Robin Cartwright, an executive director at UK Government Investments within HM Treasury; a director at Social Finance and a senior fellow at the Global Initiative Against Transnational Organised Crime and Ana Baric; writer and anti-corruption advocate.
They write: "The growing phenomenon of counterfeit medicines in Africa puts people's lives at risk and causes profound public health challenges.
"Sustainable Development Goal 3 (SDG 3) places significant emphasis on populations' health, and sub-target 3.8 specifies access 'to safe, effective, quality and affordable essential medicines and vaccines for all'. Yet, remarkably missing from the discourse around achieving this goal is the need to address the growing phenomenon of counterfeit medicines, which disproportionately affects developing countries.
"Counterfeit medicines put people's lives at risk, finance criminal groups and cause profound public health challenges. The full scale of the challenge in Africa is not fully understood, but research suggests that the problem and its impact are severe.
"If the continent is to make headway in achieving SDG 3, the issue of counterfeit medicines must move higher up on policy agendas. Experience elsewhere suggests that there would be scope for significant positive results."
[link url="https://www.timeslive.co.za/news/africa/2018-11-15-tens-of-thousands-die-in-africa-each-year-due-to-200bn-fake-drugs-trade/"]The Times report[/link]
[link url="https://enact-africa.s3.amazonaws.com/site/uploads/2018-11-12-counterfeit-medicines-policy-brief.pdf"]Enact-Africa policy brief[/link]