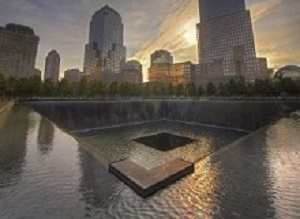 Tens of thousands of people who lived or worked in the neighbourhood of New York's World Trade Centre after the 9/11 terror attack found themselves breathing in air thick with toxic fumes and particles. More than 43,000 have since been certified with a 9/11 related health condition, often fatal.
The Guardian writes that John Mormando was in the best shape of his life – a marathon runner and triathlete training for an Ironman competition – when he noticed a small bump on his chest this past March. He had it checked out by a doctor, and soon received the shocking diagnosis: breast cancer. "I was floored. I was totally floored," he said. Mormando, 51, was at a loss to explain his rare diagnosis – fewer than 1% of breast cancer cases occur in men, and he has no family history of the disease. Then colleagues reminded him of the months he worked close to the site of the 9/11 terrorist attack on New York's World Trade Centre.
Tens of thousands of people who lived or worked in the neighbourhood at the time found themselves breathing in air thick with toxic fumes and particles from the pulverized, burning skyscrapers. Many have since become sick, many have died and new cases are still occurring all the time that are linked back to the poisons that were in the air around the wreckage. The latest example is a cluster of men who have developed breast cancer, including Mormando.
Now a commodities broker at the RJ O'Brien office in the city, he worked at the time at the New York Mercantile Exchange, a block away from the World Trade Centre in lower Manhattan, where extremists flew hijacked passenger jets into the centre's twin towers that morning in 2001, causing their collapse shortly afterwards.
The site of the towers became known as Ground Zero and the attacks, which involved two other hijacked jets, one that was flown into the Pentagon and one that was brought down in a field on its way to Washington DC, collectively known as 9/11.
"We went back to work exactly one week after 9/11, while the towers were still burning and everything else crumbled around us. We were told that the air was fine, and we needed to get back to work," he is quoted in the report as saying. "It was ridiculous. It was horrible. The smell downtown was as pungent as you could imagine. There were buildings still on fire. Those buildings burned for months."
Mormando, who is undergoing chemotherapy, is one of at least 15 men who spent time near Ground Zero and have now been diagnosed with breast cancer, according to their attorney, Michael Barasch. There are likely many more. The report says the new cluster of male breast cancer diagnoses is just one face of a health crisis that is only getting worse 17 years after the terrorist attacks.
As people who lost loved ones in the attack on lower Manhattan gather once again to mark the anniversary, on the site of the towers, New York is nearing a grim milestone: 10,000 people diagnosed with cancer linked to 9/11.
Male breast cancer typically affects only one in 100,000 men each year.
Michael Guedes, a retired NYPD sergeant who rushed to Ground Zero, and in the following months worked at Fresh Kills landfill on Staten Island digging through the debris and remains that had been taken there, said future health consequences had been the last thing on his mind. "You really don't think about it. You just want to get the job done," he said. The report says Guedes, 65, was diagnosed with breast cancer three years ago after his girlfriend found a lump on his chest. He went through surgery, chemotherapy and radiation, and remains on medication.
"Had she not found it, I would have died of it, I'm sure. At least I have a fighting chance," he said. "I didn't fit the mould. I didn't have a family history," he said. "I know more (people) are going to get sick. It's something I hate to say, but there's no doubt in my mind. I've always been a very private person. I like my privacy. On something like this, I just can't stay quiet."
Jeff Flynn, 65, said before he received his diagnosis in 2011, he didn't even know it was possible for a man to get breast cancer. "All the blood just drained out of my face. Your life changes instantly," he said. The report says Flynn worked for a data storage company near the World Trade Centre, and returned soon after the attacks to help companies get back up and running. "I could actually taste the air. It was foul," he said.
Still, it took him a while to connect the dots between the time he spent around the wreckage and his cancer. Once he did, he signed up for the health programme.
At a recent forum at the National September 11 Memorial & Museum at Ground Zero, FBI director Christopher Wray said he had lost three colleagues who responded to the 2001 attacks in the last six months alone, and called for more people to sign up for government programmes aimed at detecting and treating illnesses linked to the toxic debris and particles that exuded from the wreckage of the skyscrapers.
The report says there were 9,375 members of the World Trade Centre Health Programme certified as having a related cancer as of the end of June, according to the programme. An additional 420 members who had cancer have died. In all, more than 43,000 people have been certified with a 9/11 related health condition.
The report says the toll on first responders has been well documented – 182 members of the New York Fire Department alone have died due to such illnesses. But the carnage goes much further – affecting many who were lower Manhattan residents, office workers, teachers and students at local schools. "This is very democratic toxic dust. It doesn't matter whether you're a student or a firefighter or a gazillionaire at Goldman Sachs. It is affecting everybody and killing everybody," Barasch said. His firm represents 25 people who were high school or college students at the time of the attacks, and were diagnosed with cancer in their 20s and 30s.
Many more have chronic respiratory and gastrointestinal illnesses, including graduates of Stuyvesant High School, three blocks from the twin towers, where students evacuated on the day of the attack and returned less than a month later.
Lila Nordstrom, 34, who was a senior there on 9/11 and now has gastro-oesophageal reflux disease, said the scope of the health crisis struck her when she was at a dinner party in her 20s with a group of classmates and the topic of the illness came up. "Every single person at the table had it," she said.
The report says Nordstrom founded the group StuyHealth to help other young survivors. "We are so young, and this is not a choice we made for ourselves. We were minors. We know that it wasn't safe down there now, and we know the Environmental Protection Agency (EPA) didn't tell us the truth about that," she said.
The head of the EPA at the time has admitted she was wrong to assure the public that the air around Ground Zero was safe.
Survivors are speaking out to encourage others to sign up for the health program and get checked. The report says anyone who lived, worked or went to school near the site and develops a related illness is eligible for health care and possible compensation under the Zadroga Act.
The United Federation of Teachers has also contacted staffers who were working at a dozen lower Manhattan schools in 2001, urging them to get checked. Among them was Maria Sanabria, 52, formerly an assistant teacher at the Leadership and Public Service high school, who on that horrific day fled the school. More than 15 years later, she was diagnosed with thyroid cancer. Two of her former colleagues have died of cancer. "I was really scared," she said.
The report says advocates are already gearing up for another fight in Congress, with the victim compensation fund set to expire in December of 2020 unless lawmakers vote to extend it. The health programme, by contrast, is funded for 75 years. "Cancer has no deadline. It's not going to stop magically in December of 2020," Barasch said. "There's no statute of limitations on cancer."
The fund has awarded more than $4.3bn so far to more than 19,000 first responders and survivors.
Few federal agents have joined the programme, even though many were exposed to the toxic dust, officials say. FBI agent Lu Lieber was a responder at Ground Zero and recalled getting in her car on 12 September 2001 and turning on the air conditioner. It spit out dust, which remained in the heating system for months. She has been diagnosed with two forms of cancer. "Lower Manhattan evolved into a cesspool of cancer," she said.
The report says even the memorial is changing to recognize the fact that the attacks have continued to claim lives years after the towers fell. A new path lined with stones is planned to pay tribute to those who have died from illnesses linked to all the toxins released at the attack site.
"The toll will be, I think, beyond our comprehension," said the museum president Alice Greenwald.
[link url="https://www.theguardian.com/us-news/2018/sep/10/911-attack-ground-zero-manhattan-cancer?CMP=Share_iOSApp_Other"]The Guardian report[/link]