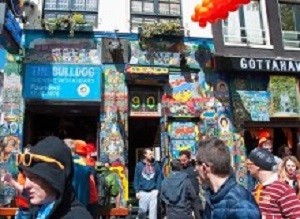 Amsterdam's tolerance of sex work and recreational drugs has translated into better health outcomes for its citizens. But, asks an Health-e News report, can its approach be adopted by other countries where HIV thrives in the shadows?
Thys Roes hands over a little pink pill imprinted with a 'Hello Kitty' picture. It is from his latest stash of Ecstasy tablets. He wants to know if it is safe before he takes it, so he has headed to a municipal drug-testing centre in Amsterdam to ensure he won't poison himself.
Judith Noijen scrapes a bit of the tablet off, puts it into a beaker and adds a liquid to it and it turns black. Roes smiles as this means it does contain methylenedioxy-methamphetamine (MDMA), which will give him a high. As she tests the drug, Noijen warns Roes of the dangers of MDMA, explaining that it can cause his body to overheat but also to retain water, so he must not drink too much water with it.
She also gives a detailed description of the pill to her colleague, Willem van Aken, and he checks to see whether it is in the database, but it isn't. This means that the pill will need to be tested in a laboratory to see what it contains. Noijen gives Roes, a cheerful young man with a neat beard, a sample number and tells him to phone for results a few days later.
The report says this is the Jellinek Institute in Amsterdam, a government facility where anyone who wants to take recreational drugs can have them tested for a small fee of Euro 2.50. The city has decided not to arrest anyone taking illegal drugs, but to help them to make their experience safe and city officials say that there are no injecting drug users on the streets any longer. Jellinek also treats addiction and alcoholism, the main problem in the Netherlands.
According to the report, Daan van der Gouwe, who is part of the management of the testing centres, says that recreational drugs other than cannabis are still illegal in the Netherlands so each testing site has a special permit. "Our primary motivation is monitoring, to monitor the market in club drugs and our secondary aim is harm reduction," says van der Gouwe, explaining that the centres are able to identify problem drugs and issue "red alerts" when they come across dangerous drugs – like the pink "Superman" tablets that killed a number of people throughout Europe last year but none in the Netherlands.
The report says when Dutch Princess Mabel van Oranje welcomed delegates to the International AIDS Conference earlier in that week, she described her home city as a place that stands for "freedom, open-mindedness and pragmatism", values that are "crucial to achieving the goal of a world without Aids".
Academy Award-winning actor Charlize Theron also described Amsterdam as a "beacon of openness and acceptance in a world that feels consumed by isolationism and… a rising tide of nationalism" when she addressed the opening plenary.
The report says sex work is legal. Amsterdam's sex workers register with the local chamber of commerce, where they are classified as "personal carers". They are taxed as freelancers, paying both VAT of 21% as well as personal income tax. But they are also protected by police and there are special sex worker clinics paid for by the city.
"Our sex workers have a lower rate of HIV than female students in Amsterdam do," said Heleen Driessen, who works as a counsellor at the clinic, which is called P&G292. Research shows that less than 2% of the city's sex workers had HIV.
Professor Linda-Gail Bekker, president of the International AIDS Society, described Amsterdam's approach to sex work as a "wonderful example of what is possible". "If we don't shine a light on populations who have been left behind, we will fail to address HIV properly," said Bekker.
The report says after 37 years of the Aids epidemic, there is consensus amongst scientists and activists that the virus is thriving in groups that are marginalised and shamed by mainstream society. These groups are termed "key populations" in the Aids world.
In South Africa, almost 60% of sex workers are HIV positive (57,7% according to UNAIDS), and 26,8% of men who have sex with men (many don't identify as gay, hence the description). This is far higher than the HIV prevalence rate for the general adult population, which is almost 19%.
Nigerian Michael Ighodaro says he got infected with HIV in his late teens while having sex with men because he did not know that he was at risk: "It wasn't that I didn't know about HIV. I thought it was only transmitted by heterosexual sex." The report says Nigeria has extremely repressive anti-gay laws and its HIV prevention programmes simply ignore men like Ighodaro, who is currently living as a refugee in the US.
Eastern Europe and Central Asia are the only places in the world where HIV infections and deaths are rising, and this is mainly being driven by a lethal combination of injecting drug-use and oppressive policies towards people living with HIV.
In the past year, there were 103,000 new HIV infections in Russia and researchers estimate that up to 75% of people who inject drugs in that country are living with HIV. HIV in the Ukraine, China, Malaysia and Vietnam is also being driven by injecting people who inject drugs sharing their dirty needles.
A large part of the International AIDS conference has been dedicated to finding ways to reach these stigmatised communities with high levels of HIV who are often too afraid to get access to health services.
But, the report says, perhaps Amsterdam offers the best answer, with its tolerance of difference and non-judgemental health services.
[link url="https://www.health-e.org.za/2018/07/30/sex-drugs-and-amsterdam-is-tolerance-the-answer/"]Health-e News report[/link]
[link url="https://www.jellinek.nl/english/"]Jellinek site[/link]