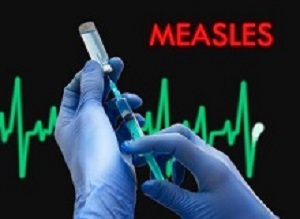 World Health Organisation, figures show that measles cases in in Europe the first six months of 2018 exceeded the annual total for each of the past five years, with vaccination rates in some regions falling below levels in Africa.
Each year, as the summer winds down across Europe, so do measles cases – which tend to peak in late spring. According to an Economist report, August is, therefore, a good time to take stock of the measles season for the year.
The tally for Europe, published on 20 August by the World Health Organisation, shows that cases in the first six months of 2018 exceeded the annual total for each of the past five years. About half of the 41,000 cases this year were in Ukraine. Infection rates also jumped in Serbia, Greece and Georgia. In recent years big outbreaks have erupted in Italy, Romania, France and Germany.
The report says none of this is a surprise. In the past decade, measles-vaccination rates in some European countries have often fallen below those in parts of Africa. Italy, France and Serbia, for example, have lower child-vaccinations rates than Burundi, Rwanda and Senegal.
In some years, vaccine shortages were to blame, especially in parts of eastern Europe. Both Ukraine and Serbia have had irregular supplies of the MMR vaccine (which protects against measles, mumps and rubella) since 2014. Even after recent outbreaks, they were not able to procure enough doses to cover older cohorts, health-workers and other groups at risk of becoming infected.
But, the report says, suspicion of vaccines is also partly to blame. Unlike the US, Europe does not have an organised "anti-vax" movement, but in many countries fears are much higher. Two-fifths of people in France – country whose people pop antibiotics like sweets – believe that vaccines are unsafe. A quarter of Greeks and Ukrainians are also hostile.
During recent outbreaks, some countries had dozens of health-workers coming down with measles – which suggest that they, too, may have a dim view of vaccines. A survey of French doctors in 2014, for example, found that nearly a quarter believed that some of the officially recommended vaccines were not useful.
Each country has "bespoke issues of concern", Heidi Larson of the London School of Hygiene and Tropical Medicine is quoted in the report as saying. In Serbia and Ukraine mistaken beliefs that the MMR vaccine is linked with autism have led some doctors to delay the first dose (usually given at 12 months of age) in order to be sure the child is developing normally.
In some countries parents worry about several vaccines being given at the same time, so they space out jabs. France has a long history of vaccine rows. One reflected wrong ideas about the effects of the Hepatitis B vaccine and, the report says, some French doctors objected to a combined vaccine for infants, and to the HPV vaccine, which protects against cervical cancer.
Europe's drive to end measles by 2015 was pushed back to 2020. Some hope, the report says.
[link url="https://www.economist.com/europe/2018/08/25/anti-vax-fears-drive-a-measles-outbreak-in-europe?fsrc=scn/tw/te/bl/ed/antivaxfearsdriveameaslesoutbreakineuropevaccinationfalters"]Economist report[/link]