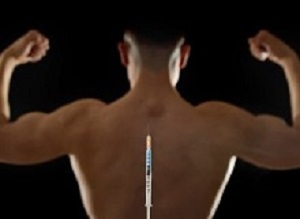 Up to 1m people in the UK are taking anabolic steroids and other image- and performance-enhancing drugs (IPEDs) to change the way they look, ranging from from teenagers seeking the perfect physique to elderly men hoping to hang on to youthful looks, a NHS report finds.
The Guardian reports research suggests that appearance rather than sporting performance is the reason for a majority of those now using anabolic steroids and other IPEDs.
The report says there is growing concern that the desire to conform to a "ripped" male image beloved of people featured in lifestyle magazines and reality television shows is causing tens of thousands of young men to put their long-term health at risk by taking ever more complex cocktails of IPEDs. Many also face complications by mixing steroids with alcohol and drugs such as cocaine.
Police forces and border officials are seeing an increase in the number of underground laboratories "cooking" steroids in the UK and consignments of drugs being imported to the UK from countries where IPEDs can be bought over the counter. The rise of social media has made it easier to swap both information and products.
Josie Smith, the head of the substance misuse programme at Public Health Wales, said in the report that there had been extraordinary changes in both the profile of people using IPEDs and the availability of the substances. Public Health Wales estimates there are about 350,000 male users aged 16-64 who visit needle exchanges across England, Wales and Scotland. But it points out there are many more who do not use exchanges as well as those who take steroids orally. It also adds that the figure excludes women as well as very young and older IPED users.
The national IPED info report is considered the most in-depth study of usage. Joe Kean, who is the lead recruiter of steroid users for the report, said he was confident there were about 900,000 users in the UK. Kean, who is based in Yorkshire, said users he had worked with included an imam and that members of the emergency services and military were a subgroup that more research needed to be done on.
"None of them see themselves as drug users," Kean is quoted in the report as saying. "The first thing they say when they arrive at a needle exchange is: 'I'm not a smackhead.' If you start mentioning bloodborne viruses and HIV rates they look at you as though you're an alien that has just landed.
"The evidence is emerging that steroid use will cost the National Health Service (NHS) millions. Lads are taking steroids, drinking and taking a bit of coke and they go out feeling hard and manly. Steroids, alcohol and cocaine are the holy trinity for heart issues."
Dr Aneil Malhotra, a cardiology doctor based at St George's Hospital, University of London and a spokesperson for the British Cardiovascular Society, said young people who used steroids could suffer conditions in later life such as high blood pressure, cardiovascular disease and strokes. He said: "We may well see teenagers and twentysomethings who have repeatedly used steroids presenting with problems in their late 30s, 40s and 50s.
"We need to make people aware of the dangers of steroids. If we don't it is going to cause extra pressure on the NHS. We need to get out the information so people can make an informed choice."
But, says the report, some claim the risks are exaggerated. Tom Maw, a steroid user and trainer who advises on the use of IPEDs, said he believed the media sensationalised their impact and called for more information to be published about how to use them safely.
[link url="https://www.theguardian.com/society/2018/jan/21/up-to-a-million-britons-use-steroids-for-looks-not-sport"]The Guardian report[/link]
[link url="http://www.wales.nhs.uk/sitesplus/documents/888/IPED%20report%202017.%20FINAL.pdf"]IPED report[/link]