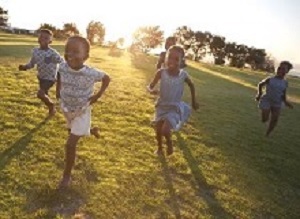 South African children – who usually do not wear shoes during physical activity – have better balance and can jump farther than their German counterparts who are almost always shod, Business Insider reports a pathfinder study has found. But the wider feet that seem to go with being barefoot could become a disadvantage later in life, one of the study authors says, when those feet are forced into too-narrow shoes designed for Europeans.
It is even possible that broader feet and narrow shoes could combine to make adolescents less active, and so exacerbate problems for those who are overweight to begin with.
That will now be the subject of further studies, but even without more data one need is clear, says the study's co-author Ranel Venter, from Stellenbosch University's sport science department. "We need SA-developed school shoes," Venter said. "Children spend a lot of time in those, and we need them to be right."
The report says Venter and five Germany colleagues from the Institute of Sports Science, University of Jena, Germany, Institute of Medical Biometry and Epidemiology, University Medical Centre Hamburg-Eppendorf, Hamburg, department of sports and exercise medicine, Institute of Human Movement Science, University of Hamburg and the department of sports and rehabilitation medicine, BG Trauma Hospital of Hamburg, tested a total of 810 children between 6 years and 18 years old for balance, speed, and jump distance, split roughly half and half between the Western Cape and northern Germany. All the children were healthy and active, but the German group almost always wore shoes during play and exercise, while the South African group went to school and exercised barefoot.
In one test the children walked backwards on balance beams as narrow as 3cm, and in another they were asked to make a standing jump. In both cases the South Africans came out tops. A 20m sprint test showed that the shod Germans were faster, though.
"Regular physical activities without footwear may be beneficial for the development of jumping and balancing skills, especially those in the age of 6 to 10 years," the study authors wrote of their findings, which they link to evidence that growing up barefoot impacts posture, gait, and even physical foot structure.
Barefoot children tend to develop higher arches, and to have wider feet, the authors say, which would make for better balance. But, the report says, that comes at a price.
Measuring children's feet has shown that 76% of the South African group had shoes that were too narrow, Venter said. European and American sizing seem to favour narrow feet, leaving South Africans to either squeeze into too-small shoes or buy shoes that are too long – both of which could lead to long-term problems.
Children who are even a little overweight will have even more trouble fitting into too-narrow shoes, Venter says, and she speculates that the resulting discomfort could discourage them from physical activity
The authors believe the German-South African comparison to be the first of its kind. Venter now plans to build on its findings by comparing rural and urban populations in South Africa, with a bigger sample size and more detailed examination of the impact of wearing shoes.
In the meanwhile, the report says, Venter worries that South Africa may associate barefoot children with poverty, and so lose out on the benefits of children with healthier feed and better motor control. South Africa should rather embrace and cherish its barefoot culture, she says.
Abstract
Background: The objective of this study was to evaluate the association between growing up barefoot or shod and the development of motor performance during childhood and adolescence.
Methods: Habitual barefoot and shod children and adolescents between 6 and 18 years were recruited in South Africa and Germany. Participants completed balance, standing long jump and 20 m sprint tests in barefoot and shod conditions. Outcomes were analyzed in separate mixed-effects linear regressions for three age groups according to stages of development (6–10, 11–14, and 15–18 years). All models were adjusted for confounders: sex, ethnicity, BMI, PAQ score and order of tests (barefoot vs. shod).
Results: Three hundred and eight-five habitually barefoot and 425 habitually shod children participated. Significant age by footwear effects were found for the jump (p = 0.032) and sprint test (p = 0.041). Habitually barefoot children aged 6–10 years scored higher in the balance test (p = 0.015) and standing long jump (p = 0.005) whereas habitually shod children sprinted faster (p < 0.001). Faster sprint times were found for habitually shod participants between 11 and 14 years (p < 0.001). Habitually barefoot adolescents between 15 and 18 years of age showed a greater long jump distance (p < 0.001) but slower sprint times (p = 0.014) than shod adolescents.
Conclusions: The results emphasize the importance of footwear habits for the development of motor skills during childhood and adolescence. Regular physical activities without footwear may be beneficial for the development of jumping and balance skills, especially in the age of 6 to 10 years.
Authors
Astrid Zech, Ranel Venter, Johanna E de Villiers, Suzanne Sehner, Karl Wegscheider, Karsten Hollander
[link url="https://www.businessinsider.co.za/barefoot-kids-vs-shoe-wearers-in-german-show-better-balance-but-feet-size-trouble-2018-10"]Business Insider report[/link]
[link url="https://www.frontiersin.org/articles/10.3389/fped.2018.00115/full"]Frontiers in Paediatrics abstract[/link]