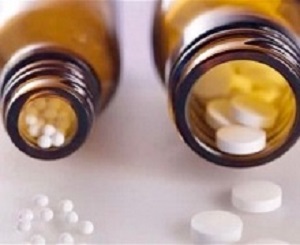 Homeopathic and herbal remedies will no longer be funded under the British National Health Service because they are a 'misuse of scarce funds' University of Exeter Emeritus Professor Edzard Ernst writes that 'before we start celebrating a victory of rationality' we should await the inevitable backlash from the supporters of alternative medicine.
In the last five years, the British NHS has spent almost £600,000 on homeopathic treatment, despite long running debate about whether alternative remedies work.
NHS England recently ruled that "at best homeopathy is a placebo and a misuse of scarce NHS funds which could be better devoted to treatments that work."
Health officials said cash-strapped clinical commissioning groups should no longer fund such medicines, along with 16 other classes of treatment classed as "low value" because they are ineffective or could easily be bought over the counter.
Simon Stevens, NHS chief executive, said: "The NHS is probably the world's most efficient health service, but like every country there is still waste and inefficiency that we're determined to root out.
"The public rightly expects that the NHS will use every pound wisely, and today we're taking practical action to free up funding to better spend on modern drugs and treatments."
Health officials said the NHS is spending around £545m a year on treatments which are available over the counter, though they do not expect to recoup all the funding.
The products include cough mixture and cold treatments, eye drops, laxatives and sun cream lotions. And NHS bodies will be told not to pay for a number of specific treatments, such as omega 3 supplements, lidocaine plasters and fentanyl painkillers.
Health officials said products on the list were "relatively ineffective, unnecessary, inappropriate or unsafe for prescription on the NHS".
The Department of Health is also consulting on cutting back spending on gluten-free products.
NHS England has published a list of medicines that they propose to stop funding, writes alternative medicine expert Edzard Ernst in his blog. He says items were considered for inclusion if they were: items of low clinical effectiveness, where there is a lack of robust evidence of clinical effectiveness or there are significant safety concerns; items which are clinically effective but where more cost-effective products are available, including products that have been subject to excessive price inflation; or items which are clinically effective but, due to the nature of the product, are deemed a low priority for NHS funding. The list includes both herbal and homeopathic remedies.
Ernst writes: "The document refers to the report by the House of Commons Science and Technology Committee which found that the use of homeopathy was not evidence based and any benefits to patients was down to placebo effect. The group agreed with the findings of the committee for the lack of evidence and considered homeopathy suitable for inclusion in the proposed list. They advise CCGs that prescribers in primary care should not initiate homeopathic items for any new patient. They also advise CCGs to support prescribers in deprescribing homeopathic items in all patients and, where appropriate, ensure the availability of relevant services to facilitate this change.
"A comment published by PULSETODAY stated: NHS England is planning to stop the prescribing of homeopathy as part of new guidance for CCGs on medicines that can be considered to be of low priority for funding. Homeopathy is a new item on the list of possible low-value medicines that GPs will be banned from prescribing. Originally NHS England said that it would review just 10 items, but it has added eight new treatments, including homeopathy and herbal treatments…
"The original consultation document failed to include homeopathy in its treatments that should be banned. However, following a consultation, a paper presented at today's NHS England board meeting said: 'NHS England's view is that, at best, homeopathy is a placebo and a misuse of scarce NHS funds which could better be devoted to treatments that work. 'Data on the residual use and cost of homeopathy on the NHS are hard to come by. A recent Freedom of Information request by a third party suggested that at least £578,000 has been spent on prescribed homeopathy over the past five years, with the total cost being higher than that when the cost of consultations was factored in.'
"Talking at the NHS England board meeting, NHS England medical director Sir Bruce Keogh said: 'I think this (homeopathy) has been an issue which has concerned scientific professionals for a long period of time. We can no longer shy away from addressing this particular issue. If we want our NHS to be evidence based and outcomes focused, then we must expect to have difficult conversations over difficult issues.'
"This almost sounds as though Sir Bruce has been following the discussions on this blog. I have felt for a long time that the reimbursement of homeopathy by the NHS made a mockery of evidence-based medicine. It is time to end the mockery and use the money for something useful!
"But before we start celebrating a victory of rationality, we should consider what happens next. There will be a consultation, and I would not be surprised to hear that the author of multiple 'spider memos' is already at it again. So, maybe we should hold our breath and wait."
[link url="http://edzardernst.com/2017/07/the-end-of-homeopathy-on-the-nhs-but-wait-for-the-spider-memos/"]Edzard Ernst blog[/link]
[link url="https://www.england.nhs.uk/wp-content/uploads/2017/07/Items-not-routinely-prescribed-in-primary-care.pdf"]NHS document[/link]