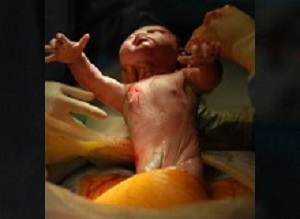 The death rate among women undergoing a caesarean to deliver a baby is about 50 times higher in Africa than in most wealthy nations, Health24 reports that researchers have found. One in 200 women died during or soon after a C-section in a sampling of nearly 3,700 births across 22 African countries, they reported. By comparison, maternal mortality is approximately one woman per 10,000 operations in Britain. Death rates related to C-sections are roughly the same across most developed countries.
"The findings highlight the urgent need for improved safety for the procedure," said researchers led by Dr Bruce Biccard, a professor at the University of Cape Town in South Africa.
Preventable C-section deaths mostly stemmed from a ruptured uterus, in mothers who had pre-existing placental complications, bleeding before birth or during surgery, and problems related to anaesthesia. "Improvement of C-section surgical outcomes could substantially improve both maternal and neonatal mortality," Biccard said. He also called for a better assessment of the risk related to bleeding, and less restrictive use of drugs to treat post-partum haemorrhaging.
The report says in many African nations, there is a chronically short supply of blood for transfusions. Blood products with a greater shelf-life and better use of anaesthesia by non-doctors – through mobile and online training, for example – could also help boost survival rates, the researchers said.
The findings are part of the Africa Surgical Outcomes Study, which tracks all patients who received surgery at 183 hospitals across the 22 countries for seven days. C-sections accounted for a third of all surgeries in the period covered, the study found.
Making C-sections more easily available could also avoid potentially lethal complications, the authors noted. Of the cases examined, 75% were classified as "emergency surgery", with mothers arriving at the operating theatre with high-risk conditions. "Paradoxically, while many countries are aiming to reduce Caesarean delivery rates, increasing the rate remains a priority in Africa," Biccard said.
Worldwide, the number of C-sections has nearly doubled over the last 20 years, reaching unprecedented proportions in some countries, the report says recent research has highlighted. In Brazil, Egypt and Turkey, for example, more than half of all births are done via C-section.
But in close to a quarter of nations surveyed – many in Africa – us of the procedure is significantly lower than average. It is estimated that the operation is medically necessary 10% to 15% of the time. In 2015, doctors performed 29.7m C-sections worldwide – 21% of all births. This was up from 16m in 2000, or 12% of all births.
Abstract
Background: Maternal and neonatal mortality is high in Africa, but few large, prospective studies have been done to investigate the risk factors associated with these poor maternal and neonatal outcomes.
Methods: A 7-day, international, prospective, observational cohort study was done in patients having caesarean delivery in 183 hospitals across 22 countries in Africa. The inclusion criteria were all consecutive patients (aged ≥18 years) admitted to participating centres having elective and non-elective caesarean delivery during the 7-day study cohort period. To ensure a representative sample, each hospital had to provide data for 90% of the eligible patients during the recruitment week. The primary outcome was in-hospital maternal mortality and complications, which were assessed by local investigators. The study was registered on the South African National Health Research Database, number KZ_2015RP7_22, and on ClinicalTrials.gov, number NCT03044899.
Findings: Between February, 2016, and May, 2016, 3792 patients were recruited from hospitals across Africa. 3685 were included in the postoperative complications analysis (107 missing data) and 3684 were included in the maternal mortality analysis (108 missing data). These hospitals had a combined number of specialist surgeons, obstetricians, and anaesthetists totalling 0·7 per 100 000 population (IQR 0·2–2·0). Maternal mortality was 20 (0·5%) of 3684 patients (95% CI 0·3–0·8). Complications occurred in 633 (17·4%) of 3636 mothers (16·2–18·6), which were predominantly severe intraoperative and postoperative bleeding (136 [3·8%] of 3612 mothers). Maternal mortality was independently associated with a preoperative presentation of placenta praevia, placental abruption, ruptured uterus, antepartum haemorrhage (odds ratio 4·47 [95% CI 1·46–13·65]), and perioperative severe obstetric haemorrhage (5·87 [1·99–17·34]) or anaesthesia complications (11·47 (1·20–109·20]). Neonatal mortality was 153 (4·4%) of 3506 infants (95% CI 3·7–5·0).
Interpretation: Maternal mortality after caesarean delivery in Africa is 50 times higher than that of high-income countries and is driven by peripartum haemorrhage and anaesthesia complications. Neonatal mortality is double the global average. Early identification and appropriate management of mothers at risk of peripartum haemorrhage might improve maternal and neonatal outcomes in Africa.
Authors
David Bishop, Robert A Dyer, Salome Maswime, Reitze N Rodseth, Dominique van Dyk, Hyla-Louise Kluyts, Janat T Tumukunde, Farai D Madzimbamuto, Abdulaziz M Elkhogia, Andrew KN Ndonga, Zipporah WW Ngumi, Akinyinka O Omigbodun, Simbo D Amanor-Boadu, Eugene Zoumenou, Apollo Basenero, Dolly M Munlemvo, Coulibaly Youssouf, Gabriel Ndayisaba, Akwasi Antwi-Kusi, Veekash Gobin, Patrice Forget, Bernard Mbwele, Henry Ndasi, Sylvia R Rakotoarison, Ahmadou L Samateh, Ryad Mehyaoui, Ushmaben Patel-Mujajati, Chaibou M Sani, Tonya M Esterhuizen, Thandinkosi E Madiba, Rupert M Pearse, Bruce M Biccard
[link url="https://www.health24.com/Parenting/Pregnancy/Birth/study-reveals-how-c-sections-are-50-times-more-deadly-for-women-in-africa-20190315"]Health24 report[/link]
[link url="https://www.thelancet.com/journals/langlo/article/PIIS2214-109X(19)30036-1/fulltext"]The Lancet Global Health abstract[/link]