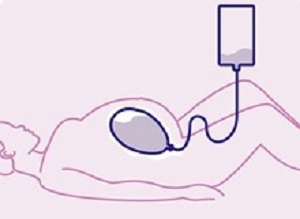 A Cape Town gynaecologist has made giving birth a little safer by turning a cheap surgical glove into a device that stops excessive post-birth bleeding, reports The Times. The invention, which has just been commercialised as the Ellavi uterine balloon, costs a fraction of the price of its competitors and is the first such device designed to match the patient's blood pressure.
Applying the right pressure inside the uterus aids healing as it controls bleeding and minimises tissue damage.
The report says fluid-filled intra-uterine balloons that press against ruptured blood vessels have been used for more than a decade, but their high cost has made them inaccessible to many, particularly in poorly resourced maternity units. While the commercial devices and a makeshift condom balloon recommended by the World Health Organisation have a fixed volume and cannot become smaller to allow the uterus to contract, Gerhard Theron's Ellavi is linked to a water-supply bag outside the uterus. This means water can be expelled as the uterus contracts, allowing ruptured blood vessels to close off quickly. Adjusting the height of the water supply controls the pressure that is exerted on blood vessels.
"Postpartum bleeding is most commonly caused by the uterus not contracting well after delivery of the placenta," said Theron. "The blood vessels at the placental implantation site are not compressed and continue to bleed."
The report says the Ellavi has just been commercialised by Stellenbosch biomedical company Sinapi, and MD Chris de Villiers said the company was registering the product in African countries such as Ghana, Kenya, Ethiopia and the Democratic Republic of the Congo.
Theron, retired head of obstetrics and gynaecology at Stellenbosch University, said more than 80% of midwives at clinics in Khayelitsha, Elsies River, Bishop Lavis, Delft and Kraaifontein have been trained to use the device.
The report says excessive bleeding after birth is the third most frequent cause of maternal deaths in South Africa and a leading cause of death in other parts of Africa. "Nearly a fifth of maternal mortalities in sub-Saharan Africa are caused by postpartum haemorrhage, and many of these deliveries are only attended by a midwife or middle-level health worker. That's where the device has real potential to make a difference," said Theron.
If post-partum haemorrhage is not quickly controlled, a mother can die within 30 minutes.
Western Cape Health Department spokesperson Maret Lesch said the department was studying the efficiency and implementation of the device. "We welcome and value innovations in health care that can make a positive impact on our service delivery and our patients' health-care experience," she said.
[link url="https://www.timeslive.co.za/sunday-times/news/2019-05-19-births-safer-thanks-to-balloon-innovation-stopping-excessive-bleeding/"]The Times report[/link]