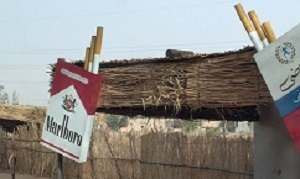 Tobacco companies are thriving in Africa due to weak anti-tobacco and tax laws. A study by the University of Cape Town's Economics of Tobacco Control Project found that tobacco use rose by 44% between 1990 and 2012, writes Amy Green for Health-e News.
This is according to Dr Hana Ross, co-author of the study published in the PLOS One scientific journal last week.
Over the same period, cigarette production increased by 106% in the 22 African countries included in the study, which represent 80% of the continent's population.
"This upward trend in consumption continues today," said co-author of the study Nicole Vellios.
Laws lower consumption
If South Africa and Egypt had been excluded from the data, tobacco consumption would have increased by 59%, according to the study. South Africa introduced anti-tobacco policies in 1995, while Egypt did so in 2010.
According to the UCT researchers, South Africa's anti-tobacco legislation caused a drop in the proportion of South African smokers from 33% to around 20%, and the figure "appears to have plateaued at that level".
Most developed countries have adopted increasingly strict tobacco legislation, and consumption has been steadily decreasing.
In contrast, tobacco use has been on the rise in developing countries "where markets are often unregulated, cigarette prices are low, and tobacco control laws are weak or nor enforced", noted the study. "Well aware of this situation, the tobacco industry aggressively promotes its products in low- and middle-income countries to attract new consumers."
SA a big cigarette producer
South Africa remains one of the five biggest producers of cigarettes and over 80% of the country's cigarette exports are to other African countries.
The Control of Tobacco and Electronic Delivery Systems Bill gazetted in May proposes much stricter regulations around the use and sale of tobacco and nicotine products.
The Bill's proposals include introducing plain packaging (where all products have to look the same), a ban on smoking in any public outdoor area, tight restrictions on indoor smoking as well as punting heavy penalties for breaking these laws, including jail time.
Industry tactics
The Bill has been met with much opposition from industry and certain consumer groups but has been praised by the public health field who argue these are necessary protections against the significant health hazards posed by smoking.
The study authors noted that tobacco companies use "the threat of factory closures to influence decision makers to introduce weaker tobacco control policies" in Africa and other developing countries.
"Most recently [British American Tobacco] threatened to close its Heidelberg factory in South Africa if the government introduced plain packaging for cigarette packs," they noted.
The researchers urged all African governments to resist this industry pressure and introduce stricter tobacco legislation in the interest of protecting people's health.
[link url="https://www.health-e.org.za/2018/08/31/cigarette-market-soaring-in-africa/"]Cigarette market soaring in Africa[/link]
Africa a 'prime target' for tobacco companies – Study
Tobacco companies view Africa as a major destination for tobacco production and consumption, a new study has found, reports Fin24.
A study by University of Cape Town's Economics and Tobacco Control Project, titled "Trends in cigarette demand and supply in Africa, says that as a developing continent, Africa has become a "prime target" for the tobacco industry.
This is given its increases in income, population size, foreign direct investment as well as improved life expectancy, the university said in a statement.
"Consumers in Africa are now able to afford cigarettes and coupled with weak tobacco control laws, this has resulted in the tobacco industry focusing its attention on increasing its market presence."
SA a tobacco 'hub'
The study found 62 cigarette production facilities in 30 African countries.
However, production growth and restructuring resulted in industry consolidation, creating five African main tobacco producing hubs: South Africa, Kenya, Nigeria, Egypt and Algeria.
Consumption is increasing alongside tobacco production, UCT said.
"This upward trend in consumption continues today," said Nicole Vellios, researcher at the ETCP and co-author of the study.
Smoking rates increasing
The study also said that although the total cigarette demand in Africa seemed to be driven primarily by population growth, many countries were also reporting increased smoking rates.
Higher production was able to satisfy the increasing demand for cigarettes on the continent, the study found.
"For example, British American Tobacco Nigeria serves both the local and international markets, with one factory producing for the domestic market only, and another that functions as an export base," UCT said.
"Tobacco companies are thriving on the continent due to the weak anti-tobacco and tax laws in many African countries," said Dr Hana Ross, a Principal Researcher at the ETCP and co-author of the study.
The study authors have called for better data collection on smoking in Africa, which they say will support evidence-based policies and legislation.
Full article on the Fin24 site:
[link url="https://www.fin24.com/Economy/Africa/africa-a-prime-target-for-tobacco-companies-study-20180829"]Africa a 'prime target' for tobacco companies – Study[/link]
Trends in cigarette demand and supply in Africa
Abstract
Authors: Nicole Vellios and Hana Ross of the Economics of Tobacco Control Project, Southern Africa Labour and Development Research Unit, School of Economics, University of Cape Town, and Anne-Marie Perucic, Department for Prevention of Noncommunicable Diseases, World Health Organisation, Switzerland.
Since the tobacco epidemic is moving from developed to developing countries, it is important to understand trends in cigarette demand and supply. We focus on the African market since it offers the tobacco industry one of the best expansion potentials.
Data
A large variety of data from commercial (Canadean, Euromonitor International, tobacco industry reports), governmental (United Nations Comtrade, national statistics), and academic sources (Cigarette Citadels Map and journal articles) were utilized.
Methods
We compile data from multiple sources to study cigarette demand in Africa from 1990 to 2012. We then focus on cigarette production and international cigarette trade to detect structural changes in cigarette supply over the past few decades. We contrast data from these different sources.
Results
Cigarette demand and supply data in Africa is limited and is sometimes inconsistent across different sources. Given this caveat, we found that the overall demand for cigarettes (measured by sales) in the 22 countries covered by Canadean, which represents 80% of Africa's population, increased by 44% (from 165.6 billion cigarettes to 238.5 billion cigarettes) from 1990 to 2012.
This higher demand has been met by cigarette production increasing in these 22 countries by 106% during the same period. As a result, Africa has moved from being a net importer to a net exporter of cigarettes. At the same time, cigarette production has become more concentrated as the tobacco industry has strategically identified certain countries as production hubs.
Conclusions
Monitoring the production, consumption and trade of cigarettes by improving the quality of surveillance is necessary to understand the demand and supply of cigarettes not only in Africa, but globally.
[link url="https://journals.plos.org/plosone/article?id=10.1371/journal.pone.0202467"]Trends in cigarette demand and supply in Africa[/link]