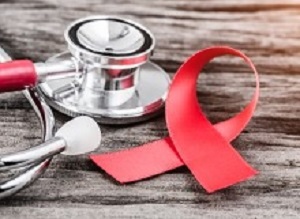 The HIV and Aids epidemic could become uncontained if current funding trends continue, warned Dr Mark Dybul, one of the founding architects of the US President's Emergency Plan for AIDS Relief (PEPFAR). "We are, in my view, at highest risk ever of losing control of the epidemic since all of this began," Dr Mark Dybul said at the Center for Strategic and International Studies in Washington. "Then, what do we do differently? How do we invest differently?"
A Devex report says Dybul's words about the stark future of the HIV and Aids epidemic came as the Institute for Health Metrics and Evaluation at the University of Washington released a report about global health financing, which found that development assistance for HIV and Aids has decreased annually by 5.4% since 2012.
The study tracks health spending in 188 countries and logs it by disease, including HIV and Aids, which has received the largest share of global health spending since 2000, at 26.8%. According to the report, the annualised increase of 11.9% in funding for HIV and Aids has "mitigated a major global health crisis." While money also comes from domestic governments, most low- and middle-income countries rely on development assistance for health to fund their response.
But not enough is being given globally, Dybul said. "The reality is, and I think what's behind the numbers, is that no one besides the US has a bilateral program on HIV anymore," said Dybul, who helped formulate PEPFAR and then served as its chief medical officer, acting director, and US global Aids co-ordinator. He is now the co-director of the Centre for Global Health and Quality at Georgetown University. "There is a larger dependency on basically two organisations, bilateral PEPFAR, and the Global Fund to Fight AIDS, Tuberculosis and Malaria. That's all pretty much all that's left from external financing perspective. The US leadership in that is huge, and if the US doesn't maintain its leadership position, the rest of the countries are just looking for an excuse to get out of HIV. They don't want to be in it," Dybul said.
In 1995, 18m people were living with HIV and Aids and 3m more were being diagnosed each year, according to the study. The epidemic peaked in 2005, when almost 2m people were dying from the disease each year and 31m were living with it. The global campaign against HIV and Aids led to a 23% reduction in cases since 2005, and the death rate decreased by 47% between 2005 and 2015.
The Financing Global Health 2017 report includes the most comprehensive analysis ever conducted of global HIV and Aids spending. This is vital information if the world hopes to stop a reversal of the success it has seen in stemming the epidemic, experts say. "The estimates by country for the first time of government spending on HIV, which has been something that a lot of us working in the field have needed and wanted … it's in this report. They're estimates, but they're really the only comprehensive source of that that I've ever seen," said Jennifer Kates, vice president and director of global health and HIV policy at the Kaiser Family Foundation. "This is filling a major gap in our toolkit that we need for policy and program."
One of the causes for concern experts have identified is the disengagement young people have from the issue of HIV and AIDS, and the fact that they are not accessing services at a rate matching the growth of their share of the population. Dybul said that if the infection rate were to stay where it is today, as the 18 to 25-year old population doubles, the infection rate will double.
"Young people aren't accessing services. And why we think all of a sudden they're going to use self-tests is beyond my comprehension. Every study shows that young people in Africa don't think about HIV anymore. They think about other things," Dybul said. "How we then fit HIV into a bigger picture – which is health, and economic growth and development, and particularly how we deal with young people – that could help us not necessarily get more money but have much more impact with the resources that we're using."
Total global health spending is not expected to decrease in the coming years, with the study predicting global health spending will reach $15.4trn in 2030. Tracking how money is spent is key, according to the report, to inform policy, evaluate results, and identify areas where more investment could improve health outcomes.
"This is just not how you combat an infectious disease. Infectious diseases spread," Kates said. "There's empirical evidence of what happens when you scale back. It's very predictable, and so we're not approaching this challenge in a way that works."
The report is the ninth in a series from the Institute for Health Metrics and Evaluation, which analyses trends in global spending and financing annually. The 2017 report examines the impacts of those trends on the attainment of universal health coverage, and on goals to end the global public health threat of HIV.
As countries move from dependence on external funding, understanding the impacts and interplay of country-level spending and external assistance on progress against HIV can inform strategies supporting other disease-specific efforts, as well as health system strengthening toward universal healthcare access, the report notes.
It highlights the access that increases in global HIV spending brought over the years.
But while country level spending has increased, and donor funding has declined consistently since 2013, external funding continues to make up the bulk of financing for HIV programmes increasingly focused on treatment in the highest burden and lowest income countries, the report notes. Those efforts now, are vulnerable, the authors conclude, to further decreases in external funding.
[link url="https://www.devex.com/news/world-at-risk-of-losing-control-of-hiv-and-aids-epidemic-pepfar-architect-says-92615"]Devex report[/link]
[link url="http://www.healthdata.org/policy-report/financing-global-health-2017"]Institute of Health Metrics and Evaluation Financing Global Health 2017 report[/link]
[link url="http://sciencespeaksblog.org/2018/04/26/report-shows-drop-hiv-funding-threatens-gains-in-high-burden-low-income-countries/"]Sciencespeaks blog[/link]