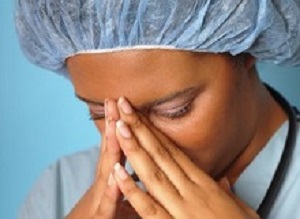 Work stress can only be properly reduced if doctors, nurses and midwives work together, writes Barbara Hanrahan of the University of the Witwatersrand.
Hanrahan writes:
I read the article on the Portal Debacle and the detailed account of the impact of work environment stressors on doctors, in this week's Medical Brief. I would like to see nurses, midwives and doctors stand together as health providers. Doctors, nurses and midwives need to work together in providing optimal health care for patients.
Work environment stressors have for the most part, the same challenges for the whole healthcare team. There are not enough staff members available per patient capita in most hospitals and clinics. Working together will reduce duplicated efforts and decrease some of the workplace stressors. Every player in the multidisciplinary team is interdependent on each other.
Let us build up nurses and doctors TOGETHER with initiatives from both parties to reduce workplace stressors with the aim of giving the best care possible to the people of South Africa who use public sector health care and facilities.
Final-year nursing students, particularly at university level, are also struggling with the community service portal. Speaking up with one voice will have far more impact on streamlining access to the portal.
Yours sincerely
Barbara Hanrahan : midwifery lecturer, department of nursing education, Witwatersrand University.
See: [link url="https://www.medicalbrief.co.za/archives/health-science-deans-suicide-spotlights-sa-workplace-stress/"]Health Science dean's suicide spotlights SA workplace stress[/link]