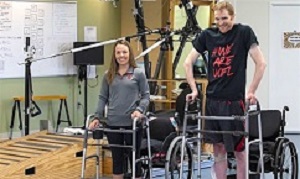 Two patients in an experimental US rehabilitation programme for paralysed people have been able to walk again thanks to electrical stimulation of their spinal cords, and two others have been able to stand or sit, AFP reports according to newly published results.
The results were published at the same time that it was reported on another paraplegic treated at the Mayo Clinic in Rochester, Minnesota who succeeded in walking again also thanks to an electrode implanted in his spinal cord.
The Kentucky Spinal Cord Injury Research Centre at the University of Louisville had previously reported in 2014 that some paralysed patients had regained feeling thanks to electrical stimulation. This time, the centre announced that after months of retraining two participants in its experimental programme were able to walk with the support of a walker or a cane, stimulated with an electrode in the spinal column linked to an implant in the abdomen. Two other participants were able to stand up or sit down.
"All four participants could not do these actions in trials when the stimulator was off," the study's authors said.
The researchers said the physiological mechanisms at work were not fully understood. But they suggested this could be linked to the fact that despite being completely paralysed, the two patients who were able to walk had retained some sensation below the level of their injury.
"The spinal cord can relearn to walk independently," Susan Harkema, the centre's leader is quoted in the report as saying. "We can retrain it to function even though there is that injury disconnecting it from the brain," she said.
Kelly Thomas, one of the two patients who learned to walk, said her first steps were "an emotional milestone in my recovery that I'll never forget." "One minute I was walking with the trainer's assistance and, while they stopped, I continued walking on my own," she said.
The report says she now lives at home, where she is able to move from room to room or go outside with the help of a walker. To do so, she must activate the electric stimulator using a small remote.
Each step she takes still requires a monumental effort. "It's not a quick fix to being paralyzed," she is quoted as saying. But she added: "Nothing's going to be able to stop me in life, because I took something that was thought to be impossible and I turned it into possible."
Summary
Persons with motor complete spinal cord injury, signifying no voluntary movement or sphincter function below the level of injury but including retention of some sensation, do not recover independent walking. We tested intense locomotor treadmill training with weight support and simultaneous spinal cord epidural stimulation in four patients 2.5 to 3.3 years after traumatic spinal injury and after failure to improve with locomotor training alone. Two patients, one with damage to the mid-cervical region and one with damage to the high-thoracic region, achieved over-ground walking (not on a treadmill) after 278 sessions of epidural stimulation and gait training over a period of 85 weeks and 81 sessions over a period of 15 weeks, respectively, and all four achieved independent standing and trunk stability. One patient had a hip fracture during training.
Authors
Claudia A Angeli, Maxwell Boakye, Rebekah A Morton, Justin Vogt, Kristin Benton, Yangshen Chen, Christie K Ferreira, Susan J Harkema
And Kristin Zhao and Kendall Lee at the Rehabilitation Medicine Research Centre, department of physical medicine and rehabilitation, Mayo Clinic, Rochester, report the first case of independent stepping in a human patient experiencing complete lower limb paralysis following spinal cord injury.
Their results are the culmination of a 43-week-long study in which the subject was implanted with an electrical spinal stimulation device and underwent task-specific, multi-modal rehabilitation training in a research setting.
The authors find that at the end of this period, the patient was able to produce intentional contraction of the leg muscles that could support not only standing, but also stepping. The patient was able to step, with both legs, using a front-wheeled walker and on a treadmill. Successful stepping required activation of the stimulator.
While this is the first case of successful reactivation of chronically dormant human spinal cord circuits such that they can support locomotion, trainer assistance was still required to maintain balance while stepping over ground with a walker.
The authors conclude that additional research is required to investigate how the rehabilitation training interacts with the electrical stimulation to recover lost motor functions and to confirm whether this approach could be successful in patients with different types or durations of injury.
Abstract
Spinal sensorimotor networks that are functionally disconnected from the brain because of spinal cord injury (SCI) can be facilitated via epidural electrical stimulation (EES) to restore robust, coordinated motor activity in humans with paralysis1,2,3. Previously, we reported a clinical case of complete sensorimotor paralysis of the lower extremities in which EES restored the ability to stand and the ability to control step-like activity while side-lying or suspended vertically in a body-weight support system (BWS)4. Since then, dynamic task-specific training in the presence of EES, termed multimodal rehabilitation (MMR), was performed for 43 weeks and resulted in bilateral stepping on a treadmill, independent from trainer assistance or BWS. Additionally, MMR enabled independent stepping over ground while using a front-wheeled walker with trainer assistance at the hips to maintain balance. Furthermore, MMR engaged sensorimotor networks to achieve dynamic performance of standing and stepping. To our knowledge, this is the first report of independent stepping enabled by task-specific training in the presence of EES by a human with complete loss of lower extremity sensorimotor function due to SCI.
Authors
Megan L Gill, Peter J Grahn, Jonathan S Calvert, Margaux B Linde, Igor A Lavrov, Jeffrey A Strommen, Lisa A Beck, Dimitry G Sayenko, Meegan G Van Straaten, Dina I Drubach, Daniel D Veith, Andrew R Thoreson, Cesar Lopez, Yury Gerasimenko, V. Reggie Edgerton, Kendall H Lee, Kristin D Zhao
[link url="https://www.afp.com/en/news/23/four-paralyzed-people-us-walk-stand-or-sit-new-treatment-doc-19f7e31"]AFP report[/link]
[link url="https://www.nejm.org/doi/full/10.1056/NEJMoa1803588"]New England Journal of Medicine report[/link]
[link url="https://www.nature.com/articles/s41591-018-0175-7"]Nature abstract[/link]