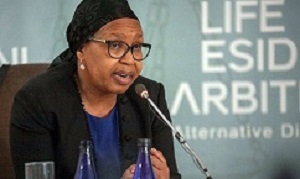 The Life Esidimeni arbitration hearing was delayed for weeks to hear Gauteng's former health MEC testify. But, says a Daily Maverick report, under cross-examination, in front of the families of 143 dead psychiatric patients, she wavered between ignorance, half-truths and deception.
The report says Qedani Mahlangu claimed to have acted swiftly after she was told in September 2016 that 36 patients had died after being moved from Life Esidimeni to NGOs across Gauteng. She announced the deaths in the provincial legislature on 13 September (she was wrong: 85 patients had, in fact, already died) and said she had contacted the health ombudsman on 14 September requesting he investigate.
"Yes it's true that I initiated the investigation," she said at the Life Esidimeni arbitration in Johannesburg on Monday. She cited dates and details of texts she had sent Health Ombudsman Professor Malegapuru Makgoba on the morning of 14 September, claiming that he responded, "Well, I don't think it's necessary." She spoke to Health Minister Aaron Motsoaledi who that afternoon convinced Makgoba to take action.
The story portrays the former MEC as concerned and caring, but, the report says, the health ombudsman disputed her version of events. "The first SMS that I have on my cell (from Mahlangu) is on 15 September," he is quoted as saying. Makgoba released his report last February and found that at least 94 of 1,400 patients had died after being moved from Life Esidimeni in 2016.
The death toll has since risen to 143; more than 50 patients are still missing or unaccounted for. Makgoba's report found that Mahlangu and other senior officials acted negligently. He recommended the current arbitration be established to promote reconciliation and determine financial compensation due to the relatives of those who died.
According to the report, Makgoba said his investigation began after Motsoaledi called him with the request on 14 September 2016 as the minister was on his way to the airport, headed to a UN meeting in New York. Section27 also requested he intervene. Makgoba said he spoke to Mahlangu on 15 September about the logistics of preparing his investigation.
He said Mahlangu was implicated in the Life Esidimeni scandal so could not at the same time have initiated an investigation. He said Motsoaledi had told him he would tell Mahlangu to co-operate, which is in complete contrast to her testimony.
The report says what appeared to be an attempt to deceive the arbitration's chair, former Deputy Chief Justice Dikgang Moseneke, was just one of a number of half-truths or lies she told to avoid facing responsibility for a project she championed. She distanced herself from "operational" activities while blaming officials in the health department for misleading her. Mahlangu was the face of the plan to move Life Esidimeni patients into NGOs and home care, called the Gauteng Mental Health Marathon Project, and had to explain it in the Gauteng legislature. She denied she had misled the legislature when answering questions.
In November 2015, she told legislators that more than 1,000 patients would move to Weskoppies Hospital, Sterkfontein Hospital, Transvaal Memorial Institution, Old Germiston Hospital, Dan Pienaar, and Tshwane District Hospital, but an investigation by the South African Depression and Anxiety Group (Sadag) found that the facilities were either full, unsuitable to care for the patients, or derelict.
Sadag wrote to Mahlangu and she acknowledged the letter but never acted on the concern. On Monday she said former Gauteng Health Department head Dr Barney Selebano and mental healthcare director Dr Makgabo Manamela gave her false information. "I was never given any sense of doubt that the information given to me was incorrect," she said, claiming only to have been acting on the information of departmental staff. She said she may not have read Sadag's advice.
"These NGOs are dishonest," she said to staff at the time regarding Sadag's pleas. She instructed Selebano and Manamela to contact the legal department. On Monday she claimed she was not suspicious of civil society groups, but could not answer why she and the department treated them with contempt.
Democratic Alliance (DA) shadow MEC of health Jack Bloom said in the report that if Mahlangu was honest about the lack of available beds for patients in November 2015, deaths could have been prevented. "Had she replied truthfully the whole project could have been stopped." He added, "Either she's totally stupid, or she kept herself ignorant, or she knew." Either way, she was negligent.
"I did not think, Justice, that I was dishonest to the legislature," Mahlangu said under cross-examination by Section27's Adila Hassim, who represents the families of the deceased. Hassim asked why Mahlangu told the legislature last year that there had only been one complaint about an NGO, based at the Cullinan Care and Rehabilitation Centre.
Two weeks earlier Mahlangu acknowledged receipt of a letter complaining about the Precious Angels NGO, where almost 20 patients died, and a morgue in Atteridgeville. The report says she could not say why she withheld the complaint from the legislature and again tried to blame Selebano and Manamela. Officials speaking at the Life Esidimeni arbitration have all tried to divert personal blame, probably fearing potential criminal charges.
Mahlangu, speaking for the first time since she resigned, rejected the findings of Makgoba's report, which said she was reckless and negligent. "I do not agree with the ombud when he has a finding against me that I was negligent, reason being is that I was not an administrator." She was only the political head and couldn't intervene in operational activities, she claimed.
According to the report, the former MEC is said to have been the driving force behind the deadly plan and had created a culture of fear that shut down opposition within the health department. "The MEC is alleged by many to have said her 'decision was final and non-negotiable and the project had to be done', she left no room for 'engagement'," found the ombudsman.
Mahlangu said she did not appeal Makgoba's findings as she had taken political responsibility by resigning. She then went to study in the UK but denied she was running away from the arbitration and said she had not received a golden handshake to resign and that government was not paying for her studies.
The report says Mahlangu was an evasive and combative witness on the first day of her testimony. It's unlikely she will put truth and justice over self-interest, but as Bloom said, the contradictions in her evidence are becoming clear for all to see.
Mahlangu has implicated Gauteng Premier David Makhura in the decision to cancel the Life Esidimeni contract. Polity quotes Bloom as saying that in her testimony at the Life Esidimeni arbitration hearing, Mahlangu said Makhura was part of the budget committee meeting which cut the Esidimeni contract as a cost-saving measure.
She testified about a meeting with the premier and Nehawu in November 2015 concerning workers who would be retrenched because of the cancellation of the Life Esidimeni contract. "The undertaking was given that they would be given jobs in the department or with the NGOs where they would be sent," Bloom said.
"Makhura has denied that he knew that patients were being sent to NGOs rather than other government facilities, but Mahlangu's testimony shows that he knew early on about the whole scheme."
Meanwhile, the report says, Gauteng's deputy director general for provincial communication services Thabo Masebe said there was nothing new in what Mahlangu testified. "I was at the hearing yesterday (Monday) and there was nothing that contradicted the statement we made before. (The) premier said he was aware of the cancellation of the Life Esidimeni (contract) last year during (the) SOPA (State of the Province Address)."
Makhura said the Health Department informed him that they were moving mental health users to public hospitals because there was space to accommodate them, said Masebe. "The premier will explain his knowledge of everything when he makes an appearance on the 31st of January," Masebe added.
The Citizen reports that Mahlangu's testimony has been eagerly awaited as victims seek closure from the series of unfortunate events. She had previously stalled appearing at the hearings.
Advocate Lesego Mmusi from Duma Nokwe Attorneys, instructed by Lebo Raphiri from Raphiri Attorneys, informed Moseneke that he would be assisting Mahlangu with her evidence. "(We were) instructed on Friday night to assist the former MEC to prepare her witness statement, and traversed a plethora of evidence documents," Mmusi informed the hearing. According to the report, he said whereas Mahlangu's legal team was not completely satisfied with the preparations for the hearing, they would nevertheless proceed.
"We also want to bring to your attention that there are certain documents that she (Mahlangu) requested from the evidence leader. Some of the information had not come to her attention or our attention, however, we are ready to proceed. These are the annexures we prepared.
"We got in touch with evidence leaders and met with Mr Mokachane, and took him through the process. Some material is being copied in the building, we will make it available to the legal team. We have prepared an unsigned statement for the evidence leader," Mmusi added.
"For our comfort, we plead that as soon as (we have the) signed statement with necessary annexures, we will make these documents available," Mmusi told Moseneke, and, the report says, his request was granted.
Mahlangu described the Esidimeni tragedy as the most painful event in the country's healthcare system and apologised to the families of the 143 victims, reports Eyewitness News. She was given the opportunity to read out a prepared a statement.
The report says other family members started to heckle, telling her not to cry as their loved ones died because of her decisions and Moseneke had to intervene. "Again, the witness is entitled to some level of dignity. So, allow her to say what she says, please."
"She is a murderer'" families shouted outside the hearings, reports The Times. A protest led by the Treatment Action Campaign arrived at the Emoyeni conference hearings during the tea break. Families carried white crosses to signify the death of their loved ones and held posters calling for "justice".
Nomvula Nonjabe' whose sister survived the move to the NGOs' called for Mahlangu to never get another job in government. "She killed children in 2007." She was referring to the relocation of children from Life Esidimeni to a Soweto NGO in 2007. An estimated 17 children died' serving as a terrible precursor to the subsequent relocation of adult patients. This has to stop now'' Nonjabe is quoted in the report as saying. Nonjabe called for Mahlangu to never get another job in government.
"They must not be deploying people to other departments. She killed mothers' brothers' sisters' uncles and aunts . . . She must not touch other people's children'" said Nonjabe. "Mahlangu must be arrested."
According to the report, Nonjabe also wants Manamela and Selebano as well as a doctor and social worker in the department to face criminal charges. "It would teach a lot of them (politicians) a lesson. (The lesson will be) if they ever play with lives again there will be consequences."
Mahlangu, who has only recently returned to South Africa from the UK' where she is studying, testified the initiative had had "good intentions" and stemmed from a need to cut costs.
Business Day reports that Mahlangu has returned from London where she has been studying a Masters degree at the Global School of Banking' affiliated to the University of Bedfordshire.
The first question that evidence leader Patrick Ngutshana asked Mahlangu was why she could not testify in October. He suggested she may have been trying to avoid the hearing. Mahlangu said when she started studying in the UK' no one in government had told her there would be Esidimeni hearings.
"I didn't run away. I never ran away'" Mahlangu responded. "I have a home and a family here. My commitment was with my studies … I have never run away from this … I have never had any intention of running away. It is not in my nature to do so."
She said she had been advised by her previous attorneys that she could testify in January, the report says.
The Gauteng Health Department's deputy director for mental health services, Hannah Jacobus, said in testimony last week that her former boss, Manamela forced her to license non-governmental organisations without following legal processes. According to a City Press report, she said Manamela, who resigned from her position as director of mental health on Wednesday of last week, instructed her to license NGOs which were designated to house psychiatric patients.
The report says Selebano, who approved the transfer of the patients to unregistered NGOs, resigned on Monday of last week.
Jacobus, who handles the NGOs operating in the province, told the hearings that she had been working for the department since the 1980s and was appointed the mental health services deputy director four years ago. She went on to explain that the process to license NGOs is long and complicated and that it wasn't followed in the Life Esidimeni project because Manamela had instructed her to bypass it.
"When I alluded to Dr Manamela 'but we cannot do this because we have to follow the other processes'… again Dr Manamela said its unusual circumstances and there are time stamps for the closure of Life Esidimeni," Jacobus said.
The report says in her testimony last year, Manamela said that she too was given instructions to rush the process from Mahlangu.
Meanwhile, the DA has called for Selebano to be criminally charged as his resignation "was not sufficient". "This is not sufficient accountability … he should face criminal charges in a court of law along with former health MEC Qedani Mahlangu and other implicated officials," Bloom said.
"His resignation clears the way for the appointment of a new head for this troubled department which desperately needs strong leadership to fix budgetary problems and provide quality health care to all patients," Bloom is quoted in the report as saying.
More than R2m has been paid to Selebano and Manamela whilst on suspension, Bloom is quoted in a Polity report as saying. "My estimate is that Selebano was paid more than R1.5m during his period of suspension, and Manamela was paid about R700,000."
"It is unfortunate that the disciplinary process against them was delayed by their failed challenge against the findings of the health ombud's Esidimeni report and other stalling tactics," said Bloom.
He is quoted in the report as saying that Selebano and Manamela will both receive "a generous pension" as well.
"I anticipate that Selebano and Manamela will face criminal charges following the police investigation into the Esidimeni deaths, which should include culpable homicide, fraud and contraventions of the Mental Health Act. True justice and accountability will only occur when their culpability is assessed in a court of law," said Bloom.
Masebe is quoted in a report in The Times as saying that Manamela's resignation would not affect the ongoing police investigations, but would put an end to her internal disciplinary hearing.
The report says Manamela' who is also a qualified psychiatric nurse' signed licences giving inexperienced' underfunded' poorly-equipped NGOs permission to look after profoundly mentally ill patients.
Despite being told she was a "defensive" witness' Manamela admitted to Solidarity advocate Dirk Groenewald that the NGOs to which she gave authority did not comply with the legal requirements.
[link url="https://www.dailymaverick.co.za/article/2018-01-23-life-esidimeni-former-health-mec-qedani-mahlangu-spins-a-web-of-confusion-and-deceit-to-shift-the-blame/#.Wmb2H6iWbIU"]Daily Maverick report[/link]
[link url="http://www.polity.org.za/article/mahlangu-implicates-premier-makhura-in-life-esidimeni-decision-da-2018-01-23"]Polity report[/link]
[link url="https://citizen.co.za/news/south-africa/1790132/qedani-mahlangu-apologises-for-esidimeni-tragedy-as-grilling-gets-under-way/"]The Citizen report[/link]
[link url="http://ewn.co.za/2018/01/22/mahlangu-esidimeni-tragedy-most-painful-event-in-country-s-healthcare"]Eyewitness News report[/link]
[link url="https://www.timeslive.co.za/news/south-africa/2018-01-22-upset-families-hone-in-on-qedani-mahlangu/"]The Times report[/link]
[link url="https://www.businesslive.co.za/bd/national/health/2018-01-22-former-gauteng-health-mec-qedani-mahlangu-to-answer-for-esidimeni-tragedy/"]Business Day report[/link]
[link url="http://city-press.news24.com/News/life-esidimeni-manamela-forced-me-to-license-ngos-without-proper-processes-20180118"]City Press report[/link]
[link url="http://www.polity.org.za/article/more-than-r2m-paid-to-esidimeni-officials-who-have-resigned-da-2018-01-18"]Polity report[/link]
[link url="https://www.timeslive.co.za/news/south-africa/2018-01-17-breaking-gauteng-head-of-mental-health-manamela-resigns/"]The Times report[/link]