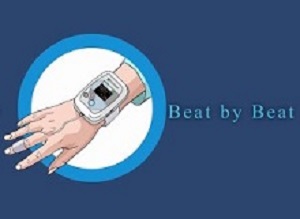 Caretaker Medical has won approval to introduce its Caretaker 4 wireless continuous non-invasive blood pressure (CNIBP) and vital signs monitoring system in the EU.
Medgadget reports that the product, already approved in the US, provides beat-by-beat blood pressure measurements with an accuracy sufficient for intensive care units. It also keeps track of the heart rate, SpO2, and core body temperature, continuously streaming all this data via Bluetooth to the nurse's station, in-hospital electronic medical records, tablets, or other systems and devices.
The device doesn't use a typical upper arm cuff, but rather a small placed one on the middle finger. Every pulse is measured and compared with previous readings, providing a detailed look at the evolving patient status. The pulse pressure changes can be analysed over time, something that is not possible with standard blood pressure systems due to the lack of temporal resolution.
[link url="https://www.medgadget.com/2018/08/caretaker-beat-by-beat-continuous-blood-pressure-and-vital-signs-monitor-cleared-in-eu.html"]Medgadget report[/link]