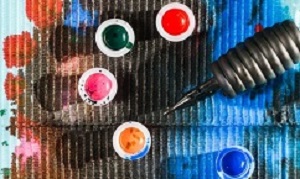 The EU's chemicals watchdog has concluded that substances found in tattooing inks may pose a cancer risk, although there is no direct evidence, and member states will vote in 2019 on restrictions for 4,000 chemicals currently in use. The European Chemicals Agency reports 'strong evidence for both migration and long-term deposition of toxic elements'.
The Independent reports that the review has been sparked in part by the growing popularity of tattoos, currently 12% of Europeans have one, but this rises to one in four among people aged 18 to 35.
Because the dyes used remain in your body permanently there is a lifetime for any harmful chemicals that may be used to have an effect. The EU was also concerned about the lack of oversight of what goes into tattoos. The inks are a blend of several ingredients, and their chemical components are often bought from one supplier to be mixed and sold to distributors and then on to tattoo parlours. Though ingredients are supposed to be thoroughly labelled, especially if they're hazardous, there are no standardised requirements across the EU.
Tony Raita, chair of the Finnish Tattooist Association said cheap coloured inks from China are a growing problem. "They import a lot of colours to the EU and people use them and they don't know what is in the colours, that's pretty dangerous," he said.
The report says the lack of regulation on ink ingredients and absence of research on long-term effects caused the European Chemicals Agency (ECHA) to conclude in October that restrictions are needed to protect the public from risky chemicals used for tattoos and "permanent makeup" – tattoos to mimic eyeliner, for example.
"ECHAs proposal cover about 4,000 substances," Mark Blainey, senior scientific officer at ECHA said. "These substances are covered in other legislation where they're banned for use on the skin, of course we don't want them injected under the skin."
"The most severe concerns are allergies caused by the substances in the inks and that they can possibly cause cancer, DNA damage or effects on reproduction," he added. "We are not looking to ban tattooing but to make sure when people get a tattoo that the inks are as safe as possible."
The report says the public consultation on the restrictions closed in June and now the final proposals are being drawn up by ECHA to be sent to the European Commission later this year, before EU member states vote in 2019 – a process the UK won't be part of.
Despite its recommendations and examples of carcinogenic chemicals being used in inks the ECHA report notes there is currently no direct evidence of a tattoo ink causing cancer. However, the ECHA's Mark Blainey said "that doesn't mean they are not occurring". Two key areas of concern are the effects of the chemicals when injected into the dermis – the deep under layer of the skin – and the long term effect as the pigments break down.
The report says a 2017 study by researchers at the German Federal Institute for Risk Assessment (BfR), found evidence of pigment particles from tattoo ink in patients' lymph nodes, important filtering points along the circulatory system for the body's immune cells. But whether this has a long-term health effect on cancer is harder to track. The study's author Dr Hiram Castillo-Michel at the European Synchrotron Radiation Facility, is quoted as saying: "They usually do not emerge before years or decades after exposure and are thus difficult to link to tattoos or certain tattoo ingredients. Without epidemiological data that tracks large cohorts for decades and investigates whether people are tattooed or not, a connection between tattoo ingredients and chronic adverse effects can hardly be uncovered."
A 2012 review found that even skin cancers, which would seemingly be most closely linked to tattoo inks remained rare. The authors found 50 examples of skin cancers on tattoos after an extensive hunt through the medical literature. "The number of skin cancers arising in tattoos is seemingly low, and this association has to be considered thus far as coincidental," they concluded.
The report says people considering a new tattoo are advised to look at more than just the skill of their tattooist and ask about infection prevention and their inks. Reputable parlours should be able to provide sourcing details that can be traced back to a reliable vendor, as well as health risks, and hazardous material compliance.
Abstract
The increasing prevalence of tattoos provoked safety concerns with respect to particle distribution and effects inside the human body. We used skin and lymphatic tissues from human corpses to address local biokinetics by means of synchrotron X-ray fluorescence (XRF) techniques at both the micro (μ) and nano (ν) scale. Additional advanced mass spectrometry-based methodology enabled to demonstrate simultaneous transport of organic pigments, heavy metals and titanium dioxide from skin to regional lymph nodes. Among these compounds, organic pigments displayed the broadest size range with smallest species preferentially reaching the lymph nodes. Using synchrotron μ-FTIR analysis we were also able to detect ultrastructural changes of the tissue adjacent to tattoo particles through altered amide I α-helix to β-sheet protein ratios and elevated lipid contents. Altogether we report strong evidence for both migration and long-term deposition of toxic elements and tattoo pigments as well as for conformational alterations of biomolecules that likely contribute to cutaneous inflammation and other adversities upon tattooing.
Authors
Ines Schreiver, Bernhard Hesse, Christian Seim, Hiram Castillo-Michel, Julie Villanova, Peter Laux, Nadine Dreiack, Randolf Penning, Remi Tucoulou, Marine Cotte, Andreas Luch
[link url="https://www.independent.co.uk/news/health/tattoo-cancer-ink-eu-chemicals-carcinogen-ban-skin-europe-brexit-a8483491.html"]The Independent report[/link]
[link url="https://echa.europa.eu/-/proposal-to-restrict-hazardous-substances-in-tattoo-inks-and-permanent-make-up"]European Chemicals Agency material[/link]
[link url="https://www.nature.com/articles/s41598-017-11721-z"]Scientific Reports abstract 2017[/link]