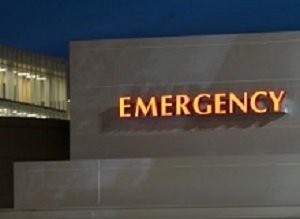 For Zachary Dezman, an emergency physician in heroin-plagued Baltimore, there is no question that offering addiction medicine to emergency room patients is the right thing to do, writes Christine Vestal for The Washington Post.
People with a drug addiction are generally in poorer health than the rest of the population, he said. "These patients are marginalized from the health-care system. We see people every day who have nowhere else to go.
"If they need addiction medicine — and many do — why wouldn't we give it to them in the ER? We give them medicine for every other life-threatening disease."
But elsewhere in the country, all but a few emergency doctors and hospital administrators see things differently.
They worry that offering addiction services could attract more drug-seeking patients than they already see, taking up valuable staff time and beds, said Andrew Kolodny, co-director of the Opioid Policy Research Collaborative at Brandeis University.
Instead of providing anti-addiction medication, many hospitals give ER patients with drug-related conditions the telephone numbers of local treatment clinics, he said.
Despite a drug overdose epidemic that is killing nearly 200 Americans every day and sending thousands more to ERs, the vast majority of the nation's more than 5,500 hospitals have so far avoided offering any form of addiction medicine to emergency patients.
That's starting to change.
In Dezman's ER at the University of Maryland Medical Center Midtown Campus in West Baltimore — and in 10 other Maryland hospitals — addiction services, including starting patients on the highly effective anti-addiction medication buprenorphine, is a new and growing emergency service.
Similar services are planned for emergency departments in 18 more Maryland hospitals, said Marla Oros, president of Mosaic Group, a management consulting firm that is providing technical assistance to the state's hospitals.
Approved by the Food and Drug Administration in 2002 for the treatment of opioid addiction, buprenorphine has been shown to be more than twice as effective as non-medication therapies at helping opioid users quit. Taken daily by mouth, the narcotic medication eliminates withdrawal symptoms and drug cravings, allowing users to feel normal without producing a high.
A 2017 study by researchers at Yale School of Medicine found that opioid-addicted patients who were given an initial dose of buprenorphine in an ER were twice as likely to be engaged in treatment a month later compared with those who were given only referrals to addiction treatment specialists.
Still, a 2017 survey by the American College of Emergency Physicians showed that only 5 percent of emergency doctors work in hospitals offering the anti-addiction medications buprenorphine or methadone, and 57 percent said that detox and addiction treatment facilities outside of the hospital were "rare or never accessible."
Eric Weintraub, an associate professor of psychiatry at the University of Maryland School of Medicine, was an early adopter of buprenorphine in the ER and is now helping spread the concept to other hospitals.
Starting in 2003, he initiated patients on buprenorphine in the psychiatric ER at the University of Maryland Medical Center in downtown Baltimore, and said he found it effective at allowing patients to feel normal again and start thinking about treatment.
In general, Weintraub said in an interview, "We've learned that certain places are conducive to engaging patients in treatment. One of them is the ER. The other is the criminal justice system. We need to grab those opportunities and offer patients effective treatment when they're ready."
On a stormy Monday morning in September, the ER at Midtown Campus is quiet.
Dezman glances at the automatic glass doors at the entrance and says a wave of overdose victims could start rolling in at any time.
"That's the way it typically happens," he said. "We'll hear from EMS that four people were found within a two-block radius and two more were found dead nearby. It's almost always because of a bad batch of fentanyl.
On average, about 70 people come to Midtown Campus's ER every day, and two or more of them are here because of an overdose.
"If someone were to come in right now or at any time before 4 p.m. and need treatment, ER personnel would screen them and probably send them across the street to the hospital's Center for Addiction Medicine."
Outside of regular business hours when treatment facilities are typically closed, the ER staff would give willing patients their first oral dose of buprenorphine here, hold them an hour or two for observation, and make an appointment for them with a treatment center for the next morning, Dezman said.
Dezman has a special Drug Enforcement Administration license that allows him to prescribe buprenorphine, which is a narcotic.
Most emergency physicians don't have a buprenorphine prescribing license, and Oros said they aren't willing to complete the eight hours of clinical training required to get it. But under what is known as the three-day rule, doctors without a DEA license can administer a single dose of the medication to a patient within a 72-hour period.
As a result, any of the doctors on duty in the ER at Midtown Campus can begin dispensing the potentially lifesaving drug and work with a recovery coach to motivate patients to go to a treatment center to get their second and subsequent daily doses. Once patients are stabilized, they can get a monthly prescription for the addiction medication from any primary-care doctor who has a DEA license.
In 2016, Maryland's drug and alcohol overdose deaths shot up two-thirds to more than 2,000. So, for Maryland hospitals, it made financial sense to help as many people as possible with their addictions so they wouldn't have to keep showing up in their emergency departments, Oros said.
Although the stigma associated with addiction is starting to wane among the general public, Kolodny said, emergency doctors and nurses see the worst of the worst when it comes to drug users, and many don't want anything to do with them. Hospital administrators also consider people with addiction to be poor insurance risks in states that have not expanded Medicaid, he said.
"But if this movement in Maryland and other states is successful and starts to become normalized nationwide, it could change everything," Kolodny said. "If you really want to see overdose deaths come down in the United States, getting treatment with buprenorphine has to be easier and cheaper for people with substance use disorders than getting heroin and other opioids on the street. And what could be easier than walking into an ER and getting started on buprenorphine?"
Facing an overdose epidemic, some ERs now offer addiction treatment
https://www.washingtonpost.com/national/health-science/facing-an-overdose-epidemic-some-ers-now-offer-addiction-treatment/2018/10/26/1829df84-c73f-11e8-9b1c-a90f1daae309_story.html?utm_term=.2ea88ef3434b