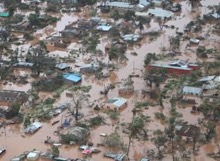 The fate of entire village populations in Mozambique remain unknown as rescue workers try desperately to reach thousands still trapped in rising floodwaters unleashed by Cyclone Idai, reports The Daily Telegraph. Eyewitnesses told of corpses floating down swollen rivers and aerial footage showed families still perched on rooftops and in the upper branches of submerged trees days after Idai tore through three southern African states.
The report says the UK pledged £12m and flew tents and shelter kits into Mozambique to aid an international rescue operation set up in the flooded port city of Beira that often seemed in danger of being overwhelmed by the sheer scale of the disaster. With 90% of the buildings in Mozambique's fourth city damaged or destroyed, aid workers struggled to respond to the basic needs of Beira's 500,000 people, most of whom have neither shelter nor food and water.
But, the report says, there was far greater concern for the fate of those living in villages in the cyclone's path, many of which have been wholly inundated by flash floods and the waters of rivers that burst their banks. Rapidly rising floodwaters have created "an inland ocean" endangering thousands. "Many people are in a desperate situation, fighting for their lives at the moment, sitting on rooftops, in trees and other elevated areas," said Christophe Bouleriac, a spokesperson for the UN children's fund UNICEF.
The report says South Africa's army contributed helicopters, the Indian navy ships, while local fishermen and small boat owners made repeated trips in their canoes to rescue the stranded. A Zimbabwean living in Mozambique reportedly strung 20-litre containers to the back of his boat for the rescued to cling to as for three days he moved from tree to tree and rooftop to rooftop rescuing survivors.
Yet, the report says, even these herculean efforts seemed barely to make a difference. Aid workers said they had been forced to prioritise, rescuing children and pregnant women from some trees but being forced to leave the rest where they were. So huge is the challenge that one aid worker likened it to the evacuation of British troops from Dunkirk.
The death toll from the disaster is rising, but how many may have actually died is anyone's guess, with unconfirmed reports of hundreds dead in just a handful of villages outside Beira alone. "Everyone is doubling, tripling, quadrupling whatever they were planning," said Caroline Haga of the Red Cross. "It's much larger than anyone could ever anticipate."
The report says even though it did not bear the brunt of the cyclone, Zimbabwe's Chimanimani district suffered destruction unprecedented in its modern history. Perence Shiri, the acting defence minister who visited the area, said it resembled "the aftermath of a full-scale war". Nearly all bridges in the region were reportedly washed away while sinkholes made many roads impassable. Another minister said bodies had been washed down swollen rivers across the border into Mozambique.
The report says as in Mozambique, the rescue effort was often left to private individuals. Doug Van der Ruit, a local businessman, and Bob Henson, a former farmer, have flown repeated missions in their small helicopter ferrying medicines and evacuating victims from cyclone-affected areas along the border between Zimbabwe and Mozambique. "We don't know how many are missing, nor how many have died," said Henson, who lives in Harare, Zimbabwe's capital. "But we hope we saved some. Hundreds of houses were smashed down. We flew over some funerals." Many of the victims, including those who need urgent medical attention, cannot get to nearby hospitals, he added, because of impassable roads and collapsed bridges. Among those the two men flew out of the affected area was a dying woman in labour.
The report says van der Ruit witnessed some of the devastation wrought by the cyclone first hand, saying he saw large chunks break off surrounding mountains and come crashing down. "We heard this roaring," he said. "Rocks falling everywhere – no thunder or lightning, just sheets of water, and wind and roaring."
Although meteorologists had warned for a fortnight that a cyclone was on its way, the report says many in rural Mozambique and Zimbabwe were caught unawares and there appears to have been little government effort to carry out a pre-emptive evacuation.
The World Health Organisation (WHO) is providing urgent assistance to meet the health needs of thousands of people impacted by the flooding in Malawi, Mozambique and Zimbabwe. Cyclone Idai, which formed over the northern Mozambique channel, made landfall at the port of Beira and left 500,000 residents without power and means of communication. The government of Mozambique estimates that more than 1,000 people may have died, with 600,000 persons affected in the northern provinces of Niassa, Tete and Zambezia.
The UN Office for the Coordination of Humanitarian Affairs estimates that a total of 1.6m people have been affected in the three countries.
Given the disruption of health services, WHO and partners are supporting all three governments in ramping up the health response to the disaster. Deployed over the weekend, an initial surge team of WHO experts is working with the three health ministries and other partners to target support where it is needed most.
WHO has already dispatched medicines for injuries and primary health care (including malaria treatment) to the affected countries. The supplies cover the primary health care needs for 10 000 people for three months, including treatment for severely injured persons.
WHO is deploying a full incident management team to Mozambique for scaling up the health response. Similar response actions with the deployment of health experts, medicines and medical materials and equipment are also ongoing for Malawi and Zimbabwe.
With most of the affected populations now housed in temporary shelter centres, the emergency supplies are providing support to outreach clinics and to better manage potential outbreaks of waterborne diseases, among others in those centres.
"The displacement of large numbers of people and the flooding triggered by Cyclone Idai significantly increases the risk of malaria, typhoid and cholera," said Dr Matshidiso Moeti, WHO regional director for Africa. "WHO stands with the affected people and is organizing assistance to address their urgent health needs."
State authorities in the three countries continue search and rescue missions.
Providing adequate medical services to scores of people affected by Cyclone Idai is proving to be one of the most challenging aspects of the recovery from the floods, reports News24. "We are only doing emergency surgeries," Dr Nelson Durte Nucopo, the general director of Hospital Central Da Beira (The Central Hospital of Beira), is quoted as saying. The 43-year-old has been the head of the hospital since 2016.
He said the hospital was running on low resources and his staff were forced to turn away patients who didn't have life-threatening injuries. "There has been a lot of damage to the infrastructure. The roof is damaged – the wind blew away the ceilings."
The hospital is located in the heart of the town and has been providing healthcare services to the community for decades. Outside, there are several people sitting on benches, seemingly waiting for their turn. In the reception, buckets are strategically placed to catch water droplets coming from the cracked roof. But because there aren't enough of them to go around, patients are forced to walk through puddles of water inside the building.
Although the hospital has generators, Nucopo said in the report that they needed to be strategic about how they use their power. As you navigate further into the hospital, most of the hallways are dark, except those that are exposed to the sunlight. Fortunately, the hospital has water – thanks to the mobile water tanks – but this is not a feasible long-term strategy.
Nucopo said his main focus was providing world-class medical services to their patients, despite the circumstances. "I have been here since 03:00 today. I only took a break to go home and bath."
The report says Mozambican President Filipe Nyusi has declared a national emergency and has warned that the death toll could rise to 1,000.
Cholera cases have been reported in Beira, adding a risk of deadly illnesses for hundreds of thousands of people who are scrambling for shelter, food and water after catastrophic flooding. "There is growing concern among aid groups on the ground of potential disease outbreaks," the International Federation of the Red Cross and Red Crescent Societies (IFRC) is quoted in an IoL report as saying. "Already, some cholera cases have been reported in Beira along with an increasing number of malaria infections among people trapped by the flooding," it said.
As survivors gathered in informal camps and health officials warned of the danger of cholera and other diseases, UNICEF executive director Henrietta Fore said the situation on the ground was critical with no electricity or running water. "Hundreds of thousands of children need immediate help," she said, estimating 1.7m people were affected by the storm.
The report says around 45km west of Beira, in the village of Guara Guara, the government set up a makeshift camp for people rescued nearby, with little water and no toilets. As for many such camps, progress was slow as aid had to be delivered by helicopter. "The help is coming, but it's coming very slowly," said Esther Zinge, 60, from near the town of Buzi, adding that what did arrive had to be given to children first. "The conditions are terrible, and more people keep coming."
On a beach in Beira, where the Red Cross estimated 90% of the city was damaged or destroyed, the report says survivors clutching infants and bags disembarked from rescue boats beside a ship marooned on the sand and began receiving Red Cross help.
UN secretary-general Antonio Guterres said he was saddened by the "heart-wrenching images of human suffering" and urged the world to step up support for the relief effort.
The report says in Zimbabwe's Coppa Rusitu Valley, a township in Chimanimani near the Mozambican border, hundreds of homes were flattened by large rocks and mudslide from a nearby mountain, burying some residents, who never stood a chance as the cyclone unleashed its fury at night when most were sleeping. Relatives and rescuers were digging through the debris, hoping to find bodies, but some of the rocks were so big they need blasting, a Reuters witness said. Most people lost relatives, workmates or friends in the township, which also housed government workers, including police.
President Emmerson Mnangagwa is quoted in the report as saying he had come face to face with horrific accounts of people grieving the loss of family and friends in Chimanimani. Some survivors have taken refuge at churches and centres offering temporary shelter as they deal with the trauma of their losses while private citizens, international aid agencies and the government rushed humanitarian aid to affected areas.
In Beira, Saviano Abreu of  the UN Office for Coordination of Humanitarian Affairs (OCHA) said the main problem with getting aid to relief camps outside of Beira was that they could be reached only by helicopter, since floods had cut off roads, and helicopters were scarce. Large parts of Beira lacked running water, but everyone affected was getting 20 litres of water for washing, cooking and drinking.
The report says briefing his team, Connor Hartnady, rescue operations task force leader for Rescue South Africa, said Beira residents were getting fed up with shortages. "There have been three security incidents today, all food related," he told his team, without giving further details.
Commenting on Beira, UN humanitarian spokesperson Jens Laerke said if people were desperate to get aid, that should be treated as part of the community response and not as a security matter. "These are desperate people," Laerke said. "I don't think anybody would blame a desperate mother or father who have children who do not have clean water to drink or food to eat who grab it from wherever they find it in a shop."
[link url="https://www.telegraph.co.uk/news/2019/03/20/fate-thousands-unknown-rescuers-struggle-reach-villages-swamped/?WT.mc_id=e_DM973138&WT.tsrc=email&etype=Edi_GHS_New_Weekly&utm_source=email&utm_medium=Edi_GHS_New_Weekly_2019_03_21&utm_campaign=DM973138"]The Daily Telegraph report[/link]
[link url="https://www.afro.who.int/news/who-sending-urgent-health-assistance-after-cyclone-idai-displaces-thousands-people-southern"]WHO material[/link]
[link url="https://www.who.int/emergencies/cyclone-idai/en/"]WHO Cyclone Idai information[/link]
[link url="https://www.news24.com/Africa/News/pics-doctor-in-moz-treats-patient-in-the-dark-i-only-took-a-break-to-go-home-and-bath-20190322"]News24 report[/link]
[link url="https://www.iol.co.za/news/africa/cholera-cases-reported-as-hunger-diseases-stalk-cycloneidai-survivors-20033540"]IoL report[/link]