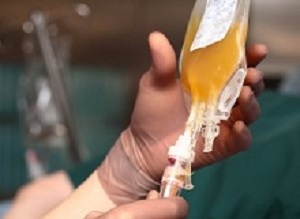 Unscrupulous parties are touting blood plasma infusion from young donors to fight ageing or serious illnesses. This week the US Food and Drug Administration warned against the procedure.
Many older people are infusing young people's plasma into their bodies, but the US Food and Drug Administration says there is no clinical benefit to the procedure. According to a UPI report, the FDA issued the statement in response to the uptick of people receiving plasma infusions from young donors to fight ageing or serious illnesses.
"There is no proven clinical benefit of infusion of plasma from young donors to cure, mitigate, treat or prevent these conditions, and there are risks associated with the use of any plasma product," FDA commissioner Scott Gottlieb and Peter Marks, head of the agency's biologics centre are quoted in the report as saying.
Plasma, or the liquid part of blood, is made up of proteins that help the blood clot. Plasma infusions have already been approved by the FDA in emergency trauma situations.
The report says the agency hasn't approved plasma infusions for Alzheimer's disease, dementia, multiple sclerosis, Parkinson's disease, post‐traumatic stress disorder and heart disease, common conditions patients look to have treated. In fact, the agency warns that plasma infusions can transmit infectious diseases, cause allergic reactions and overload the body's circulatory system.
"Simply put, we're concerned that some patients are being preyed upon by unscrupulous actors touting treatments of plasma from young donors as cures and remedies," the statement read. "Such treatments have no proven clinical benefits for the uses for which these clinics are advertising them and are potentially harmful."
The report says the FDA is calling on health professionals and patients to report any negative reactions that stem from plasma infusions. "As a general matter, we will consider taking regulatory and enforcement actions against companies that abuse the trust of patients and endanger their health with uncontrolled manufacturing conditions or by promoting so-called 'treatments' that haven't been proven safe or effective for any use," the FDA statement read.
[link url="https://www.upi.com/Health_News/2019/02/19/FDA-Taking-blood-from-young-donors-not-clinically-proven-to-fight-disease/2811550603726/?rc_fifo=1"]UPI report[/link]
[link url="https://www.fda.gov/NewsEvents/Newsroom/PressAnnouncements/ucm631568.htm"]FDA statement[/link]