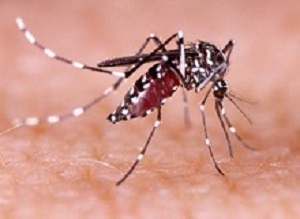 The first evidence from a University of Nairobi study of how chemical compounds found in body odour can be used to develop effective mosquito bait traps to control dengue and chikungunya.
Kenya has seen a rapid increase in chikungunya and dengue viruses outbreaks since 2016. Both are mosquito-borne viral infections that lead to debilitating joint and muscle pain.
The two sister diseases are transmitted by the Aedes aegypti – a black mosquito with white spots that only bites during the day. The viruses are spread by the female mosquito when she searches for blood as a source of protein and iron which she needs to form mosquito eggs.
The outbreaks in Kenya have been in areas normally associated with the diseases, such as the coastal city of Mombasa, as well as new areas such as the north eastern part of the country.
Compared with the large amount of research that's been done on the vectors that carry malaria, not many studies have been done on those that spread dengue and chikungunya. The main reason for this is that malaria continues to kill 1m people each year while dengue and chikungunya claim less than 25,000 lives a year. As a result only a limited number of methods have been developed to manage the Aedes aegypti.
Eunice Anyango Owino, medical entomologist at the School of Biological Sciences, University of Nairobi writes in The Conversation: "We wanted to understand what attracts the black mosquito to its hosts. To do this, we compared commercially available bait traps that contained bait made from natural body odours to see which were more attractive to mosquitoes in their natural environments. Our study found that body odour lured the mosquitoes better. We went further and narrowed the attraction down to four groups of chemical compounds in body odour.
"Our findings provide the first evidence of how chemical compounds found in body odour can be used to develop effective bait traps to control dengue and chikungunya.
"Studies have shown that the lure of carbon dioxide in the human breathe help mosquitoes detect a host. Several additional pieces of research have gone further, showing that mosquitoes are attracted to several different stimuli including physical, visual and olfactory. Physical cues include heat and moisture while visual stimuli include light, colour and form.
"One study, for example showed that mosquitoes were attracted to objects that had been heated and covered in body odour. In another, researchers established that a combination of heat, moisture and body odour was even more potent.
"And in yet another study, where light traps were baited with carbon dioxide, researchers were able to establish that one of the three mosquitoes that spread malaria – the anopheles gambiae mosquito – bites their hosts at night.
"Efforts to understand what attracts the Aedes aegypti mosquitoes has been researched in earnest over the past 12 years.
"The challenge with many previous studies is that most were conducted on samples in laboratories and not in the field. We set about conducting our tests in the field. In addition, we wanted to test the entire body odour and not just the breathe.
"We did two studies. In the first, we used samples of body odour from used socks and worn t-shirts in bait traps in the field. When we compared them to the commercial versions of the traps, we found that the mosquitoes were more attracted to the body odour traps.
"Once we established this, we then analysed the body odour and identified most potent chemical compounds. These were from four major chemical groups: the aldehydes, fatty acids, ketones and alcohols.
"Aldehydes and fatty acids dominate human odour profiles. But each person has a unique chemical compound profile, with different ratios of the four groups of compounds. This means that different people offer different levels of attractiveness to a mosquito.
The chemical compound profile also changes at different points of the body of an individual. This makes certain parts of the body more or less attractive to the mosquito.
"Our second study took these compounds into baited traps. We found that when the compounds were combined with carbon dioxide, they sharpened the body odours that mosquitoes were able to pick up using their antennae.
"Our results suggest that there are additional chemical compound candidates that could be commercialised to attract mosquitoes, particularly Aedes aegypti.
"Ultimately, our findings could lead to a technology made from compounds that come from human body odours to lure and kill mosquitoes that spread the dengue and chikungunya viruses.
"For now, our next steps are to identify the other compounds in body odour that could also attract mosquitoes. Once these are identified they will need to be tested to see if they are also capable of being used as super bait for mosquitoes."
Abstract
Background: Methods currently used in sampling adult Aedes aegypti, the main vector of dengue and chikungunya viruses are limited for effective surveillance of the vector and accurate determination of the extent of virus transmission during outbreaks and inter – epidemic periods. Here, we document the use of natural human skin odours in baited traps to improve sampling of adult Ae. aegypti in two different endemic areas of chikungunya and dengue in Kenya – Kilifi and Busia Counties. The chemistry of the volatiles released from human odours and the Biogent (BG)-commercial lure were also compared.
Methods: Cotton socks and T-shirts were used to obtain natural human skin volatiles from the feet and trunk of three volunteers (volunteers 1 and 2 in Kilifi and volunteers 2 and 3 in Busia). Using Latin square design, we compared the efficacies of BG sentinel traps baited with carbon dioxide plus (a) no bait, (b) human feet volatiles, (c) human trunk volatiles each against (c) a control (Biogent commercial lure) at the two sites. Coupled gas chromatography-mass spectrometry (GC-MS) was used to identify and compare candidate attractants released by the commercial lure and human odours.
Results: Ae. aegypti captured in the trap baited with feet odours from volunteer 2 and trunk odours from the same volunteer were significantly higher than in the control trap in Busia and Kilifi respectively, [IRR = 5.63, 95% CI: 1.15 – 28.30, p = 0.030] and [IRR = 3.99, 95% CI: 0.95-16.69, p = 0.049]. At both sites, Ae. aegypti captures in traps baited with either the feet or trunk odours from volunteers 1 and 3 were not significantly different from the control. Major qualitative differences were observed between the chemical profiles of human odours and the commercial BG-lure. Aldehydes, fatty acids and ketones dominated human odour profiles, whereas the BG-lure released mainly hexanoic acid.
Conclusions: Our results suggest that additional candidate attractants are present in human skin volatiles which can help to improve the efficacy of lures for trapping and surveillance of Ae. aegypti.
Authors
Owino EA, Sang R, Sole CL, Pirk C, Mbogo C, Torto B1
[link url="https://theconversation.com/how-we-pinned-down-what-attracts-mosquitos-that-carry-dengue-fever-91419?utm_medium=email&utm_campaign=Latest%20from%20The%20Conversation%20for%20February%2025%202018%20-%2095478197&utm_content=Latest%20from%20The%20Conversation%20for%20February%2025%202018%20-%2095478197+Preview+CID_af996ae11486e595a674fa09ca6458e2&utm_source=campaign_monitor_africa&utm_term=says&utm_medium=email&utm_campaign=Latest%20from%20The%20Conversation%20for%20February%2025%202018%20-%2095478198&utm_content=Latest%20from%20The%20Conversation%20for%20February%2025%202018%20-%2095478198+CID_17181f3af58f3aa79296060063c8d99a&utm_source=campaign_monitor_africa&utm_term=writes"]The Conversation report[/link]
[link url="https://www.ncbi.nlm.nih.gov/pubmed/25246030"]Parasitic Vectors abstract[/link]