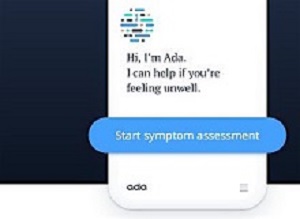 A free app that lets patients do quick health check-ups on themselves is the centre-piece of a Gates Foundation-backed project to bring better care to poor regions of Africa, Asia and South America. According to Business Report the medical app, also receiving funding from the Swiss-based foundation Botnar, will be the first of its kind available in Swahili, and will also be offered free in Romania. The project with Botnar will open up tech start-up Ada Health GmbH's artificial-intelligence-enabled health advice to at least 2m people in areas with little access to hospitals and providers.
The report says Ada's software is designed to help patients determine whether they need care and put them in touch with nearby services when they're required, relieving pressure on health systems. "It helps you get a better idea of the medical condition that's causing symptoms, and then helps you make an informed decision about next steps," said Daniel Nathrath, Berlin-based Ada's co-founder and CEO. "In Tanzania, often the best option will be to find out where the closest community health worker is."
Ada will also research how self-check-ups powered by AI can support health care in developing countries, with an emphasis on preventing potentially deadly epidemics. The software will be customised for certain countries by collecting data on the prevalence of diseases, like malaria, that are more common in the developing world than in the West, Nathrath is quoted in the report as saying.
Founded in 2011, Ada offers a mobile-phone app that walks people through symptoms, provides probable causes and advises them what to do – whether that's to take an aspirin or call an ambulance. Currently available in English, German, Spanish, Portuguese and French, it's been downloaded by about 5m people in more than 130 countries.
The report says Ada has received almost $70m in funding, including a $46m investment round in October 2017 that was led by Access Technology Ventures, a New York venture capital firm.
Competitors include London-based Your MD AS, Kry of Stockholm and WebMD Health in the US and British rival, Babylon Healthcare Services, has an initiative with the government of Rwanda in which its app has been used to treat more than 2m people.
The report says critics charge that the effectiveness of such apps remains uncertain by traditional scientific standards. Harvard Medical School researchers who conducted a head-to-head study in 2016 found that doctors were twice as good as symptom-checking apps at diagnosing patients based on their descriptions of symptoms and basic medical history.
[link url="https://www.iol.co.za/business-report/international/gates-foundation-invests-in-healthcare-app-to-expand-in-africa-17427324"]Business Report report[/link]