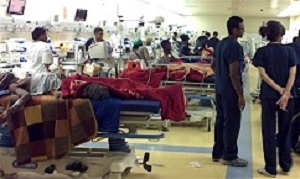 More than 20'000 patients have been harmed at state hospitals in Gauteng in the space of two-and-a-half years,  according to official statistics. Chris Hani Baragwanath is the most dangerous hospital and accounted for more than a quarter of all reported 'Serious Adverse Events' in that period, while Heidelberg Hospital was the safest.
The Times reports that Gauteng Health MEC Gwen Ramokgopa quoted the figure in a written response to questions posed in the Gauteng Legislature by Democratic Alliance (DA) MPL Jack Bloom.
When patients are harmed unintentionally' by an act of commission or omission rather than their underlying illness or condition' the incidents are recorded as "Serious Adverse Events". There have been 20'417 of these incidents in the province since 2016' to date. "Chris Hani Baragwanath Hospital is the most dangerous hospital for patients in Gauteng' with 4'320 recorded (incidents)'" Bloom is quoted in the report as saying.
Ramokgopa confirmed that the cases were' broadly speaking' related to "allegations of negligence' incompetence of staff members' human errors' secondment of patients and system failure". A breakdown of the incidents shows that there were 6'192 in 2016' 9'767 in 2017 and 4'458 between the start of 2018 and June.
Incidents recorded at other academic hospitals included: Steve Biko Hospital (1'789)' George Mukhari Hospital (1'574) and Charlotte Maxeke Johannesburg Hospital (1'262).
The highest number of incidents recorded at other hospitals in the province were: Sebokeng Hospital (1'487)' Thelle Mogoerane Hospital (1'387)' Helen Joseph Hospital (1'044)' Tembisa Hospital (865)' Rahima Moosa Hospital (860)' Mamelodi Hospital (824)' Leratong Hospital (651)' Far East Rand Hospital (644)' Tambo Memorial Hospital (615)' Kalafong Hospital (413)' Pholosong Hospital (384) and Bertha Gxowa Hospital (323).
Heidelberg Hospital had the lowest number of incidents at 42.
Ramokgopa said that action taken after such incidents involved disciplining staff' referral to the police' and referrals to the Health Professions Council and the South African Nursing Council' as well as various preventative measures.
"The shockingly high number of harmful events to patients highlights the crisis in public health that is driving up medical negligence cases which lead to huge court-ordered pay-outs'" Bloom said in the report.
[link url="https://www.timeslive.co.za/news/south-africa/2018-08-06-more-than-20000-patients-harmed-in-gauteng-hospitals/"]The Times report[/link]