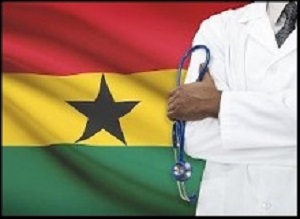 Ghana is one of the few countries in Africa to have implemented a form of social insurance healthcare, which is being punted as a template for South Africa. But health-care actuary Barry Childs points out that due to "administrative challenges", the Ghanaian system covers only 38% of the population.
Medical social historian Samuel Adu-Gyamfi writes in City Press that the Ghanaian system, known locally as the National Health Insurance Scheme (NHIS), was introduced in October 2003 and "is not a neutral entity; it is mired in politics".
Adu-Gyamfi writes:
Today the NHIS is managed by the National Health Insurance Authority, an autonomous body.
It is regulated through the National Health Insurance Council. The scheme is financed through a cost-sharing process involving participants of the NHIS and the government of Ghana.
There are two main groups that use the scheme: those working in the formal sector and those in the informal sector.
The former include employees of private entities and self-employed individuals who contribute to the Social Security and National Insurance Trust (SSNIT) fund.
Children under the age of 18; women in need of antenatal, delivery and postnatal care; people classified by the ministry for social welfare as indigent under the Livelihood Empowerment Against Poverty programme; people with mental disorders; pensioners of the SSNIT and people aged 70 and older are all entitled to the benefits that those in formal sector employment receive.
Most of them pay renewal and card-processing fees, with the exception of pregnant women, the poverty programme's beneficiaries and people with mental disorders. These formal groups constitute about 69% of the NHIS membership and they are not required to pay the premium.
The second group using the scheme comprise those in informal employment: 31% of the 40% of the national population covered by the NHIS are from the informal sector. Members who are informal sector workers are required to pay a premium.
The NHIS covers about 95% of ailments treated at health facilities in Ghana. There are about 3 500 public, private and faith-based healthcare facilities. Of these, 57% are public facilities, 33% are private ones and 7% are operated by the Christian Health Association of Ghana.
One teaching hospital is private, and the rest – which include teaching, municipal, metropolitan, regional and district hospitals – are public facilities.
Adu-Gyamfi writes that while it has taken political will and strategic funding to entrench universal health coverage in Ghana and despite hiccups, the scheme enjoys widespread acceptance.
TimesSelect reports that health-care actuary Barry Childs, speaking at the Hospital Association SA conference, said that in countries that roll out universal health insurance, people still have to pay extra for health care over and above their mandatory payment towards state or private health insurance.
Wealthier people in these countries still have additional private insurance and quicker access to doctors and treatment. And no middle-income country has used a single fund or single payment system to purchase universal health cover, as proposed in SA's National Health Insurance (NHI) Bill.
Childs noted that the countries he studied – Childs included Ghana, Kenya, Brazil, Australia, Thailand, Canada, China, France, the Netherlands and the UK – approach the provision of and payment for health care differently, but in all cases financial contributions to the system are mandatory, as is proposed by the NHI Bill.
However, in contrast to SA's proposed single NHI fund to pay for health care, most other countries with UHC that Childs studied employ a number of funds.
A country that uses a single fund is Ghana. It has a relatively undeveloped state and private-sector health system, and due to "administrative challenges" it covers only 38% of the population.
"Private insurance exists meaningfully in almost every country, to cover services not provided by an NHI or equivalent, to fund co-payments, to offer wider provider choice, especially access to private providers, and to shorten waiting times."
Despite Mkhize promising the poor would have access to "essential health care" even if they couldn't pay, UHC has not eliminated out-of-pocket spending in most of the countries Childs studied – meaning people have to make payments over and above their taxes and their insurance fund premiums.
Childs said in all UHC systems, there are rationing committees – known by critics of NHI as death committees – that decide what procedures and medication will be covered. This is similar to the system employed by private medical aids.
The City Press article is extracted from Adu-Gyamfi book Epidemics and the Health of African Nations published by the Mapungubwe Institute for Strategic Reflection.
[link url="https://city-press.news24.com/Voices/what-we-can-learn-from-the-ghanaian-experience-of-national-health-insurance-20190904"]Full City Press report[/link]
[link url="https://www.timeslive.co.za/sunday-times/business/2019-09-08-sa-can-learn-about-nhi-from-those-who-have-it/"]Full TimesSelect report[/link]
[link url="https://www.timeslive.co.za/sunday-times/business/2019-09-08-sa-can-learn-about-nhi-from-those-who-have-it/"]Childs' presentation at HASA 2019[/link]