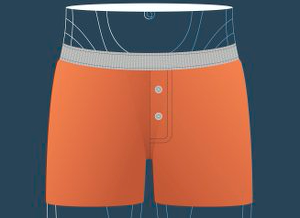 Men who most frequently wore boxers had significantly higher sperm concentrations and total counts when compared with men who did not, according to research led by Harvard TH Chan School of Public Health. The findings of this study, conducted in the Fertility Clinic at Massachusetts General Hospital, suggest that certain styles of men's underwear may inhibit production of sperm.
"These results point to a relatively easy change that men can make when they and their partners are seeking to become pregnant," said Lidia Mínguez-Alarcón, lead author of the study and research scientist at the Harvard Chan School.
While previous research has shown that elevated scrotal temperatures can adversely affect testicular function, studies on whether and how different styles of underwear may impact sperm production have been inconsistent.
For this study, the largest of its kind to look at underwear and semen quality, researchers collected information and semen samples from 656 men who were part of couples that were seeking treatment at a fertility centre. The men, who were between the ages of 32 and 39, completed a survey that included questions about the style of underwear they wore in the previous three months. Options included boxers, jockeys, bikini, briefs, and other.
Among the study participants, 53% reported usually wearing boxers. Analysis of semen samples showed that these men had 25% higher sperm concentrations and 17% higher total sperm counts when compared with men who did not primarily wear boxers. Men who wore boxers also had higher percentages of motile sperm, or sperm that are capable of moving through the female reproductive system and fertilising an egg. The most significant difference in sperm concentration was seen between men who wore boxers and men who wore jockeys and briefs.
In addition, analysis of blood samples collected from 304 of the study participants showed that men who wore boxers had 14% lower levels of follicle stimulating hormone (FSH) compared with men who didn't wear boxers. FSH is known to play an important role in male fertility and is associated with sperm production. The simultaneous presence of lower sperm counts and higher FSH among men wearing tight-fitting underwear suggests the presence of a compensatory mechanism whereby the decreased sperm production among men in tighter underwear signals the brain to boost production of hormones that stimulate the activity of the gonads to try to increase sperm production.
"Beyond providing additional evidence that underwear choices may impact fertility, our study provides evidence, for the first time, that a seemingly random lifestyle choice could have profound impacts on hormone production in men at both the level of the testis and the brain," said Jorge Chavarro, senior author of the study and associate professor of nutrition and epidemiology.
Funding for this study came from National Institutes of Environmental Health Sciences grants.
Abstract
Study question: Is self-reported type of underwear worn associated with markers of testicular function among men at a fertility center?
Summary answer: Men who reported most frequently wearing boxers had higher sperm concentration and total count, and lower FSH levels, compared to men who did not.
What is known already: Elevated scrotal temperatures are known to adversely affect testicular function. However, the epidemiologic literature on type of underwear, as a proxy of scrotal temperature, and male testicular function is inconsistent.
Study design, size, duration: This is a cross-sectional study including 656 male partners of couples seeking infertility treatment at a fertility center (2000–2017).
Participants/materials, settings methods: Self-reported information on type of underwear worn was collected from a take-home questionnaire. Semen samples were analyzed following World Health Organization guidelines. Enzyme immunoassays were used to assess reproductive hormone levels and neutral comet assays for sperm DNA damage. We fit linear regression models to evaluate the association between underwear type and testicular function, adjusting for covariates and accounting for multiple semen samples.
Main results and the role of chance: Men had a median (interquartile range) age of 35.5 (32.0, 39.3) years and BMI of 26.3 (24.4, 29.9) kg/m2. About half of the men (53%; n = 345) reported usually wearing boxers. Men who reported primarily wearing boxers had a 25% higher sperm concentration (95% CI = 7, 31%), 17% higher total count (95% CI = 0, 28%) and 14% lower serum FSH levels (95% CI = −27, −1%) than men who reported not primarily wearing boxers. Sperm concentration and total count were inversely related to serum FSH. Furthermore, the differences in sperm concentration and total count according to type of underwear were attenuated after adjustment for serum FSH. No associations with other measured reproductive outcomes were observed.
Limitations, reasons for caution: Our results may not be generalizable to men from the general population. Underwear use was self-reported in a questionnaire and there may be misclassification of the exposure. The cross-sectional design limits causal inference, and residual confounding is still possible owing to lack of information on other modifiable life styles that can also modify scrotal heat (e.g. type of trousers worn, textile fabric of the underwear). Blood sampling was not limited to the morning and, as a result, we may have missed associations with testosterone or other hormones with significant circadian variation despite statistical adjustment for time of blood draw.
Wider implications of the findings: Certain styles of male underwear may impair spermatogenesis and this may result in a compensatory increase in gonadotrophin secretion, as reflected by higher serum FSH levels among men who reported most frequently wearing tight underwear. Confirmation of these findings, and in particular the findings on FSH levels suggesting a compensatory mechanism, is warranted.
Authors
Lidia Mínguez-Alarcón Audrey J Gaskins Yu-Han Chiu Carmen MesserlianPaige L Williams Jennifer B Ford Irene Souter Russ Hauser Jorge E Chavarro
[link url="https://www.hsph.harvard.edu/news/press-releases/does-underwear-style-affect-sperm-production/"]Harvard TH Chan School of Public Health material[/link]
[link url="https://academic.oup.com/humrep/advance-article/doi/10.1093/humrep/dey259/5066758?searchresult=1"]Human Reproduction abstract[/link]