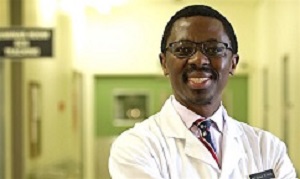 The suicide of Professor Bongani Mayosi – a cardiologist' researcher' and dean of health sciences at the University of Cape Town – has been attributed some to the pressure he had to endure from abusive protesting students. It again spotlights the enormous stress under which South African medical academics and practitioners work, with two recent studies showing high levels of burnout.
The University of Cape Town Vice-Chancellor Mamokgethi Phakeng said in an address to media that Mayosi's office was occupied for two weeks by protesting students in 2016 and that the #FeesMustFall protests may have contributed to the death of Mayosi.
Phasing said: "Mayosi went on three months' leave and early this year collapsed because of a psychological attack. Protests in 2016/17 weren't kind to him as a dean. He had to manage pressure coming from many different directions, including from staff and students. And some black students were angry with him. They called him names, like coconut or sell-out, when his intentions were really for the students' best welfare.
She said the university was aware that Mayosi was suffering from depression. Phakeng said Mayosi tendered his resignation to then vice-chancellor Max Price in November. "It's a pity that we as an institution didn't listen to him then draw on his strength. Make sure he is happy." She said the university should have rather had him leave the dean's office and go back to his professorship.
Phakeng said that UCT had seen a rise in mental health issues, not only among students but among staff, who suffered from post-traumatic stress disorder as a result of the #FeesMustFall protests.
The report says UCT students embarked on a series of #FeesMustFall protests from 2015 to 2017, demanding free education and transformation. "This is a moment for us to reflect that when we pursue our own struggles, we be cautious that we're dealing with human beings and can affect them in undesirable ways," Phakeng said. "Be conscious. The idea is not to destroy people, whether they are against or for the protest. It shouldn't be destructive conflict."
She said the university had lost an A-rated world leader in cardiology as well as a leading scholar. "We have lost someone whose voice was important at critical times, someone who never spoke much at Senate, but when he did, people listened. He had an important voice at management level."
#FeesMustFall activist Chumani Maxwele said in the report that he respected Phakeng's opinion but believed "the university killed Mayosi and seven other black students who committed suicide last year".
"The biggest silent killer is the work environment for black academics at the institution, not him being called a coconut. Anyone who knew Mayosi knew his best work was at the lab.
"He at the time was the only senior academic, hence we pushed that he be elevated to a leading role in the institution. He was the most supportive academic, why would he be offended by students for whom he showed understanding?"
The Times reports that some called for more doctors to be honest about depression and the conditions doctors face, including long work hours, a lack of support, and making daily decisions about life and death.
Fellow world-recognised scientist Professor Quarraisha Karim, from the University of KwaZulu-Natal, praised Moyasi's family, including his wife, Nonhlanhla, for speaking openly about his suicide. "I applaud his family for putting the spotlight on the devastating impact of depression. Hamba Kahle, Bongani!"
Intensive care doctor Professor Guy Richards, who heads the critical care department at the University of the Witwatersrand, said he lost one his fellows (a qualified specialist doctor studying to qualify in a sub-specialty) in December last year to suicide. He urged doctors to be open about facing mental illness.
"I appeal to those among us, doctors, who are suffering from depression, not to hide it but to share. We lost one of our fellows last year. It was completely unexpected and also completely devastating."
Medical doctor Jonathan Witt, who was friends with a fellow doctor who took his life, is quoted in the report as saying: "I don't quite know how to emphasise the scale of this epidemic among doctors. Personally, I know of three medical specialists who have taken their own lives in the past nine months.
"Besides the loss to their families, the death of a medical practitioner is a tragedy for entire communities. The medical fraternity has a major mental illness and suicide problem which is constantly ignored in lieu of working ridiculous hours, taking abuse as routine and dealing with life-and-death decisions daily. As such, too many doctors resort to self-damaging behaviour and, far too often, suicide.
"Many of my colleagues are coming to work with a fake but convincing smile on their faces, while suffering through crippling depression. Those in a position to advocate for change must do so urgently."
He added that medicine didn't cause mental illness, but stress exacerbated it. "I implore my colleagues to take this seriously.
Witt said it affected junior doctors too. "It's not just those at the top of their game either. Interns, medical officers and registrars are just as vulnerable. When I led the Medical Students' Council at Wits our survey data showed that as many as 60% of medical students took one kind of psychiatric medication or another."
The report says the SA Depression and Anxiety Group runs a helpline for medical students, set up after a Wits medical student committed suicide last year. Call 0800 323 323, or to talk to a counsellor use the emergency helpline on 0800 567 567.
Mayosi's suicide has prompted the South African Medical Association (Sama) to set up a support structure to address the underlying problems of a heavy workload and long hours that lead to doctors suffering from stress and depression.
The Citizen reports that paying tribute to Mayosi, Sama chair Mzukisi Grootboom said the health fraternity was "shocked to hear that Dr Mayosi had suffered from chronic depression in the two years before his death.
"Colleagues face serious difficulties in the workplace and, as they are treating patients, they often forget about their health, which is the reason Sama has set up a structure to deal with doctors' mental health problems," said Grootboom.
"It is sad that we in the medical profession cannot look after our own," he added.
He said mental health problems "have become prevalent in the profession and it is important to establish the root causes". While managing university departments was clearly challenging, "the passing of a highly respected medical expert and researcher like Mayosi is a great loss to South Africa. Because he suffered from chronic depression for the past two years, we want to find out what kind of support he got from UCT. Without knowing the exact details, it is concerning to lose a young, talented doctor."
He added: "Sama sends condolences to the Mayosi family during this time of sadness."
The report says according to last year's figures, there is a drastic shortage of cardiologists in South Africa. There were 175 active and registered in the country, of which only 35 were in public health service or working in training centres.
[link url="https://www.news24.com/SouthAfrica/News/family-devastated-by-death-of-professor-mayosi-who-struggled-with-depression-20180728"]News24 report[/link]
[link url="https://www.heraldlive.co.za/news/2018-07-30-cardiologists-death-rocks-sa/"]The Herald report[/link]
[link url="https://select.timeslive.co.za/news/2018-07-30-why-so-many-of-sas-doctors-are-killing-themselves/"]The Times report[/link]
[link url="https://www.iol.co.za/capeargus/news/did-student-protests-contribute-to-uct-professors-suicide-16314839"]Cape Argus report[/link]