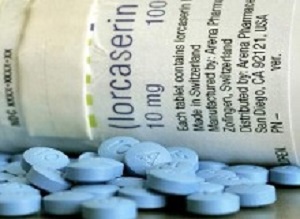 Lorcaserin effectively aids weight loss in obese patients at a high risk for cardiovascular events (MACE) without increasing the rate of MACE.
With a median follow-up of 3.3 years, lorcaserin did not increase the incidence of major cardiovascular events – its primary safety endpoint – compared with placebo (6.1% vs 6.2%, respectively; p<0.001). "This is the first approved chronic weight-management medication to demonstrate safety for MACE in a dedicated, long-term cardiovascular outcome trial," comments Dr Erin Bohula at Brigham and Women's Hospital, Boston. However, the trial did not reach its primary efficacy endpoint, the rate of the composite of MACE/hospitalisation for unstable angina/heart failure/coronary re-vascularisation being similar with lorcaserin and placebo (11.8% and 12.1%, respectively; p=0.55).
"Lorcaserin effectively aids weight loss in obese patients at a high risk for cardiovascular events without increasing the rate of MACE."
"Patients taking lorcaserin lost a greater amount of weight in the first year than those receiving placebo (4.2 kg and 1.4 kg, respectively, p<0.001) and at one year, significantly more of them had lost at least 5% of their body weight (39% vs 17%, p<0.001)," she notes, adding, "We also observed small but significant improvements in multiple cardiovascular risk factors, including triglyceride levels, blood pressure and new onset diabetes."
Side effects of lorcaserin were consistent with those documented previously – including dizziness, fatigue, headache and nausea – and there was also a higher incidence of serious hypoglycaemia in patients receiving the drug. An echocardiographic substudy revealed a greater incidence of valvular disease at one year with lorcaserin (1.8% vs 1.3% with placebo), but this did not reach statistical significance.
"Whilst education and lifestyle modifications are key for weight management, some overweight or obese patients require additional help to manage their weight over the longer term," explains Bohula. "It is important for patients and physicians to know that pharmacologic agents that can assist with long-term weight management are not only effective for weight loss, but also safe from a cardiovascular perspective. The CAMELLIA-TIMI 61 trial is the first demonstration of cardiovascular safety for any weight-loss agent. As such, it provides an additional therapeutic option for these patients."
Abstract 2069
Not available online
Tam Fry, of Britain's National Obesity Forum, said in a report in The Guardian that the drug is potentially the "holy grail" of weight-loss medicine. "I think it is the thing everybody has been looking for," he said. "I think there will be several holy grails, but this is a holy grail and one which has been certainly at the back of the mind of a lot of specialists for a long time. But all of the other things apply – lifestyle change has got to be root and branch part of this."
Professor Jason Halford, an obesity expert at the University of Liverpool, is quoted as saying that the drug's availability in the UK would depend on whether it is approved by National Health Service regulators. "We don't have any appetite suppressants available on the NHS. We have a massive great gap between lifestyle modification and surgery," he said.
"At the moment you either get support and advice, or you get to surgery – there is nothing in between. This could be widely prescribed if it is approved by NICE (the National Institute of Health and Care Excellence) in the UK."
The report says the Food and Drug Administration, the US medicines watchdog, approved lorcaserin's use in some adults in 2012.
[link url="https://www.escardio.org/Congresses-&-Events/ESC-Congress/Congress-resources/Congress-news/weight-loss-drug-does-not-increase-major-cardiovascular-events-in-high-risk-obese-patients"]ESC Congress 2018 material[/link]
[link url="https://www.theguardian.com/society/2018/aug/27/weight-loss-drug-belviq-not-linked-to-heart-problems-finds-study"]The Guardian report[/link]