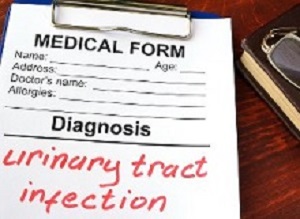 Ibuprofen, given instead of antibiotics to women with uncomplicated urinary tract infection, (cystitis), leads to longer duration of symptoms and more serious adverse events related to the spread of the primary infection, according to a study by Ingvild Vik and colleagues from the University of Oslo, Norway.
More than half of all women will experience an uncomplicated urinary tract infection during life, and most of these infections resolve without further complications. A short course of antibiotics is a widely accepted standard for the treatment of bacterial urinary tract infection, but antibiotic resistance is a growing, serious public health problem. Some prior studies have suggested that treatment with non-steroidal anti-inflammatory drugs such as ibuprofen may support recovery of a urinary tract infection, raising the possibility that antibiotic use could be reduced.
In the current study, the authors randomised 383 women from 3 Scandinavian countries with uncomplicated urinary tract infections to received either standard treatment of antibiotics for 3 days, or ibuprofen as a symptomatic treatment without an antimicrobial effect. Women's symptoms, bacterial growth from urinary samples, and the occurrence of adverse events including systemic infection or hospitalisation, were monitored during the study.
The results showed that women assigned to receive ibuprofen without antibiotics took three days longer to get well on average. 70 out of 181 patients receiving ibuprofen (39%) compared to 131 out of 178 receiving antibiotics (74%) recovered from symptoms by day 4 (35% adjusted risk difference, 95% CI). Also, among women in the ibuprofen group, twelve (6.6%) developed a febrile urinary tract infection, with a smaller proportion (3.9%) developing a serious kidney infection which did not occur in the antibiotics group.
Although more than half of the patients initially treated with ibuprofen got well without taking antibiotics suggesting that this approach could potentially reduce overall antimicrobial usage, the study concludes, in confirmation of other recently reported trials, that it is not safe to recommend ibuprofen instead of antibiotics in uncomplicated cystitis, due to the increased risk of developing a serious upper urinary tract infection.
"Initial treatment with ibuprofen could reduce unnecessary use of antibiotics in this group. However, until we can identify those women in need of antibiotic treatment to prevent complications, we cannot recommend ibuprofen alone to women with uncomplicated UTIs," the authors state in their conclusion.
Abstract
Background: Although uncomplicated urinary tract infections (UTIs) are often self-limiting, most patients will be prescribed antibiotic treatment. We assessed whether treatment with ibuprofen was non-inferior to pivmecillinam in achieving symptomatic resolution by day 4, with a non-inferiority margin of 10%.
Methods and findings: This was a randomized, controlled, double-blind non-inferiority trial. We recruited patients from 16 sites in a general practice setting in Norway, Sweden, and Denmark. Non-pregnant women aged 18–60 years presenting with symptoms of uncomplicated UTI were screened for eligibility from 11 April 2013 to 22 April 2016. Patients with informed consent were randomized (1:1 ratio) to treatment with either 600 mg ibuprofen or 200 mg pivmecillinam 3 times a day for 3 days. The patient, treating physician, and study personnel were blinded to treatment allocation. The primary outcome was the proportion of patients who felt cured by day 4, as assessed from a patient diary. Secondary outcomes included the proportion of patients in need of secondary treatment with antibiotics and cases of pyelonephritis. A total of 383 women were randomly assigned to treatment with either ibuprofen (n = 194, 181 analyzed) or pivmecillinam (n = 189, 178 analyzed). By day 4, 38.7% of the patients in the ibuprofen group felt cured versus 73.6% in the pivmecillinam group. The adjusted risk difference with 90% confidence interval was 35% (27% to 43%) in favor of pivmecillinam, which crossed the prespecified non-inferiority margin. Secondary endpoints were generally in favor of pivmecillinam. After 4 weeks' follow-up, 53% of patients in the ibuprofen group recovered without antibiotic treatment. Seven cases of pyelonephritis occurred, all in the ibuprofen group, giving a number needed to harm of 26 (95% CI 13 to 103). Five of these patients were hospitalized and classified as having serious adverse events; 2 recovered as outpatients. A limitation of the study was the extensive list of exclusion criteria, eliminating almost half of the patients screened. We did not register symptoms in the screening process; hence, we do not know the symptom burden for those who declined to participate. This might make our results less generalizable.
Conclusions: Ibuprofen was inferior to pivmecillinam for treating uncomplicated UTIs. More than half of the women in the ibuprofen group recovered without antibiotics. However, pyelonephritis occurred in 7 out of 181 women using ibuprofen. Until we can identify those women who will develop complications, we cannot recommend ibuprofen alone as initial treatment to women with uncomplicated UTIs.
Authors
Ingvild Vik, Marianne Bollestad, Nils Grude, Anders Bærheim, Eivind Damsgaard, Thomas Neumark, Lars Bjerrum, Gloria Cordoba, Inge Christoffer Olsen, Morten Lindbæk
[link url="https://www.sciencedaily.com/releases/2018/05/180515142530.htm"]PLOS material[/link]
[link url="http://journals.plos.org/plosmedicine/article?id=10.1371/journal.pmed.1002569"]PLOS Medicine abstract[/link]