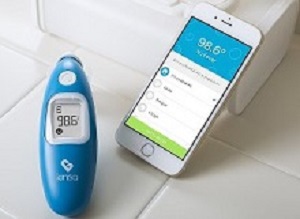 A new approach tested by researchers at the University of Iowa shows that de-identified data from a "smart thermometer" connected to a mobile phone app can track flu activity in real time at both population and individual levels and the data can be used to significantly improve flu forecasting.
"We found the smart thermometer data are highly correlated with information obtained from traditional public health surveillance systems and can be used to improve forecasting of influenza-like illness activity, possibly giving warnings of changes in disease activity weeks in advance," says lead study author Dr Aaron Miller, a UI postdoctoral scholar in computer science. "Using simple forecasting models, we showed that thermometer data could be effectively used to predict influenza levels up to two to three weeks into the future. Given that traditional surveillance systems provide data with a lag time of one to two weeks, this means that estimates of future flu activity may actually be improved up to four or five weeks earlier."
Miller and senior study author Dr Philip Polgreen, UI associate professor of internal medicine and epidemiology, analysed de-identified data from the commercially available Kinsa Smart Ear Thermometers and accompanying app, which recorded users' temperature measurement over a study period from 30 August, 2015 to 23 December, 2017. There were over 8m temperature readings generated by almost 450,000 unique devices. The smart thermometers encrypt device identities to protect user privacy and also give users the option of providing anonymised information on age or sex. Readings were reported from all 50 states and were aggregated to provide region and age-group specific flu activity estimates.
Inder Singh and Erin Koehler at Kinsa Inc, the company that makes and sells the smart thermometers, were also part of the study team. They conceived and designed the Kinsa products for purposes of tracking the spread of illness, and provided full access to de-identified data for Miller and Polgreen to independently analyse. Neither Miller nor Polgreen have a financial relationship with Kinsa, Inc.
The UI team compared the data from the smart thermometers to influenza-like illness (ILI) activity data gathered by the US Centres for Disease Control and Prevention (CDC) from health care providers across the country. They found that the de-identified smart thermometer data was highly correlated with ILI activity at national and regional levels and for different age groups.
Current forecasts rely on this CDC data, but even at its fastest, the information is almost two weeks behind real-time flu activity. The UI study showed that adding thermometer data, which captures clinically relevant symptoms (temperature) likely even before a person goes to the doctor, to simple forecasting models, improved predictions of flu activity. This approach accurately predicted influenza activity at least three weeks in advance.
"Our findings suggest that data from smart thermometers are a new source of information for accurately tracking influenza in advance of standard approaches," Polgreen says. "More advanced information regarding influenza activity can help alert health care professionals that influenza is circulating, help coordinate response efforts, and help anticipate clinic and hospital staffing needs and increases in visits associated with high levels of influenza activity."
Knowing that flu activity is about to increase in a community may also prompt individuals to get a flu shot, stay home from work when they get sick, and seek medical help if their illness worsens.
Miller notes that the smart thermometers also provide a way to estimate which age groups are being most affected during a flu season, using de-identified data.
"Because the device gives users the option of voluntarily reporting anonymised information on sex and age, we were able to estimate age-group specific incidence," he says. "Our results also suggest that influenza-like-illness moves more frequently from children to adults rather than vice-versa."
Monitoring the duration of fever from the smart thermometer readings also revealed that fevers occurring during flu season were more likely to last three to six days and much less likely to last only one day. Fevers lasting even or more days were not at all seasonal. The data also identified instances where users had fever that went away for a few days and then returned. The researchers believe this so-called "biphasic" fever pattern may reflect more serious illnesses. The second temperature spike can indicate a secondary bacterial infection like pneumonia that sets in after the flu and can lead to more severe health problems, especially in older individuals.
"Being able to track the duration of fevers and the return of fevers could help us learn more about an influenza season as it is emerging and possibly provide information about other infections, including new emerging infectious diseases," Polgreen says.
Abstract
Background: Smartphone-based sensors may enable real-time surveillance of infectious diseases at population and household levels. This study evaluates the use of data from commercially available 'smart thermometers,' connected to a mobile phone application, for the surveillance of influenza-like illness (ILI).
Methods: At a population level, we analyze the correlation between thermometer recordings (total readings and fevers) and CDC-reported ILI activity nationally and by age group and region. We develop time-series models to forecast ILI activity in real-time and up to three weeks in advance. At an individual level, we analyze the ability of thermometer readings to track the duration of fevers and identify biphasic fever patterns. We also investigate potential transmission of febrile illness within households among device users.
Results: Thermometer readings are highly correlated with national ILI activity (r>0.95) and activity patterns across regions and age groups. Thermometer readings also significantly improve forecasts of ILI activity in real-time and up to three weeks in advance. In-household results find that fevers lasting between 3-6 days and bi-phasic fever episodes occur more frequently during the influenza season. In addition, potential cases of in-household transmission of febrile illness originate more frequently from children than adults.
Conclusions: Smart thermometers represent a novel source of information for influenza surveillance and forecasting. Not only do thermometer readings capture real-time ILI activity at a population level, they can also be used to generate improved forecasts. Moreover, the widespread deployment of these smart thermometers may also allow for more rapid and efficient surveillance at the household level.
Authors
Aaron C Miller, Inder Singh, Erin Koehler, Philip M Polgreen
[link url="https://www.sciencedaily.com/releases/2018/02/180208120828.htm"]University of Iowa Health Centre material[/link]
[link url="https://academic.oup.com/cid/advance-article-abstract/doi/10.1093/cid/ciy073/4838992?redirectedFrom=fulltext"]Clinical Infectious Diseases abstract[/link]