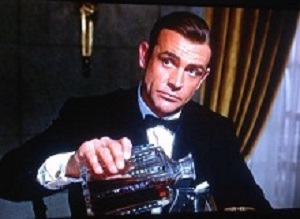 James Bond, the martini-swilling British secret agent, suffers from chronic alcohol use disorder and should have been provided with professional help by MI6, according to public health researchers at the University of Otago in New Zealand who analysed 24 Bond films.
They wrote: "There is strong and consistent evidence that James Bond has a chronic alcohol consumption problem at the 'severe' end of the spectrum." The analysis found Bond sipped a drink 109 times, or an average of 4.5 times in each film.
His record binge was on a plane during the 2008 film Quantum of Solace when the character, played by Daniel Craig, appeared to consume 24 units of alcohol, which would have left him with a potentially fatal blood alcohol level, the researchers wrote. They found drinking led to Bond engaging in "risky" behaviour like fights, high-speed driving, and extreme physical efforts while under the influence of alcohol.
The report says researchers analysed the character's behaviour with reference to The Diagnostic and Statistical Manual of Mental Disorders, Fifth Edition, which is used by mental health professionals to assess disorders. Bond, as portrayed in the films, fitted at least six, and possibly nine, of the 11 criteria of Alcohol Use Disorder (AUD). That meant the character had a "severe" drinking problem.
The report says the study was also critical of his employer, MI6, suggesting that it should have been shown being more "responsible" in the films. "MI6 management needs to redefine Bond's job to reduce his stress levels," the study said. "More field support and a stronger team approach are needed so that his duties do not weigh as heavily upon him."
Lead author Professor Nick Wilson, at the University of Otago's department of public health, said if Bond was a real person he should have been advised to seek out professional help, including from his employer. He added: "To start with, M should no longer offer Bond drinks in workplace settings."
Abstract
Objectives: To describe the patterns of alcohol use in James Bond movies over six decades.
Design: Film content analysis.
Setting: Wide range of international locations in 24 James Bond movies (Eon Productions series, 1962–2015).
Main outcome measures: Drinking episodes for Bond and major female characters; alcohol product placement in films; peak estimated blood alcohol concentrations; features relevant to DSM-5 criteria for alcohol use disorder.
Results: Bond has drunk heavily and consistently across six decades (109 drinking events; mean, 4.5 events per movie). His peak blood alcohol level was estimated to have been 0.36 g/dL, sufficient to kill some people. We classified him as having severe alcohol use disorder, as he satisfied six of 11 DSM-5 criteria for this condition. Chronic risks for Bond include frequently drinking prior to fights, driving vehicles (including in chases), high stakes gambling, operating complex machinery or devices, contact with dangerous animals, extreme athletic performance, and sex with enemies, sometimes with guns or knives in the bed. Notable trends during the study period included a decline in using alcohol as a weapon (P = 0.023) and an increase in the number of alcohol products in his environment (for alcohol-related product placement: P < 0.001), but his martini consumption has been steady. Drinking by lead female characters and a random selection of 30 of his sexual partners was fairly stable over time, but also occasionally involved binges.
Conclusions: James Bond has a severe chronic alcohol problem. He should consider seeking professional help and find other strategies for managing on-the-job stress.
Authors
Nick Wilson, Anne Tucker, Deborah Heath and Peter Scarborough
[link url="https://www.telegraph.co.uk/news/2018/12/10/licence-swill-james-bond-declared-severe-alcoholic-public/?WT.mc_id=e_DM896158&WT.tsrc=email&etype=Edi_FAM_New_ES&utm_source=email&utm_medium=Edi_FAM_New_ES_2018_12_11&utm_campaign=DM896158"]The Daily Telegraph report[/link]
[link url="https://www.mja.com.au/journal/2018/209/11/licence-swill-james-bonds-drinking-over-six-decades?utm_source=carousel&utm_medium=web&utm_campaign=homepage"]Medical Journal of Australia abstract[/link]