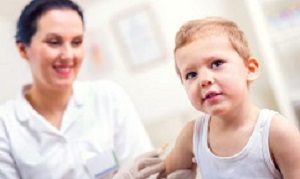 Cases of life-threatening measles have tripled in Europe because of a continent-wide outbreak, the European Centre for Disease Prevention and Control has warned. Low immunisation rates, driven partly by a growing anti-vaccination movement stoking unfounded fears of jabs being linked to developmental disorders.
Data for 2017, released last month by the European Centre for Disease Prevention and Control (ECDC), shows there were 14,451 cases reported across 30 countries in 2017, compared to 4,600 in the previous 12 months. Since the beginning of 2016 there have been 50 deaths due to the disease reported in the EU.
In the UK, more than 100 measles cases have been confirmed in six different regions. Experts say these were brought in by visitors from regions with measles epidemics, primarily Greece (where there were 1,463 cases), Romania (10,623), Italy (4,991) and Germany (926).
New infections continue to mount and spread despite the disease being entirely preventable with vaccines. The report says low immunisation rates, driven partly by a growing anti-vaccination movement stoking unfounded fears of jabs being linked to developmental disorders. Uptake of the measles preventing MMR jab, which discredited doctor Andrew Wakefield claimed was linked to autism in 1998, has taken decades to recover in the UK.
Measles has been identified in several parts of the UK this year, with Public Health England (PHE) identifying cases in Sussex, West Midlands, Surrey, Greater Manchester, Merseyside and West Yorkshire.
There have been at least 36 new confirmed measles cases in England in 2018 already. The latest update, as of 30 January, reports outbreaks were contained in most regions though cases continue to spread in the West Midlands where there have been 51 confirmed infections.
The National Health Service (NHS) has advised anyone showing symptoms of the highly contagious bacterial infection to stay at home.
Dr Mary Ramsay, head of immunisation at PHE, said: "The measles outbreaks we are currently seeing in England are linked to ongoing large outbreaks in Europe. "People who have recently travelled, or are planning to travel to Romania, Italy and Germany and have not had two doses of the MMR vaccine are particularly at risk.
"This serves as an important reminder for parents to take up the offer of MMR vaccination for their children at one year of age and as a pre-school booster at 3 years and 4 months of age."
"Children and young adults who missed out on their MMR vaccine in the past or are unsure if they had two doses should contact their GP practice to catch-up."
According to the ECDC data, in 2017, there were 14,451 cases of measles reported by 30 countries, far exceeding the 4,643 cases reported in 2016, reports Healio. The ECDC said 50 people in Europe have died from measles since the beginning of 2016. It said the number of reported cases in 2017 may be underestimated, particularly in Romania, where a large outbreak is ongoing.
Italy, Greece and Germany also have seen a high number of cases, and outbreaks are still occurring in France, the UK and Sweden, according to the ECDC. The agency said the surge in measles cases has been caused by sub-optimal vaccination coverage. The report says among infected patients in 2017 whose vaccination status was known, 87% were unvaccinated.
"Measles affects all age groups across Europe, and according to the data for 2017 in the monthly measles and rubella monitoring report, 45% of measles cases with known age were aged 15 years or older – highlighting gaps in cohorts of individuals that missed out [on] vaccination," the ECDC said. "However, the highest incidence of cases was reported in infants below 1 year of age – those most at risk of severe complications and deaths – and too young to have received the first dose of the vaccine."
The report says measles has caused recent outbreaks in the US, too, including dozens of cases in Minnesota that were linked to anti-vaccine rhetoric. Health officials in New Jersey and Illinois recently warned travellers about potential exposure to measles at two airports.
Measles is one of the most contagious infectious diseases. According to the US Centres for Disease Control and Prevention (CDC), receiving two doses of the measles, mumps and rubella vaccine is about 97% effective at preventing infection and one dose is around 93% effective.
[link url="http://www.independent.co.uk/news/health/measles-epidemic-europe-eu-diseases-agency-infection-numbers-increase-a8208666.html"]The Independent report[/link]
[link url="https://ecdc.europa.eu/en/news-events/measles-cases-eu-treble-2017-outbreaks-still-ongoing"]ECDC report[/link]
[link url="https://www.healio.com/infectious-disease/vaccine-preventable-diseases/news/online/%7B8a98e131-feb4-4226-89f0-18a1fc6c6e8b%7D/measles-cases-in-europe-more-than-tripled-in-2017"]Healio report[/link]