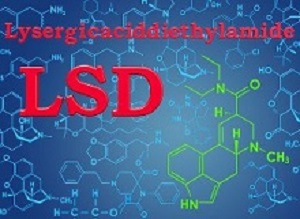 LSD changes the communication patterns between regions of the brain, a study by researchers of the University of Zurich and Yale University shows. The study also provides insights into how mental health disorders develop and how these could be treated.
The researchers used brain imaging technology to examine the effects of LSD on the brains of healthy study participants, according to materials produced by the University of Zurich and published by Science Daily.
The data suggests that LSD triggers a reduction in the communication between the brain regions that are responsible for planning and decision making. At the same time, LSD increases the connectivity in brain networks associated with sensory functions and movement.
The study is reported on ELife, a non-profit publishing platform science research founded in 2011 by the Howard Hughes Medical Institute, Max Planck Society and Wellcome Trust​.
Therapeutic effect of LSD
Based on patterns of brain signals, the scientists were also able to establish that the changes in brain connectivity caused by LSD are linked to a particular receptor in the brain (serotonin-2A receptor). "When we blocked this receptor using ketanserin, LSD stopped having an effect," explains Katrin Preller, lead author of the study, who is currently also a visiting professor at Yale University.
In recent years, scientists have become increasingly interested in the use of psychedelics to treat mental health disorders such as depression. Patients suffering from depression experience low mood, increased self-focus, and decreased serotonin levels. Previous work by the same research group at the University of Zurich has shown that psychedelics such as LSD might positively impact these symptoms.
Targeted treatment for schizophrenia
On the other hand, disturbances in sensory perception and thought, as triggered by LSD, are similar to the changes in perception and thought that appear in patients with psychotic disorders. "The new findings may therefore also have an immediate impact on the treatment of psychotic symptoms as they occur in schizophrenia, for example," says Franz Vollenweider, professor at the University Hospital of Psychiatry Zurich. Most schizophrenia patients are treated with antipsychotic drugs, which block some of the serotonin receptors identified by the new study. However, there are many patients who do not respond to this treatment.
"By looking for similar patterns of brain activity identified in the study, clinicians may be able to identify which patients are most likely to benefit from these drugs," explains Katrin Preller.
Changes in global and thalamic brain connectivity in LSD-induced altered states of consciousness are attributable to the 5-HT2A receptor
Abstract
Lysergic acid diethylamide (LSD) has agonist activity at various serotonin (5-HT) and dopamine receptors. Despite the therapeutic and scientific interest in LSD, specific receptor contributions to its neurobiological effects remain unknown.
Methods
We therefore conducted a double-blind, randomized, counterbalanced, cross-over study (ClinicalTrials.gov, NCT02451072) during which 24 healthy human participants received either (i) placebo+placebo, (ii) placebo+LSD (100 µg po), or (iii) Ketanserin, a selective 5-HT2A receptor antagonist,+LSD. We quantified resting-state functional connectivity via a data-driven global brain connectivity method and compared it to cortical gene expression maps. Findings: LSD reduced associative, but concurrently increased sensory-somatomotor brain-wide and thalamic connectivity. Ketanserin fully blocked the subjective and neural LSD effects. Whole-brain spatial patterns of LSD effects matched 5-HT2A receptor cortical gene expression in humans.
Conclusion
Together, these results strongly implicate the 5-HT2A receptor in LSD's neuropharmacology. This study therefore pinpoints the critical role of 5-HT2A in LSD's mechanism, which informs its neurobiology and guides rational development of psychedelic-based therapeutics.
Authors
Katrin H Preller, Joshua B Burt, Jie Lisa Ji, Charles H Schleifer, Brendan D Adkinson, Philipp Stämpfli, Erich Seifritz, Grega Repovs, John H Krystal, John D Murray, Franz X Vollenweiderand Alan Anticevic.
University Hospital for Psychiatry Zurich, Switzerland; Yale University School of Medicine, United States; Yale University, United States; University of Ljubljana, Slovenia
[link url="https://www.sciencedaily.com/releases/2018/10/181030102809.htm"]How LSD changes perception[/link]
[link url="https://elifesciences.org/articles/35082"]Changes in global and thalamic brain connectivity in LSD-induced altered states of consciousness are attributable to the 5-HT2A receptor[/link]