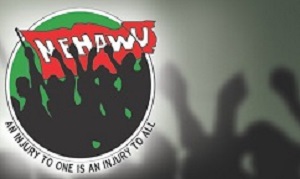 The National Education, Health and Allied Workers Union's (Nehawu's) is under fire over last week's violent protests in Gauteng hospitals, with Health Minister Dr Aaron Motsoaledi speaking of 'murderers' and an activist NGO distancing itself from the union. Meanwhile, the Nehawu said they hoped the incidents had 'taught the department a lesson'.
The Gauteng Health Department has moved to defuse tension with unions, which led to last week's violent protests at Charlotte Maxeke Hospital, by undertaking to pay outstanding staff bonuses by the end of June, reports Business Day. Unpaid bonuses for 2016-17 were the trigger for last Thursday's violent disruption of services, with operations postponed and patients turned away as members of various public-sector unions threatened staff, blocked entrances and strewed rubbish about the facility.
Charlotte Maxeke is one of Gauteng's four academic hospitals. Thursday's demonstration was the latest in a series of similar incidents. Operations were cancelled at Leratong Hospital in Krugersdorp on Tuesday due to protests, while services at Charlotte Maxeke were brought to a standstill in late April by union members.
National Education, Health and Allied Workers Union Gauteng provincial secretary, Tshepo Mokheranyana, said he hoped the latest incidents had "taught the department a lesson", but in the same breath said the union did not endorse violent protests that placed patients' lives at risk.
The incident was unplanned and had involved several unions, Mokheranyana said. "It's very difficult for us to take responsibility because we can't be sure it's our members. We have spoken to our members and encouraged them to apply other strategies (to protest)," he said.
Gauteng Health MEC Gwen Ramokopa said the destruction of hospital property, intimidation and threats to the lives of patients could not be justified. "These acts are criminal, inhumane and of great concern. Police are expected to make arrests of the perpetrators."
Pandemonium rocked Charlotte Maxeke Academic Hospital last Thursday as protesting staff damaged property, barricaded the hospital's entrance, and denied visiting family members access to their loved ones. City Press reports that the protesting staff members were demanding performance bonuses they claimed the hospital had not paid them from the 2016/17 and 2017/18 financial years as well as a double figure wage increase, not the current 7.5% being offered by hospital management.
Nehawu provincial chair, Lulamile Sibanda, said hospital management was negotiating with organised unions in bad faith and said that earlier calls for performance bonuses to be paid to workers fell on deaf ears. This led to the destructive protest seen on Thursday. "As unions we met with workers yesterday and informed management of their demands, however management is only heeding the calls of workers now that they have embarked on an industrial action.
"Workers have been owed performance bonuses dating back to 2016. Every year since then management has been promising to pay this money to workers and not keeping to their word, hence the situation we are confronted by today," said Sibanda. Sibanda also reiterated that "workers were demanding a double digit increase in wages because the wages they were currently subjected to equated to "poverty wages", especially with the increase in VAT.
National Union of Public Service Allied Workers regional chair, Sibusiso Nkasa, said unions had been engaged in negotiations with hospital management since 10am. "This came after management found an unpleasant scene this morning with most workers engaged in protests. The pressing matter is that of the performance bonuses owed to workers that haven't been paid to them since 2016."
Nkasa and Sibanda both seemed optimistic about the outcome of the meeting saying management had informed the unions that in tomorrow's provincial multilateral meeting, hospital management would table the issue of outstanding bonuses as the first motion.
"From the meeting with management today it is almost certain that the performance bonuses would be paid by 3 June," Sibanda assured the protesting workers to loud applause.
The report says patients bore most of the brunt as the staff members mostly made up of general assistants took leave of their duties and took part in the protests while the workers unions and hospital management were entangled in the protracted negotiations.
A Nehawu shop steward who asked to remain anonymous said a complement of skeleton staff was currently tending to patients. "It's unfortunate that matters had to come to this, at the moment only a few workers are assisting patients and even they are willing to stop working entirely if management refuses to come to the party."
Among the complaints placed on the table by the workers unions was that entry-level salaries should be done away with as those salaries were "a joke and insult to working class South Africans".
The report says Gauteng Health MEC Gwen Ramokgopa condemned the protesting workers and said her department would be taking action against staff who vandalised parts of the hospital. Sibanda however assured the protesting workers that the industrial action was lawful and should any charges be laid, they should be laid against the union's leadership and not the workers.
Sibanda himself was shot with a rubber bullet. He was taking part in a strike by workers affiliated to workers' union Nehawu last week at the same hospital after it turned violent and police fired rubber bullets.
Democratic Alliance (DA) Shadow MEC for Health, Jack Bloom has released a statement on the situation at the Charlotte Maxele Johannesburg Hospital on the Politicsweb site:
"The situation at Charlotte Maxeke Johannesburg Hospital has calmed, after severe disruption by protesters this morning. I visited the hospital and found rubbish strewn all over and the remains of burnt-out fires. Non-emergency surgery has been cancelled and most patients have left the hospital.
"I was told that protesters threatened staff and patients and in once instance, pulled doctors out of surgery while a patient was on the operating table. Hospital security locked wards for the protection of staff and patients. The Police were called in to stabilise the situation. Management has spoken to the unions who denied their involvement but undertook to speak to the workers.
"The grievance relates primarily to unpaid bonuses for 2016 and 2017 – most of the protesters were general assistants. This follows the trashing of the hospital a month ago, after which the Gauteng Health Department promised to address worker grievances.
"I deplore the violence at the hospital which has been most traumatic for patients and staff. The Gauteng Health Department should have resolved worker grievances more speedily.
"Protest action has included other hospitals including Leratong Hospital on the West Rand and Bertha Gxowa hospital in Germiston.
"Violence in hospitals should never be condoned no matter the grievance, and perpetrators must be brought to book."
Health Minister Dr Aaron Motsoaledi refused to acknowledge the strike at the Charlotte Maxeke Hospital and even called disgruntled staff murderers, reports The Times. "If I could find a person working here as a cleaner or a general worker or whatever that has got the audacity to go into theatre and stop people from performing operations' that person is a murderer'" Motsoaledi said.
"Strikes have got rules and they follow a particular pattern. This was just sheer acts of hooliganism where people have gone mad against their fellow human beings." He added: "Why should we trust such human beings? They are not human anymore." He is quoted in the report as saying that 50 operations were planned for Thursday' but only 19 had materialised.
Black bags containing rubbish ranging from paper to half-eaten food were emptied along the corridors' contaminating what is meant to be an hygienic environment.
Some patients were wheeled through the piles of rubbish by some of the non-striking workers. Others' with patches covering their eyes' were seen walking through the soiled corridors. A revolving door had been blocked from the inside with a heap of metallic chairs. Outside the hospital' arriving patients – including pregnant women and some patients in wheelchairs – left the facility without seeking treatment. "There's nothing I can do. I will come back next week'" said one lady as she boarded a taxi.
The report says earlier' the gates to the facility were locked in an attempt to contain the demonstrators. Debris of rocks and tree stumps' paper and food also lined the road leading to the hospital. A small fire' which was dying out' released smoke into the air.
Motsoaledi said: "I don't think anyone of us here has never been owed money in one way or the other by our employers' but you don't destroy human beings' especially sick people in theatre." He added: "I don't accept the fact that people had genuine grievances and they were supposed to have done what they have done. If we accept that as a society' then we can kiss civilisation goodbye."
Gauteng Health MEC Gwen Ramokgopa said they were dealing with the outstanding bonuses. "For me this is another Life Esidimeni unfolding and I hope that all of us as a society will stand up and say' 'Not whilst we watch'."
The People's Health Movement South Africa (PHMSA) has, meanwhile, withdrawn its membership from the Nehawu health subcommittee. Groundup reports that this comes after the union did not condemn violent protests at hospitals in North West in early May and at Charlotte Maxeke last week.
"Reports state that patients have been threatened' chased from the pharmacy' and locked in the basement. Surgical operations have been cancelled (at the Charlotte Maxeke Hospital)'" said the PHMSA.
The PHMSA emailed the union on 24 April and 11 May expressing concern about protests at hospitals with no response from Nehawu. The PHMSA said it "supports the right of health workers to take strong' even disruptive industrial action to improve wages and working conditions". It said that the Labour Relations Act makes health workers "vulnerable to exploitation by limiting their right to strike". But' the PHMSA said' "We do not … condone violence' nor action that endangers the lives of vulnerable people."
The PHMSA said it did not see "any report of Nehawu distancing itself from these' or from the reported earlier actions' nor of disciplinary steps being taken". The health movement decided to distance "itself from any acts by Nehawu that causes harm to the health of vulnerable people and to people's health more broadly".
According to the report, it was previously reported that Nehawu had released a statement that indicated it had no control over the protests. "Nehawu in the Gauteng province has been helplessly observing sporadic actions in different facilities of the Gauteng Department of Health … over the past three days'" the union said. "These actions have led to the intimidation of staff and patients and compromised service delivery."
The report said it was unable to get further comment from Nehawu specific to the PHMSA statement.
[link url="https://www.businesslive.co.za/bd/national/health/2018-06-04-charlotte-maxeke-hospital-staff-to-get-unpaid-bonuses-by-end-of-june/"]Business Day report[/link]
[link url="https://city-press.news24.com/News/workers-shut-down-charlotte-maxeke-hospital-till-bosses-agreed-on-bonuses-20180531"]City Press report[/link]
[link url="http://www.politicsweb.co.za/politics/ops-cancelled-but-situation-calmed-down-at-joburg-"]Politicsweb report[/link]
[link url="https://www.timeslive.co.za/politics/2018-05-31-disgruntled-hospital-staff-are-murderers-health-minister-aaron-motsoaledi/"]The Times report[/link]
[link url="https://www.groundup.org.za/article/peoples-health-movement-withdraws-nehawu/"]Groundup report[/link]