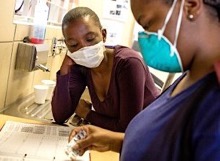 Tuberculosis treatment programmes in Cape Town, South Africa, do not currently distinguish between adolescent and adult TB patients, and in so doing, may miss opportunities for improving the treatment outcomes of young people with TB. According to a study conducted by the Desmond Tutu HIV Foundation in collaboration with the Cape Town City Health Directorate, various factors likely work to impede young people from completing their TB treatment.
Using the clinical records of just over 23,700 young people aged between 10-24 across health facilities in Cape Town, investigators found evidence to suggest that as young people move from early adolescence to young adulthood, their ability to complete the 6 month of TB treatment worsens. However, the study could not determine if it is the increase in age itself that erodes the treatment course or if it is indicative of other factors that are related to ageing, such as the level of parental supervision on the medicine-taking behaviours in young people.
Of note, the finding by Mulongeni et al, as published in Plos, indicate that once a young person drops out of TB treatment, they are unlikely to complete the TB treatment course if they return to the health facility. The evidence for this comes from the finding that young people who had a prior TB treatment episode had the highest drop-out rate, being roughly three times more likely to stop their treatment relative to first time TB patients. Additional groups of young people at high risk of dropping out of TB treatment included young men and young TB patients who were also living with HIV.
As in other settings, the study found that young women bore the brunt of HIV infection. Strikingly, while there are similar proportions of HIV infection in the younger age groups, this changes in young adulthood: in the 20-24 age group about 1 in 2 young women with TB were also HIV infected, compared to only about 1 in 7 young men. The authors advocate for measures to curtail the sexual transmission of HIV in young people as a basis for improving TB treatment outcomes.
The take-away recommendation from the study, however, is to adopt adolescent-tailored TB care in Cape Town, and across South Africa, in order to counter the issues that prevent young people from curing themselves of this treatable disease. Any intervention will need to also work together with efforts to prevent HIV infection, while meeting the needs of young TB patients living with HIV.
Abstract
TB remains a leading cause of mortality and morbidity in sub-Saharan Africa, due to the HIV epidemic. As TB treatment is lengthy, the completion of the full course of treatment may be especially challenging for young people. We therefore aimed to identify the extent of and reasons underlying loss to follow-up from TB treatment among young people in Cape Town. Accordingly, we reviewed the outcomes of young people treated for TB in Cape Town during 2009–2013, across three age groups: younger adolescents (10–14 years); older adolescents; (15–19 years) and young adults (20–24 years). We employed logistic regression analysis to identify risk factors for loss from TB care. 23,737 patients aged 10–24 were treated for drug sensitive TB over the study period. Of these, the HIV co-infection prevalence was 18.5% for younger adolescents, 12.9% for older adolescents and 33.1% for young adults. From age 16, HIV prevalence increased disproportionately among young women: by age 22, over 50% of women were TB/HIV co-infected compared to 14% of men. TB treatment success (cure plus completion) was 84.4%, while 1.7% of patients died, 9.5% were lost-to follow-up and 0.4% failed treatment. Being an older adolescent (aOR 1.75 [95% CI: 1.38–2.21]) or young adult (aOR: 1.96 [95% CI: 1.57–2.45]) increased the risk of loss-to follow up, relative to being a younger adolescent. Further risk factors for loss from TB care were male gender (aOR: 1.33 [95% CI:1.20–1.46]), being a TB/HIV co-infected young person (aOR 1.74 [95% CI: 1.57–1.93]) and having had prior treatment for TB (aOR 3.17 [95% CI 2.87–3.51]). We identified risk factors for loss to follow-up and highlighted the need to focus on HIV prevention and retention in TB care among young people. TB care tailored to the needs of young people could improve patient retention, similar to improved outcomes reported by youth friendly HIV clinics.
Authors
Pancho Mulongeni, Sabine Hermans, Judy Caldwell, Linda-Gail Bekker, Robin Wood, Richard Kaplan
[link url="https://journals.plos.org/plosone/article?id=10.1371/journal.pone.0210937"]Plos One Abstract[/link]