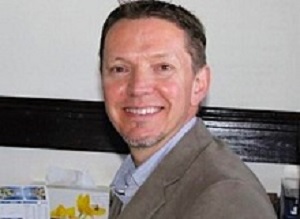 A surgeon used a pocket knife and a basting needle to perform emergency surgery that saved the life of a road accident victim, reports The Times. Dr Wimpie Odendaal was in Port Elizabeth on holiday and was the first to arrive on the scene of an accident that left a motorcyclist critically injured.
Odendaal, a specialist surgeon, and his doctor wife, Christa de Wit, realised the biker had a collapsed lung, which occurs when air leaks into the space between the lungs and the chest wall. It causes a condition called tension pneumothorax, which can be fatal. "I knew that something would need to be done immediately to relieve the tension pneumothorax, or the man would have little chance of survival," said Odendaal. "By this time, a few bystanders had gathered at the scene and … I shouted to ask if anybody had a sharp object I could use. I was offered a pocket knife, and had no other choice than to use this to open the fifth intercostal space anterior to the mid axillary line. This is a specific area between the ribs on the side, to relieve the pressure. If not for this emergency intervention, the man would most likely have died within minutes."
The report says the patient's condition briefly improved, and Odendaal used a basting needle from a nearby householder to keep the hole in the patient's side open. Soon an ambulance arrived and the emergency medical practitioners joined the lifesaving effort.
"We used an endotracheal tube and bowl of water to devise a makeshift underwater drain to restore negative pressure to the pleural cavity and prevent the space from re-filling with air," said Odendaal.
"A large-bore drip needle was used to relieve a second tension pneumothorax. The patient was intubated and adrenalin was administered intravenously. Soon he was stable enough that we could transport him to the emergency department at a nearby hospital."
The report says according to Odendaal, the man spent several weeks in hospital recuperating from his injuries, which included 14 rib fractures, cardiac and pulmonary contusions, a broken pelvis and a broken foot. "I was really delighted to have a telephone conversation with this gentleman in the last week of January. Since being discharged, he is continuing his recovery at home. I am really grateful that he is alive and well."
The report says following his experience, Odendaal, who is in private pracice at the Blaauwberg Hospital, urged medics to keep a store of basic medical equipment in their vehicles in case of an emergency.
[link url="https://www.timeslive.co.za/news/south-africa/2019-02-21-surgeon-saves-crash-victims-life-with-pocket-knife-and-basting-needle/"]The Times report[/link]