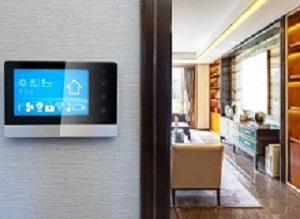 A National Health Service (NHS) trial in England will use data from 'smart' electricity meters in the homes of mental health and dementia patients to monitor their health.
Out-Law.com reports that in the trial artificial intelligence (AI) algorithms will be used to interpret smart meter data from the homes of dementia and mental health patients, learn the household's usual patterns for appliance use and identify unusual behaviour, such as if a kettle or lights are not used for a prolonged period of time. The system could then generate an alert.
The trial will involve a partnership between Mersey Care NHS Foundation Trust and Liverpool John Moores University.
"This research involves monitoring patients' wellbeing through electricity usage in their home by identifying the individual devices being used," Mersey Care NHS Foundation Trust said. "The system works with the householder's smart meter and will enable automated round-the-clock monitoring to promote safe independent living and preventative care with little cost to the NHS and social services."
Lauren Jones, an expert in smart energy contracts at Pinsent Masons, said the initiative shows there are potential opportunities in digital health for energy suppliers. "The NHS trial is a great example of how smart metering technology and the data generated by smart meters can be usefully applied beyond simply measuring energy consumption for billing purposes," Jones said. "This supports the view that wider societal benefits can be obtained from smart meters, in addition to helping individuals reduce their energy consumption."
The report said Jones highlighted a recent example of collaboration between EDF and technology start-up Howz which will see a home monitoring system for elderly and vulnerable people delivered utilising energy data and connected home technology.
The technology is similar to the one being trialled by the NHS, in that it uses machine learning to come up with a pattern of behaviour for users and alerts customers to changes in that pattern. The technology uses movement and temperature sensors, although according to the report the features will be improved by integrating the existing features with smart meter data.
Jones said: "Energy suppliers are increasingly looking at the value that can be generated from smart meter data, particularly when combined with data analytics and machine learning. Examples include smart thermostat technology and the integration of home-generation solutions. On the supply side, there is also potential for machine learning to be used to help manage energy supply and demand."
"The ability for energy suppliers and their technology partners to make innovative use of smart meter data is reliant on customer consent, given the strict rules in relation to the use of smart meter data and in the broader context of the GDPR. Therefore, there needs to be tangible benefits to consumers in order for suppliers to win consumer confidence and obtain this consent," she said.
[link url="https://www.out-law.com/en/articles/2019/january/nhs-trial-smart-meters-digital-health/?utm_source=Emerge&utm_medium=Email&utm_content=5a83ff08-27b3-48ba-8625-a96fcc842622"]Out-Law.com report[/link]