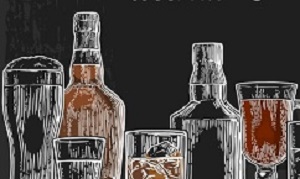 Giving up drinking completely is the only way to avoid the health risks associated with alcohol, according to a major study covering 195 countries over 26 years and drawing from hundreds of other studies. Not all are convinced that this is a decisive argument for abstention: Professor David Spiegelhalter, a statistician who specialises in understanding of risk at the University of Cambridge said, "There is no safe level of driving, but governments do not recommend that people avoid driving."
"Come to think of it, there is no safe level of living, but nobody would recommend abstention."
Alcohol-related problems kill around 7% of men and 2% of women every year, and drinking is the leading cause of death and disability for people aged 15-49.
The Independent reports that though previous research has shown moderate levels of drinking may protect against heart disease, the new study concluded any supposed boosts to health are massively offset by the costs. The researchers covered 195 countries between 1990 and 2016, and amassed data from hundreds of other studies.
"With the largest collected evidence base to date, our study makes the relationship between health and alcohol clear – drinking causes substantial health loss, in myriad ways, all over the world," said Dr Max Griswold from the Institute for Health Metrics and Evaluation, one of the study's lead authors. They estimated that one drink a day increases the risk of developing an alcohol-related diseases including cancer, diabetes and tuberculosis by 0.5%. This shot up to 7% for those having two drinks a day, and 37% for five drinks.
The report says official guidelines currently state that to keep alcohol health risks low, it is safest to avoid consuming more than 14 units a week – about seven pints of lager – on a regular basis. However, the UK's chief medical officers have previously stated that despite this allowance, there is "no safe level of alcohol consumption" – a point that has been reinforced by this study.
"There is a compelling and urgent need to overhaul policies to encourage either lowering people's levels of alcohol consumption or abstaining entirely," said Dr Emmanuela Gakidou, who also worked on the new research. "The myth that one or two drinks a day are good for you is just that – a myth. This study shatters that myth."
The report says the findings were broadly welcomed by scientists and NGOs as a decisive statement on the impact drinking has on society. Dr Tony Rao, a psychiatrist at King's College London who was not involved in the study, commended the effort to unravel the complicated relationship between alcohol and health. "We can now be more confident that there is no safe limit for alcohol when considering overall health risks," he said.
The authors of the research noted their efforts did not take in all aspects of alcohol consumption. Ample data were not available for alcohol-related violence and traffic accidents, or for the illicit production and consumption of alcoholic drinks.
The report says the findings have ramifications for public health policy, and have prompted calls for government action to make a serious dent in the population-level consumption of alcohol. "These diseases of unhealthy behaviours, facilitated by unhealthy environments and fuelled by commercial interests putting shareholder value ahead of the tragic human consequences, are the dominant health issue of the 21st century," said Dr Robyn Burton from King's College London.
"The solutions are straightforward: increasing taxation creates income for hard-pressed health ministries, and reducing the exposure of children to alcohol marketing has no downsides."
However, the report says others were more measured in their response to the new findings, and emphasised the need to weigh them up against the benefits of alcohol. "Given the pleasure presumably associated with moderate drinking, claiming there is no 'safe' level does not seem an argument for abstention," said Professor David Spiegelhalter, a statistician who specialises in understanding of risk at the University of Cambridge. "There is no safe level of driving, but government do not recommend that people avoid driving.
"Come to think of it, there is no safe level of living, but nobody would recommend abstention."
Summary
Background: Alcohol use is a leading risk factor for death and disability, but its overall association with health remains complex given the possible protective effects of moderate alcohol consumption on some conditions. With our comprehensive approach to health accounting within the Global Burden of Diseases, Injuries, and Risk Factors Study 2016, we generated improved estimates of alcohol use and alcohol-attributable deaths and disability-adjusted life-years (DALYs) for 195 locations from 1990 to 2016, for both sexes and for 5-year age groups between the ages of 15 years and 95 years and older.
Methods: Using 694 data sources of individual and population-level alcohol consumption, along with 592 prospective and retrospective studies on the risk of alcohol use, we produced estimates of the prevalence of current drinking, abstention, the distribution of alcohol consumption among current drinkers in standard drinks daily (defined as 10 g of pure ethyl alcohol), and alcohol-attributable deaths and DALYs. We made several methodological improvements compared with previous estimates: first, we adjusted alcohol sales estimates to take into account tourist and unrecorded consumption; second, we did a new meta-analysis of relative risks for 23 health outcomes associated with alcohol use; and third, we developed a new method to quantify the level of alcohol consumption that minimises the overall risk to individual health.
Findings: Globally, alcohol use was the seventh leading risk factor for both deaths and DALYs in 2016, accounting for 2·2% (95% uncertainty interval [UI] 1·5–3·0) of age-standardised female deaths and 6·8% (5·8–8·0) of age-standardised male deaths. Among the population aged 15–49 years, alcohol use was the leading risk factor globally in 2016, with 3·8% (95% UI 3·2–4·3) of female deaths and 12·2% (10·8–13·6) of male deaths attributable to alcohol use. For the population aged 15–49 years, female attributable DALYs were 2·3% (95% UI 2·0–2·6) and male attributable DALYs were 8·9% (7·8–9·9). The three leading causes of attributable deaths in this age group were tuberculosis (1·4% [95% UI 1·0–1·7] of total deaths), road injuries (1·2% [0·7–1·9]), and self-harm (1·1% [0·6–1·5]). For populations aged 50 years and older, cancers accounted for a large proportion of total alcohol-attributable deaths in 2016, constituting 27·1% (95% UI 21·2–33·3) of total alcohol-attributable female deaths and 18·9% (15·3–22·6) of male deaths. The level of alcohol consumption that minimised harm across health outcomes was zero (95% UI 0·0–0·8) standard drinks per week.
Interpretation: Alcohol use is a leading risk factor for global disease burden and causes substantial health loss. We found that the risk of all-cause mortality, and of cancers specifically, rises with increasing levels of consumption, and the level of consumption that minimises health loss is zero. These results suggest that alcohol control policies might need to be revised worldwide, refocusing on efforts to lower overall population-level consumption.
Authors
GBD 2016 Alcohol Collaborators†
[link url="https://www.independent.co.uk/news/health/alcohol-drinking-no-safe-level-health-heart-disease-cancer-study-a8505181.html"]The Independent report[/link]
[link url="https://www.thelancet.com/journals/lancet/article/PIIS0140-6736(18)31310-2/fulltext"]The Lancet article summary[/link]
[link url="https://www.thelancet.com/journals/lancet/article/PIIS0140-6736(18)31571-X/fulltext"]The Lancet comment[/link]