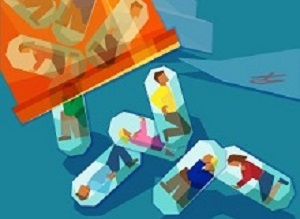 As the opioid crisis continues to ravage US communities, scientists and drug companies have intensified their efforts to develop safer and less addictive pain medications, writes Robert F Service for Science. Now, multiple research groups are claiming progress.
Scientists are devising novel opioids – or alternatives – that seem to offer pain relief with far less risk of addiction or of the opioid-induced respiratory depression that all too commonly leads to death.
Most of these studies, reported at a meeting in Boston and in a paper released last week, have only been done in animals, so the experimental compounds face significant hurdles before they can become approved medications. Yet they are raising tentative hopes among researchers. "It's encouraging," says Laura Bohn, a biochemist at Scripps Research in Jupiter, Florida. "There has been a really big push to develop nonopioid pain relievers. But it has been really hard."
A record 72,000 people in America died last year from overdoses, up nearly 10% from 2016, according to an estimate this month by the Centers for Disease Control and Prevention. That rise was driven primarily by an increase in overdoses from highly potent synthetic opioids such as fentanyl and carfentanil. Another 2.1 million Americans are believed to regularly abuse opioids and have signs of addiction, such as withdrawal symptoms, if they try to quit.
More on the Science website, link below.
[link url="http://www.sciencemag.org/news/2018/08/spurred-opioid-epidemic-new-pain-drugs-may-lower-risk-overdose-and-addiction"]Spurred by Opioid epidemic, new pain drugs may lower the risk of overdose and addiction [/link]