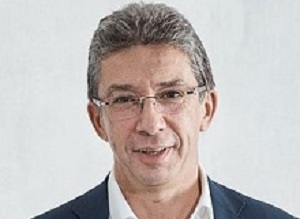 Government prohibiting of e-cigarettes and other products that offer healthier alternatives to smoking, is not a reasonable position, said Philip Morris International CEO Andre Calantzopoulos in a podcast interview with Bloomberg. He hoped that over time, "as these products become accepted and popular, governments will revise their policies".
Calantzopoulos spoke about public health, business, policy and other implications of non-cigarette products such as PMI's iQos tobacco-heating device, in an interview with Yvonne Man, Rishaad Salamat and David Ingles on Bloomberg Markets: Asia.
Watch the [link url="https://www.bloomberg.com/news/videos/2018-10-24/philip-morris-sees-governments-revising-policies-on-e-cigarette-bans-over-time-video"]podcast[/link] or read below.
You have highlighted the five promises of iQos – health, taste, science, beauty and improvement. Tell us what is the transition now. Is this a shift from traditional cigarettes or what?
I am here in Tokyo because Japan is the largest market for non-heated tobacco products or smoke-free products. IQos is here the leading brand, so we announced the launch of IQos 3, which is the latest version and clearly the best version that we have made.
Today we have 1.1 billion people who smoke around the world, many of those in Asia. And today alternatives that are much better for their health and for the people around them, exist. We have some of them and others are in the market, the most known are electronic cigarettes.
I think that these products should be made available to men and women who smoke, the faster the better obviously.
We have done scientific substantiation of the products to demonstrate their potential to reduce risk, and their impact on the people around, and have submitted this to the US Food and Drug Administration (FDA) for review and potential approval.
I believe that yes there is debate about whether this product should be available to consumers by certain governments.
But reality is, like with any other product category, if you have a better product than the existing one, you make it available. We do it for combustible fossil fuels versus solar power – they are not zero impact on the environment but they are better.
The FDA didn't give approval in January for IQos and you call this a reduced risk product, which means it does still have risks. What are those risks? The jury is out, isn't it?
The FDA is currently reviewing these products. The FDA has taken no decision and we are hopeful, as least for approval to the US market, without yet health claims, we might have a reply very soon.
These products are not zero risk. That is for sure. And they do contain nicotine and so they are addictive. But nicotine is part of the satisfaction, because the objective here is to convince the people who smoke, to switch to these products and they have to taste satisfaction in addition to the reduction of risk.
So we are confident that compared to cigarettes, which represent 100% of the risk of disease and premature death, these products will have a very positive impact on the individual and on the population in general. So they will be beneficial for public health.
I don't think the standard we apply today should be, okay, today you are at 100% relative risk if you continue smoking – we should not say any alternative to this should be zero risk, I don't think it is reasonable.
A substantial reduction in toxicity – for example iQos, the product we were discussing, reduces by 90% the carcinogenic substances and other toxic substances. That is a very substantial reduction, by any standards.
And I think people around the world should be entitled to know about these products and make their own choices. Prohibiting them, on their behalf, that's not a very reasonable way of going.
I think governments over time, as these products become accepted and popular, will revise their policies. That's what I wish at least.
Would you smoke this product?
I have used this product for five years, I used to smoke cigarettes before. I feel much better, clearly now that's me. But there is a lot of scientific evidence, in pre-clinical and clinical studies, which proves that what I am saying is correct. And all this data is available, as I said, and was submitted to the FDA.
I guess we will have to wait for the FDA on that. But point taken on your experience with the product. How does this effect the business moving forward? Talk to us about margins here.
Our objective as a company is to replace cigarettes with these products as soon as possible. It makes sense from a business perspective because we are gaining market share in relative terms with these products, Japan is one example and many other markets are examples.
In many countries regulators have recognised that these products are not cigarettes, so they have also a lesser tax burden than cigarettes.
Today we have initial investments in infrastructure and commercial expenses obviously, because these products are new and we need to invest to have them. But their margin structure is very attractive and in many places better than cigarettes.
So it makes sense for us, from a business point of view, and I think it makes sense definitely for the smokers and also for governments because of the lesser impact on public health.
I am absolutely sure that as we grow this business, we will be better in terms of business results and at the same time public health will benefit.
Alone, it will take us more time. If governments intervene and encourage people to switch to these products if they don't want to quit, then I think we can go much faster.
[link url="https://www.bloomberg.com/news/videos/2018-10-24/philip-morris-sees-governments-revising-policies-on-e-cigarette-bans-over-time-video"]Philip Morris sees governments revising policies on e-cigarette bans 'over time'[/link]