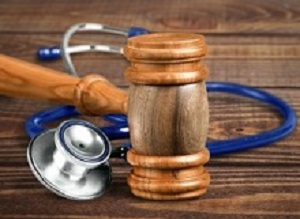 Audiologist and speech therapist Wandile Theophilus Mashego has been sentenced to five years in prison after being convicted of 259 counts of medical aid fraud, says a Cape Times report. He was also convicted on another count for contravening Section 66 of the Medical Aid Schemes Act. The sentence was wholly suspended for five years, on condition he pays back the R506,000 he defrauded from Bonitas. For contravening Section 66 of the Medical Schemes Act he was also declared unfit to possess a firearm for five years.
The report says the medical aid scheme brought the case against him in Pretoria following the discovery and investigation of the crimes. Mashego pleaded guilty, under Section 105A of the Criminal Procedure Act 77 of 1951, to having defrauded the money from Bonitas.
Bonitas chief operating officer Kenneth Marion said Mashego had been submitting fraudulent claims on behalf of Bonitas members during 2014 and 2015. Marion said a soon-to-be-identified "runner" had provided details of Bonitas Medical Fund members to Mashego, who then billed Bonitas fraudulently, for "services" to these members.
"We identified a sharp spike in his claims and some members contacted the scheme complaining about claims submitted on their accounts without their knowledge and no service having been rendered to them.
"We are indebted to the whistle-blowers and to SAPS for ensuring that he was convicted and sentenced, and for other recent convictions and sentencing we have had in the recent months," said Marion.
The report says additional conditions of Mashego's sentence include direct imprisonment if he fails to pay back the R506,000, correctional supervision for 36 months, which includes community service of 16 hours per month and house arrest for 36 months, except when going to work. He is also restricted to the Pretoria area for 36 months; and has to refrain from consuming alcohol, drugs and attending nightclubs and taverns.
The report says the Health Professions Council of SA did not respond to questions.
Marion said about 15% of claims in the health-care industry had an element of fraud, waste and abuse, translating into a loss of R190m for a scheme of Bonitas's size. Initiatives they had introduced to prevent criminal activity indicated that fraud, waste and abuse of the fund had amounted to R129.8m, with R31.2m having been recovered last year. "In fact, the money we recovered last year could have been used to pay for around 57,000 more general practitioners' consultations, or 18 lung or liver transplants," said Marion.
He said guilty parties were found all along the health-care delivery chain, including medical practitioners, employees, service providers and fund members. The report says fraudulent practices included billing for services not rendered (over-billing), using incorrect codes for services (at a higher tariff), waiving of deductibles and/or co-payments, billing for a non-covered service as a covered one, unnecessary or false prescribing of drugs and corruption by way of kickbacks and bribery.
Marion said fraud may not necessarily be on the increase, but the high-level analysis means medical schemes are uncovering substantially more fraud than previously. Current trends seem to be "phoney doctors or medical practitioners" who submit claims using another doctors' practice numbers. Sometimes this is done in collaboration with members, he added.
Fund members could help prevent fraud by keeping their personal medical scheme details such as membership numbers private, checking their medical scheme statements to make sure all claims are correct and that they had actually received the services they are being charged for, and keeping membership cards safe. Members have also been urged to contact a fraud hotline at 0800 112 811.
The Board of Healthcare Funders of Southern Africa (BHF) says, meanwhile, that fraud in respect of private medical aid schemes was a concern. BHF MD, Dr Katlego Mothudi, said in a Cape Argus report: "This is an industry challenge, and it is a cause for concern. It is as a result of this acknowledgement that most schemes have implemented fraud management strategies which involve deployment of forensic resources and systems to tackle this scourge."
Discovery Health, the largest medical aid scheme in the country with a membership of more than 2.7m, recovered R568m in fraud savings last year.
Discovery Health CEO Dr Jonathan Broomberg said the most common offences were claims submitted for services not rendered or medicines and medical devices that were never supplied.
[link url="https://www.iol.co.za/capetimes/news/doctor-guilty-of-259-counts-of-medical-aid-fraud-16693916"]Cape Times report[/link]
[link url="http://capeargus.newspaperdirect.com/epaper/showarticle.aspx?article=0a4337aa-87f0-449a-90ca-c29e1b2c1fba&key=EoQb9hPhejZP9UVPceB4bg%3d%3d&issue=62562018082300000000001001"]Cape Argus report (subscription needed)[/link]