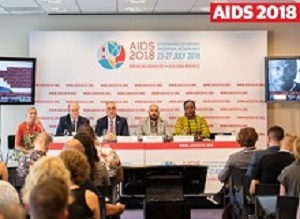 The prosecution of HIV positive people for deliberately infecting or endangering others is often not supported by science, according to 20 top scientists including Nobel Laureate Francoise Barrei-Sinouss.
Health-e News reports that the scientists released a consensus statement at the International AIDS Conference (AIDS 2018) to address the use of science in criminal prosecutions after reviewing the available evidence.
The report says some 68 countries have laws that criminalise HIV non-disclosure, exposure or transmission, while 33 others have applied similar laws in specific cases. But the scientists reviewed the best available scientific evidence relating to HIV transmission and concluded: it is not possible for an HIV positive person to transmit the virus in their saliva while kissing, biting or spitting; the risk of HIV transmission from a single act of unprotected sex is very low, and there is no possibility of transmission during either vaginal or anal sex if the HIV-positive partner has an undetectable viral load; and it is not possible to establish proof beyond reasonable doubt that one person has infected another, even with the most advanced phylogenetic scientific tools.
Kerry Thomas, serving a 30-year sentence in Idaho in the US for having sex without disclosing his HIV status to partner, joined the press conference where the statement was released via telephone. "I regret that I did not properly disclose my HIV status, but I worked with my doctor and did everything to protect my partner. I used a condom and had an undetectable viral load," said Thomas, who has already served 10 years of his sentence. He did not infect his partner with HIV, but received two 15-year sentences, one for each act of unprotected sex. The sentences are to run consecutively, with a minimum time served of 20 years.
The report says thousands of people living with HIV have been prosecuted, most of whom did not actually pass on the virus. Most prosecutions have taken place in the US, Belarus, Ukraine, Russia and Zimbabwe.
"HIV criminalisation laws are ineffective, unwarranted and discriminatory," according to the International AIDS Society. People living with HIV continue to be accused, arrested, prosecuted and convicted for non-disclosure, possible or perceived exposure or transmission of HIV in cases where: no harm was intended, HIV transmission did not occur, was extremely unlikely or impossible; and transmission was neither alleged nor proven."
Edwin Bernard, global co-ordinator of the Global HIV Justice Network, is quoted in the report as saying that there was an urgent need to train and educate judges and magistrates, many of whom operated on the basis of prejudice not fact.
"The scientific community has spoken and now the criminal justice system, law and policymakers must also consider the impact of prosecutions on the human rights of people living with HIV," said Michaela Clayton of AIDS and Rights Alliance for Southern Africa (ARASA).
The report says South Africa has not adopted an HIV-specific criminal law. "I think we can give credit to our Members of Parliament for that," said Judge Edwin Cameron. "There was a move in 1999 to make HIV transmission a specific crime, but this was ultimately rejected by our politicians, although HIV status can be considered an aggravation of sentence in rape," said Cameron.
The scientists include Professor Linda-Gail Bekker from the University of Cape Town, Chris Beyrer of Johns Hopkins University and Professor Salim Abdool Karim from the University of KwaZulu Natal, and, the report says, their statement has since been endorsed by 70 other world-renowned scientists.
[link url="https://www.health-e.org.za/2018/07/26/many-hiv-convictions-not-supported-by-science/"]Health-e News report[/link]