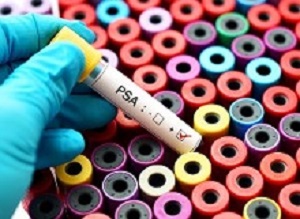 Routine testing for prostate cancer with the prostate specific antigen (PSA) test is not recommended for most men because the benefit is small and uncertain and there are clear harms, say a panel of international experts. The experts acknowledge, however, that some men, such as those with a family history of prostate cancer, may be more likely to consider screening and, for these men, discussions about possible harms and benefits with their doctor is essential.
The experts' advice is based on the latest evidence and is part of The BMJ's Rapid Recommendations initiative – to produce rapid and trustworthy guidance based on new evidence to help doctors make better decisions with their patients.
The prostate specific antigen (PSA) test is the only widely used test currently available to screen for prostate cancer. It is used in many countries, but remains controversial because it has increased the number of healthy men diagnosed with and treated unnecessarily for harmless tumours.
So, an international panel, made up of clinicians, men at risk of prostate cancer, and research methodologists, carried out a detailed analysis of the latest evidence.
Based on a review – more than 700,000 men in clinical trials – which found that if screening reduces prostate cancer deaths at all, the effect is very small, the panel advises against offering routine PSA screening and says most well informed men will decline screening because of the small and uncertain benefits and the clear harms.
"Clinicians need not feel obligated to systematically raise the issue with all their patients, and should engage in shared decision making for those considering screening", says the chair of the new guideline, Dr Kari Tikkinen from the University of Helsinki and Helsinki University Hospital.
Men at higher risk of prostate cancer death – for example, those with a family history of prostate cancer or of African descent – may be more likely to choose PSA screening after discussion of potential benefits and harms of testing with their doctor, authors concluded.
This view is supported in a linked editorial by Professor Martin Roland at the University of Cambridge and colleagues.
Abstract
Objective: To investigate the efficacy and safety of prostate-specific antigen (PSA) testing to screen for prostate cancer.
Design: Systematic review and meta-analysis.
Data sources: Electronic search of Cochrane Central Register of Controlled Trials, Web of Science, Embase, Scopus, OpenGrey, LILACS, and Medline, and search of scientific meeting abstracts and trial registers to April 2018.
Eligibility criteria for selecting studies: Randomised controlled trials comparing PSA screening with usual care in men without a diagnosis of prostate cancer.
Data extraction: At least two reviewers screened studies, extracted data, and assessed the quality of eligible studies. A parallel guideline committee (BMJ Rapid Recommendation) provided input on the design and interpretation of the systematic review, including selection of outcomes important to patients. We used a random effects model to obtain pooled incidence rate ratios (IRR) and, when feasible, conducted subgroup analyses (defined a priori) based on age, frequency of screening, family history, ethnicity, and socioeconomic level, as well as a sensitivity analysis based on the risk of bias. The quality of the evidence was assessed with the GRADE approach.
Results: Five randomised controlled trials, enrolling 721 718 men, were included. Studies varied with respect to screening frequency and intervals, PSA thresholds for biopsy, and risk of bias. When considering the whole body of evidence, screening probably has no effect on all-cause mortality (IRR 0.99, 95% CI 0.98 to 1.01; moderate certainty) and may have no effect on prostate-specific mortality (IRR 0.96, 0.85 to 1.08; low certainty). Sensitivity analysis of studies at lower risk of bias (n=1) also demonstrates that screening seems to have no effect on all-cause mortality (IRR 1.0, 0.98 to 1.02; moderate certainty) but may have a small effect on prostate-specific mortality (IRR 0.79, 0.69 to 0.91; moderate certainty). This corresponds to one less death from prostate cancer per 1000 men screened over 10 years. Direct comparative data on biopsy and treatment related complications from the included trials were limited. Using modelling, we estimated that for every 1000 men screened, approximately 1, 3, and 25 more men would be hospitalised for sepsis, require pads for urinary incontinence, and report erectile dysfunction, respectively.
Conclusions: At best, screening for prostate cancer leads to a small reduction in disease-specific mortality over 10 years but has does not affect overall mortality. Clinicians and patients considering PSA based screening need to weigh these benefits against the potential short and long term harms of screening, including complications from biopsies and subsequent treatment, as well as the risk of overdiagnosis and overtreatment.
Authors
Dragan Ilic, Mia Djulbegovic, Jae Hung Jung, Eu Chang Hwang, Qi Zhou, Anne Cleves, Thomas Agoritsas, Philipp Dahm
[link url="https://www.helsinki.fi/en/news/health-news/experts-advise-against-routine-screening-for-prostate-cancer"]University of Helsinki material[/link]
[link url="https://www.bmj.com/content/362/bmj.k3581"]BMJ guidelines[/link]
[link url="https://www.bmj.com/content/362/bmj.k3519"]BMJ review and analysis[/link]
[link url="https://www.bmj.com/content/362/bmj.k3702"]BMJ editorial[/link]