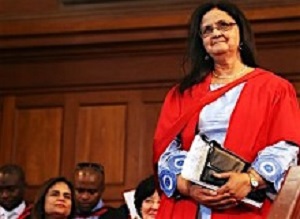 South African community health activist, Dr Sophia Kisting-Cairncross, has been awarded the President of Convocation Medal at the University of Cape Town (UCT), reports Business Day. The medal is awarded annually by the president of convocation to a UCT alumnus who has made a significant contribution to the common good.
Kisting-Cairncross is the executive director of the National Institute for Occupational Health. She also chairs the Qubeka Trust, set up to distribute funds to the 4,400 mineworkers who won an out of court settlement against big mining companies, Anglo American and AngloGold Ashanti. The workers sued the mining companies for uncompensated dust-related lung diseases, silicosis and silico-tuberculosis.
Lorna Houston, the president of convocation said: "(Dr Kisting-Cairncross) has, throughout, her career demonstrated a deep and abiding passion for collective and inclusive efforts to protect the health, social and economic rights of the most vulnerable workers within the world of work. She believes that the cumulative human wisdom generated through the rigour of science, research and workplace experience should be utilised to help create sustainable employment, sustainable economies and a more equal and more just society for all."
The report says Kisting-Cairncross was born and raised in Namibia. She travelled to Cape Town in 1969 to study at UCT. "As a black student, she faced a number of challenges. She lived in the township of Elsies River and had to undertake an arduous trip to and from classes every day as student accommodation was only available for white students. To add to her burden, she had to work at night in restaurants to provide for her needs," said Houston.
"Studying medicine under apartheid brought with it insult, indignity and racism and so, alongside other black students and patients, Dr Kisting-Cairncross experienced the violence of racial segregation. They were not permitted to examine white patients and had to adhere to the segregation of the hospitals. Deeply influenced by the black consciousness movement at UCT, she graduated in 1975."
The report says in subsequent years, Kisting-Cairncross went on to establish herself as health activist. She has worked for more than 20 years in rural and urban public health hospitals and clinics in several countries in Southern Africa, including five years in the Soweto Community Health Centres, in Zimbabwe and Namibia.
She co-ordinated the World Health Orgainsation (WHO)/International Labour Organisation joint effort on occupational health and safety in Africa for nearly three years with support from the WHO and the National Institute for Occupational Safety and Health in the US.
In 2003, the Journal of Epidemiology and Community Health in the US recognised Kisting-Cairncross as one of 10 influential women in occupational health and safety internationally.
"Dr Kisting-Cairncross is the kind of graduate UCT wishes to produce; she has pursued her passion with integrity and courage and shows that the pursuit of social justice and the production of epistemologies from the south are significant in creating a world free of oppression," said Houston.
Kisting-Cairncross said she was humbled by the award. "I essentially accepted (this award) on the basis that I treasure what students are going through at our learning institutions. I wanted to see if my life experiences and lessons I have learned can make a difference to others," she said.
According to the report, she advised young students to always believe in themselves. "It is important that you believe you can become the very best … and that you are not a second-class citizen, no matter the challenges … we should also always speak truth to power."
[link url="https://www.businesslive.co.za/bd/national/health/2018-04-05-renowned-community-health-activist-awarded-president-of-convocation-medal-at-uct/"]Business Day report[/link]