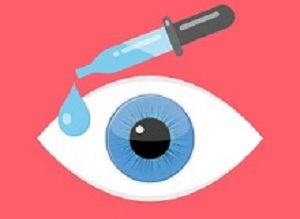 Scientists at the University of Birmingham have developed a novel eye drop that rapidly reduces sight-threatening scarring to the surface of the eye.
The surface of the eye (the cornea) is usually transparent, but scars resulting from eye infection or trauma make it opaque causing blurred vision or in extreme cases complete blindness.
Their pre-clinical research shows that within a matter of days the eye drop speeds healing, reduces scarring and improves corneal transparency compared to the current standard of care for Pseudomonas aeruginosa, an eye infection commonly associated with poor contact lens hygiene.
The current standard of care for eye infection are eye drops containing antibiotics and corticosteroids to reduce inflammation, followed by intensive lubrication to prevent further damage to the eye during blinking. These treatments effectively sterilize the eye, although some patients are left with visual 'hazing' due to scars on the cornea. The only option to correct this is costly and cumbersome surgical interventions, such as corneal transplants, which are fraught with risks of failure or rejection.
The Birmingham scientists, led by Professor Liam Grover from the University's School of Chemical Engineering and Professor Ann Logan from the University's Institute of Inflammation and Ageing, have developed the eye drop which consists of a fluid gel loaded with a natural wound-healing protein called Decorin.
Logan said: "This innovative fluid gel in the eye drop is designed to retain the Decorin on the surface of the eye, and form a 'therapeutic bandage' that promotes scarless healing."
Grover explained: "The fluid gel is a novel material that can transition between a solid and liquid state. This means it contours itself to the surface of the eye, is retained there, and is only slowly removed by blinking."
This research has shown for the first time that the fluid gel has a therapeutic effect in its own right, and the researchers believe it forms a protective barrier that protects the surface of the eye from further damage caused by blinking. The fluid gel has been patented by University of Birmingham Enterprise.
Dr Richard Moakes, also from the School of Chemical Engineering explained: "We are now continuing our work to test and refine the formulation for this novel anti-scarring eye 'bandage'."
Dr Lisa Hill, from the University's Institute of Clinical Sciences, said: "The anti-scarring eye drop has the potential to vastly improve outcomes for patients with eye infection and trauma. It could also help save many people's sight, particularly in the developing world where surgical interventions such as corneal transplants are not available."
Abstract
Disorganization of the transparent collagenous matrix in the cornea, as a consequence of a variety of infections and inflammatory conditions, leads to corneal opacity and sight-loss. Such corneal opacities are a leading cause of blindness, according to the WHO. Public health programs target prevention of corneal scarring, but the only curative treatment of established scarring is through transplantation. Although attempts to minimize corneal scarring through aggressive control of infection and inflammation are made, there has been little progress in the development of anti-scarring therapies. This is owing to eye drop formulations using low viscosity or weak gelling materials having short retention times on the ocular surface. In this study, we report an innovative eye drop formulation that has the ability to provide sustained delivery of decorin, an anti-scarring agent. The novelty of this eye drop lies in the method of structuring during manufacture, which creates a material that can transition between solid and liquid states, allowing retention in a dynamic environment being slowly removed through blinking. In a murine model of Pseudomonas keratitis, applying the eye drop resulted in reductions of corneal opacity within 16 days. More remarkably, the addition of hrDecorin resulted in restoration of corneal epithelial integrity with minimal stromal opacity endorsed by reduced α-smooth muscle actin (αSMA), fibronectin, and laminin levels. We believe that this drug delivery system is an ideal non-invasive anti-fibrotic treatment for patients with microbial keratitis, potentially without recourse to surgery, saving the sight of many in the developing world, where corneal transplantation may not be available.
Authors
Lisa J Hill, Richard JA Moakes, Chairut Vareechon, Gibran Butt, Aaron Ng, Kristian Brock, Gurpreet Chouhan, Rachel C Vincent, Serena Abbondante, Richard L Williams, Nicholas M Barnes, Eric Pearlman, Graham R Wallace, Saaeha Rauz, Ann Logan, Liam M Grover
[link url="https://www.birmingham.ac.uk/news/latest/2018/12/sight-saving-treatment-eye-infection.aspx"]University of Birmingham material[/link]
[link url="https://www.nature.com/articles/s41536-018-0061-4"]npj Regenerative Medicine abstract[/link]