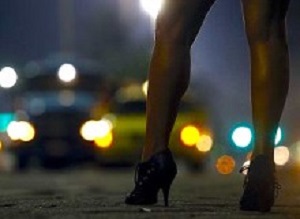 A University of the Witwatersrand study of sex workers in Soweto shows two-thirds of suffer depression, 6% showed symptoms for post-traumatic distress disorder (PTSD), and only 14% said they had never been a victim of violence.
For a long time, health professionals and caregivers have known that South African sex workers suffer from high rates of depression and post-traumatic stress, but no one knew the extent of the problem. According to a Saturday Star report, now this has changed with a new study that has provided a snapshot of a group of sex workers who work in one of South Africa's best-known townships.
The study found that in a sample of sex workers in Soweto, more than two-thirds of them suffered depression. Of that same sample, 39, 6% showed symptoms for post-traumatic distress disorder (PTSD). The cause of this, according to one of the authors of the paper, Jenny Coetzee at the faculty of health sciences, University of the Witwatersrand and the Chris Hani Baragwanath Academic Hospital, Johannesburg, is due to the high levels of violence they experience. "You are going to find very high levels of trauma and depression – and with that comes high levels of drinking," said Coetzee.
The report says the researchers focused on 508 sex workers across Soweto in a study that took place over seven months during 2016. Of that total, only two of the participants weren't black and 16 were migrants. What the study further revealed was that two-thirds of the sex workers went hungry regularly and 50% of them were binge drinkers. Only 14% claimed they had never been a victim of violence.
But this statistic, believes Coetzee, might be misleading. "We only asked about specific forms of violence, so there was a whole plethora of different perpetrator types that we didn't ask about, that people told us about but we weren't able to record," said Coetzee. "For example, we were often told about uncles, brothers or fathers who had raped them as young women."
South African sex workers are not alone. A survey in India found that female sex workers had depression rates of 39%, while in Nepal it was 82.4%. In Israel, nearly a third of sex workers suffered from PTSD and research from Switzerland revealed that 50.3% of sex workers suffered from some form of mental health disorder.
The report says the authors of the study hope their research will assist in understanding the burden of mental health among sex workers. The plan is to also broaden the study to a national level.
"The idea is to continue this kind of work and have it feed into programmes. South Africa has a national sex worker strategy and the idea behind all of this is to support the implementation of that, through evidence.
"So, we can say, look we are in Soweto and this is what the profile of men and woman are, who are engaging in sex work and these are the issues and needs they have," said Coetzee.
Ishtar Lakhani, the advocacy manager at the Sex Worker Education and Advocacy Taskforce (Sweat), said in the report that dealing with mental health issues among sex workers would require a multi-disciplined approach.
"There is little access to services such as social-psycho support for people in general in South Africa, so we need to address mental health services in this country," Lakhani said. "Even if, magically, we improve services overnight in South Africa, the laws around crimina- lisation of sex work will be a huge impediment."
One country that has addressed these problems, according to Lakhani, is New Zealand which decriminalised sex work a decade ago. "Research has shown there that it has improved access to services across the board. There was reduction of stigma and less fear of going and getting help," she said.
Abstract
Background: Sex workers in South Africa are exposed to high levels of violence, yet little is known about their mental health needs. This study aims to understanding the prevalence of depression and post-traumatic stress disorder (PTSD) and their risk factors amongst female sex worker (FSWs) in Soweto, South Africa.
Methods: A cross-sectional, respondent-driven sampling (RDS) survey enrolled 508 FSWs. Raw and RDS adjusted data were analyzed using a chi-squared test of association and multinomial regression for risk factors associated with depression and PTSD.
Findings: Symptoms of severe depression were prevalent amongst 68.7%, PTSD was 39.6%, and 32.7% suffered from comorbid PTSD and depression. Experiencing ≥3 kinds of violence increased the likelihood of comorbidity (RRR4.11, 95% CI 1.52–11.12,p = 0.005). Internalised stigma increased the likelihood of one mental health condition (RRR1.25, 95% CI 1.10–1.42,p = 0.001), higher self-esteem was associated with independent (RRR1.14, 95% CI 1.05–1.25,p = 0.002) and comorbid conditions (RRR1.17, 95% CI 1.07–1.27,p = 0.001).
Conclusion: Our findings highlight the sizable burden of treatable mental health conditions among FSWs in Soweto. This was driven by multiple exposures to violence, sex work related discrimination and overall moderate levels of self-esteem masking defence mechanisms. This suggests the urgent need to design and integrate services geared to the mental health needs for this population.
Authors
Jenny Coetzee, Janice Buckley, Kennedy Otwombe, Minja Milovanovic, Glenda E Gray, Rachel Jewkes
[link url="https://www.iol.co.za/saturday-star/news/sa-sex-workers-suffer-post-traumatic-stress-16165531"]Saturday Star report[/link]
[link url="http://journals.plos.org/plosone/article?id=10.1371/journal.pone.0196759"]PLOS One abstract[/link]