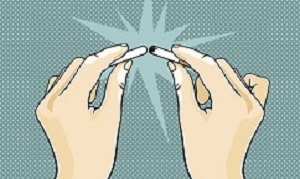 Following a cacophony of criticism of South Africa's Tobacco Bill, supporters the legislation are having their say. An article in Daily Maverick outlines a campaign by the tobacco industry to thwart planned moves to control smoking and e-cigarettes, while a Sunday Times report says the bill targets not smokers but an industry tapping new forms of addiction.
The tobacco industry is spending vast sums of money to fight government's attempts to tighten smoking laws and regulate electronic cigarettes in South Africa – and it has managed to recruit some unlikely allies – write Masutane Modjadji and Kerry Cullinan for Daily Maverick.
Over the past three months, the tobacco industry has mounted a massive campaign against government's proposed legislation to clamp down on smoking and to control electronic cigarettes – and a key part of this has involved co-opting journalists, health professionals, trade unions and researchers.
Smoking kills more than 42,000 South Africans a year, according to Health Minister Aaron Motsoaledi – yet there have been recent claims about the social value of smoking by the Free Market Foundation's Leon Louw, and attacks on government's attempts to contain tobacco and nicotine use as being symptomatic of a "nanny state".
The tobacco industry has employed two main tactics: a huge advertising campaign against illicit cigarettes that serves to promote themselves as the law-abiding "good guys", and a campaign to promote electronic cigarettes as "harm reduction" tools to wean smokers off cigarettes.
There is significant evidence to show that e-cigarettes create a whole new set of health problems, and no evidence that they are being promoted simply as aids to wean smokers off cigarettes. Instead, e-cigarettes are being aggressively marketed as pleasurable products by their manufacturers, many of whom also sell cigarettes.
In recent weeks, health experts and journalists have spoken out against the government's proposed Control of Tobacco Products and Electronic Delivery Systems Bill on platforms convened by the tobacco industry.
At a workshop for African Reporters on Harm Reduction convened by a group that is sponsored by the tobacco industry, health professionals repeatedly overstated the "safety" of e-cigarettes without scientific research to back up their claims, and in the face of mounting evidence to challenge this.
In the past week, tobacco giant Philip Morris International (PMI) flew a group of African journalists from countries including Malawi, Tanzania, Senegal and Zimbabwe to Johannesburg for a day-long media workshop to promote e-cigarettes, including PMI's own heat-not-burn product, IQOS ("I quit ordinary smoking").
This follows similar meetings in Ivory Coast, Mali and Kenya. The intention of these workshops is to draw journalists into a network of African reporters to champion e-cigarettes to reduce the harm of tobacco.
AllAfrica Chairperson Amadou Mahta Ba and The Guardian Nigeria Editor-in-chief Debo Adesina were part of the PMI panel, as was Anton Harber, professor of journalism at the University of Witwatersrand, who urged journalists to report in a fair and balanced manner.
"We are covering a complicated debate but it is our duty to enable citizens to understand it in all its nuances. We need to approach it with critical open-mindedness," said Harber, who failed to answer when asked whether he had been paid to speak by PMI.
All that Harber would say when asked about his presence on the panel was: "I was asked by my old friend and colleague, Amadou Ba, and I did it on the basis that I was free to say whatever I liked – which I did."
On the day of the media workshop, the Food and Allied Workers Union marched on Treasury, urging them to act against illicit cigarettes, which they claimed would cost 11,000 jobs this year. They also ran a huge social media campaign #NotJustaJob, profiling tobacco workers.
A series of expensive print, electronic and broadcast media advertisements and social media campaigns were launched in July. The ad campaigns were carefully crafted to conceal that they were funded by a big industry player. Japan Tobacco International's (JTI) #HandsOffMyChoices is so sophisticated that it would be difficult for an ordinary citizen to tell that it was funded by the company. The campaign has its own website that is not linked in any way to JTI's main website.
JTI's campaign is strikingly similar to the Tobacco Institute of Southern Africa's (Tisa) #TakeBackTheTax. Tisa used the same modus operandi and the advertisements were launched at the same time as JTI's. Shortly before the advertising campaign was launched, Tisa released a report in which it claimed illegal cigarettes are available in 100,000 shops in South Africa and this was denying the South African Revenue Service tax income.
Professor Corné van Walbeek from the School of Economics at the University of Cape Town said that the illicit cigarette market was a cause for concern as it had exploded in the past two years. However, he added that he believed that the big tobacco companies were seriously under-declaring their cigarette sales and the chaos at SARS has helped them to do this.
"They try to present themselves (big industry) as legitimate players and paint the Fair-trade Independent Tobacco Association representatives as scoundrels, especially Gold Leaf Tobacco Company. Tisa is fighting two wars it seems: one against the small operators and one against the government," he said.
Health advocates have also been aiding the industry's campaigns to push vaping products, as well as fighting government attempts to legislate them.
Professor Praneet Valodia, a health professional from the University of the Western Cape, said the new bill ignores the potential value of e-cigarettes and denies consumers the right make their own choices.
President of the Health Professions Council Kgosi Letlape has also appeared on various platforms to support vaping products.
"When it is legal, you can regulate and you can conduct more research. However, if something is illegal it becomes hard to regulate and needs policing, which is difficult," Letlape said recently
However, Motsoaledi said that tobacco companies have no credible facts to promote their products: "That is why they run to the poor and vulnerable. They can easily mislead the poor and make them believe that tobacco sustains jobs, deliberately hiding the harmful effects of tobacco… you don't need a job when you are dead."
Motsoaledi added that the industry had never succeeded in its court bids to halt tobacco legislation in countries that have regulated the industry, including the US, UK, Australia and Ireland.
Meanwhile Sandra Mullin, senior vice president of global public health organisation Vital Strategies, condemned the tobacco industry's latest tactics.
"It is clear from my current visit here in South Africa that, under the guise of supporting consumer choice, the tobacco industry is aggressively lobbying policymakers and using front groups to oppose a strong tobacco control bill," said Mullin, who is based in New York.
"Their actions are really about enabling the industry to continue to hook children on a product that kills half to two-thirds of lifetime users. When we launched our Tobacco Atlas in Cape Town earlier this year, we warned that the tobacco industry targets countries across Africa to maximise profits to the detriment of those countries. That has been visibly evident in South Africa in recent weeks.
"The new tobacco control bill can make a vital contribution in reducing preventable deaths in South Africa. And it can set a strong example to other countries across the continent. We urge the government and Parliament to stand up to the industry's intimidation and to act to protect South Africa's people by passing this bill."
* After publication, Anton Harber responded further:
The Daily Maverick/Heath-e claim that I have been co-opted by the cigarette industry is inaccurate, untrue and damaging.
It is true I was one of three speakers on a panel at a "harm reduction" seminar last week, but I did it on the express condition that I was free to speak my mind without any restriction.
The report you have given of what I said is selective to the point of inaccuracy: while I did call for objective reporting, I specifically emphasised that one had to be vigorous in examining the scientific evidence and reporting who paid for research, what kind of samples were used and whether all the available evidence was published.
I said this was particularly important since the tobacco industry had a history of using bad science. I cited the way bad science had been used in the HIV/Aids debate to say that we should not equate all views from scientists as but had a responsibility to weigh them up in an informed and careful manner to ensure the public was properly informed.
You imply that I declined to answer further questions on the matter, though asked twice. Not true. I answered an emailed query promptly and was asked nothing further.
Let me say clearly that I have no objection to engaging with the cigarette industry if I am free to speak my mind. To label this as cooption is crude and inaccurate. I am in favour of appropriate legislation limiting cigarette and e-cigarette advertising and marketing and have never spoken in defence of the industry. DM
[link url="https://www.dailymaverick.co.za/article/2018-08-19-professionals-co-opted-to-back-tobacco-giants/"]Article on the Daily Maverick site[/link]
Time to join the global movement to stub out the tobacco epidemic
The Sunday Times article is by Tricia Lambert, an advocate, a former special adviser to the US health ministry and the director of the International Legal Consortium, part of the Campaign for Tobacco-free Kids in Washington DC. She writes:
The new Control of Tobacco Products and Electronic Delivery Systems Bill is all about regulating a voracious industry to protect young people, workers and non-smokers from the deadly harm of tobacco and nicotine products.
Any claims that the bill is targeting the choices of smokers and e-cigarette users misses the point.
The tobacco industry is losing ground in high income nations, with smoking rates and cigarette sales falling. Tobacco companies have shifted their sights for future profits to lower- and middle-income countries, and see African countries as especially right for exploitation.
The World Health Organisation has said: "Africa is poised to experience a tobacco epidemic. The existence of an attractive, under-tapped market and the targeted tactics of the tobacco industry have created a 'perfect storm'.
The best way to protect people, especially young people, is through stringent regulation – the kind in the proposed law.
Since the introduction of previous tobacco control laws, smoking rates have fallen. When SA's first tobacco control law was introduced in 1993, 32% of adult smoked. Thanks to progressive amendments to the law that rate dropped to just over 18% by 2012. But now rates are levelling off and smoking still claims 42,000 South African lives every year.
The human and economic costs are significant and entirely avoidable. Urgent action is needed to bring smoking rates down further and to prevent the uptake of new tobacco and nicotine products, all of which are harmful to health to some degrees.
The bill treats electronic nicotine delivery systems (e-cigarettes or vaping products) and the new heated tobacco products for the most part in the same was as traditional tobacco products in order to prevent multinational companies from attracting young people and non-smokers to a new generation of tobacco and nicotine products.
SA was once a leader in tobacco control, but that is no longer the case and that means people in SA are at risk. Uganda, Mauritius, Kenya, Burkina Faso, Burundi, Chad, Seychelles, Madagascar and Gambia and more than 50 other countries have comprehensive smoke-free laws, with no exceptions for the smoking areas allowed in SA. Studies show that no safe level of second-hand smoke exposure exists and even low levels of tobacco smoke can cause serious smoke risks.
Similarly, some scientific studies indicate that e-cigarettes, which contain nicotine and other toxins, can also pose risks to non-users. The health of workers, non-smokers and young people must be properly protected.
It has also been proved, beyond any doubt, that prohibiting advertising of tobacco products is effective, sensible and necessary to decrease use.
With TV, billboards and print advertisements no longer available to them, tobacco companies have to rely on product packaging to promote sales. Previously, secret internal industry documents reveal a Philip Morris executive as saying: "in the absence of any other marketing messages, our packaging is the sole communicator of our brand essence. Put another way – when you don't have anything else, our packaging is our marketing."
For this reason the bill introduces plain packaging and graphic health warnings for tobacco and nicotine products. Plain packaging increases the visual impact of the graphic health warnings, helping to reach communities where literacy rates are low.
The bill also ensures the protection of young people and non-smokers from misleading tobacco and e-cigarette adverts via displays at the point of sale. Just look to the US to see what happens when e-cigarettes are not regulated properly.
Juul is an e-cigarette that has captured more than 70% of the US market in only three years. It looks like a sleek USB drive, can be held in a closed hand, comes in attractive flavours like mango and mint and delivers nicotine more quickly, more effectively and at higher doses than other e-cigarettes.
Rather than helping smokers quit, Juul and such products are making addicts of a new generation. Use among school children in the US is rocketing. The company plans to expand, raising $1.2bn (R17.6bn) to enter new, global markets.
Thanks to the new bill, SA has the opportunity to get ahead of these new products and protect its youth from harmful addictions.
Tobacco companies, and the front groups they use, are mounting aggressive campaigns to oppose, delay or dilute the new law. They claim the bill will increase the illicit trade in tobacco and lead to job losses – both flawed arguments.
Every independent study shows that if rates of illicit tobacco use are high, the only way to reduce them is through strong policing and law enforcement. Tobacco control measures such as smoke-free places, graphic warning labels and prohibitions on advertising have no impact on the supply of or demand for illicit tobacco.
Reports from the World Bank and the World Health Organisation show that for the vast majority of countries, implementing tobacco control measures is beneficial for the economy and does not lead to net job losses.
We should be clear. This bill is not about stopping people who want to smoke or use e-cigarettes from doing so. This bill is about protecting workers, young people and others from second-hand smoke and nicotine vapour, which are harmful to health.
It is about effectively informing consumers about the dangers of tobacco and nicotine use. And it is about stopping the tobacco and e-cigarette industries from promoting addictive and deadly products.
Through the bill, the government is prioritizing public health and protecting people, especially workers and young people. It is also fulfilling its obligations in terms of the World Health Organisation framework convention on tobacco control – one of the most widely-ratified UN treaties, with 181 parties including SA.
These measures are proven to reduce tobacco and nicotine use and save lives, which is why so many countries around the world have introduced them. It is time for SA to join the global movement to end the tobacco epidemic and nicotine addictdion.
[link url="https://www.pressreader.com/south-africa/sunday-times/20180902/282308205977813"]Time to join the global movement to stub out the Tobacco Bill[/link]