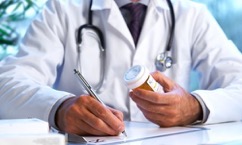 In  South Africa, 78% of 'mystery' patients sent to a public clinic and 67% of patients sent to a private general practitioner (GP) received antibiotics, even though antibiotics were not clinically indicated, found a study by the University of the Witwatersrand and the London School of Economics.
Dr Duane Blaauw, senior researcher in the Centre for Health Policy in the Wits School of Public Health and Dr Mylene Lagarde in the department of health policy at the LSE shared the findings at the Antibiotic Prescribing Study Dissemination Workshop at Wits.
The study, which investigated unnecessary antibiotic prescribing in primary health care in South Africa, is important because unnecessary antibiotic prescribing is known to be related to the development of antibiotic resistance.
Antibiotics are responsible for many of the improvements in medicine over the last 60-70 years. However, most bacteria are becoming resistant to the antibiotics previously used to treat them. This poses a threat to public health as some common infections are now much more difficult to treat. Antibiotic resistance (ABR) is particularly critical for South Africa, which has a high burden of infectious diseases and among the highest rates of ABR in the world.
Previous research in South Africa has focused more on antibiotic use in hospitals. However, data from other countries has shown that the majority of antibiotics are usually prescribed in primary care. Respiratory tract infections (RTIs), such as the common cold and acute bronchitis, are amongst the main problem areas because primary care providers prescribe antibiotics for these infections even though they are caused by viruses rather than bacteria.
The Wits-LSE study was done in one of the large metropolitan cities in South Africa. It used standardised patients (SP), also sometimes called mystery patients, to evaluate unnecessary antibiotic prescribing for acute bronchitis in primary care. Afterwards, the participating nurses and doctors were interviewed to explore why they prescribed antibiotics when they were not clearly indicated.
This is one of the first studies to properly document the extent of antibiotic prescribing for respiratory tract infections in primary care in South Africa, and the very high rates of antibiotic prescription by both public nurses and private GPs is a concern.
The healthcare provider surveys also revealed significant knowledge gaps, particularly in relation to the recommended management of acute bronchitis. However, better clinical knowledge was demonstrated in appropriate antibiotic use – healthcare providers who identified a probable viral cause in the patient case, and who knew antibiotics are not recommended for treating acute bronchitis, were much less likely to have prescribed an antibiotic. This suggests that healthcare provider education can contribute to improving rational antibiotic use.
One reason given by primary care doctors and nurses to explain their unnecessary antibiotic prescribing was that patients demand or expect antibiotics. That did not happen in this study, because the standardised patients never asked for antibiotics. In fact, a second group of patients sent to the study providers explicitly told the doctors and nurses that they did not want antibiotics unless they were really necessary. Antibiotic prescribing decreased by 20% for these cases in both the public and private sectors.
This finding suggests that providers sometimes prescribe antibiotics because they assume patients expect them, and that patient awareness campaigns may partly help address the problem. However, it is worth noting that more than half of these patients still received antibiotics even after stating they didn't want them, indicating more entrenched patterns of prescribing behaviour that may be more difficult to change.
Overall the study has shown that national ABR strategies and campaigns also need to be concerned with what is happening in primary health care services, if the use of antibiotics is to be preserved for future generations.
Brief 1
HOW WAS THE STUDY DONE?
The study was conducted in four socioeconomically diverse wards in metropolitan South Africa in the cold season in 2017.
A combination of qualitative research methods were used to gain in-depth information and insight into patient expectations and provider practices:
•Doctor-patient consultations were observed at eight public and private clinics to explore communication, examination and advice on presentation with a respiratory infection. •In-depth interviews were conducted with adult patients and guardians (usually mothers or grandmothers) bringing small children to a clinic, often while they were waiting to be seen by a doctor or nurse practitioner.
•Key informant interviews were conducted with advocates of antibiotic guardianship, including senior clinicians, government programme officers and pharmacists. Observations and interviews highlighted diverse expectations of care, prescribing and adherence, and drew attention to confusion between immunity and resistance.
Brief 2
HOW WAS THE STUDY DONE?
We used the standardised patient method to measure the rate of unnecessary antibiotic prescribing in primary care. A standardised patient (SP) is a fieldworker who has been trained to represent consistently a specific clinical case, and is then sent to act as a real patient and visit primary care providers. The SPs are also trained to remember all the details of their consultation which they record immediately after completing the visit. The SP method is seen as the gold standard method for evaluating the quality of primary care. SPs portrayed a case of Acute Bronchitis (Box 1). Such an uncomplicated case should not receive antibiotics.
The main study outcome was whether SPs were given antibiotics or not. We also recorded other aspects such as waiting times, duration of the consultation, the number of questions asked and examinations performed during the consultation, and the cost of the consultation, and the cost of the medicines given.
After completion of all SP visits, we interviewed participating providers to evaluate their clinical knowledge and awareness of antimicrobial resistance.
The study was done in one of the large Metropolitan cities in South Africa during the cold season in 2018, where the SPs visited 125 private GPs. For the public sector, 102 visits were conducted in 73 municipality clinics, where SPs were mostly seen by nurses. Providers had given prior consent to the study, but they did not know when SPs would visit or what case they would portray. In checking afterwards, less than 1% of SPs were identified as suspicious by the providers, confirming that the results are valid.
Brief 3
HOW WAS THE STUDY DONE?
A survey was developed to collect information on the knowledge and socio-demographic characteristics of primary care providers in South Africa.
The survey was answered by: 193 GPs who participated in the Standardised Patient Study; and 433 practicing GPs in the rest of South Africa who had been recruited to complete an online survey.
In addition to the knowledge survey, respondents to the online survey were given a series of experimental clinical vignettes, in which they were asked what treatment they would prescribe for hypothetical patient cases.
The vignettes varied systematically the clinical details of the case described, in order to understand their influence on prescribing decisions.
Brief 4
HOW WAS THE STUDY DONE?
A very effective information campaign would make patients aware of the detrimental effects of antibiotics misuse, and more reluctant to being given antibiotics, unless clinically indicated.
To test the potential effects of such a policy, we developed a new scenario in which we changed the attitude of the SP towards antibiotics. After describing his/her main complaint, this 'reluctant' patient was trained to tell the doctor: "I do not want antibiotics, unless you think it is really necessary".
A total of 199 visits were carried out by such 'reluctant' patients, half in the public sector and half in the private sector, 5 to 10 days apart from the visits carried out by 'normal' standardised patients to the same providers.
[link url="https://www.wits.ac.za/news/latest-news/research-news/2019/2019-03/new-study-finds-very-high-rate-of-unnecessary-antibiotic-prescribing-in-sa-.html"]University of Witwatersrand material[/link]