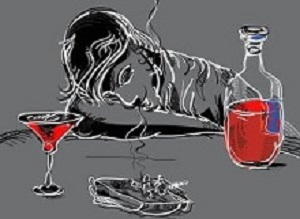 Councils in the UK are making 'deep cuts' to addiction services despite soaring alcohol-related hospital admissions and deaths, with further cuts projected, writes Josh Gabbatisse for The Independent. "We're spending money dealing with A&E admissions when we should be trying to tackle the addiction that lands people in hospital in the first place," said MP Liam Byrne.
Nearly 60 per cent of local authorities have slashed budgets for these services over the last year, amid government cuts to public health grants.
Some councils axed as much as a third of the money set aside to help addicts, and Birmingham reported the biggest reduction after wiping nearly £4m from its budget.
Experts are concerned that the lack of specialist services means underlying addiction problems are not being addressed, leading to additional strain on the National Health Service (NHS).
A&E cases involving alcohol surged by 13 per cent over the past decade, and NHS data revealed last week showed deaths related to drinking reached record levels of nearly 6,000 last year.
Societal crisis
Shadow health secretary Jonathan Ashworth said fatalities had reached "shamefully high" levels as austerity created a "breeding ground" for drug and alcohol abuse.
"I think we are facing an addiction crisis in our society," he told The Independent.
In the coming year, local authorities expect a further 2 per cent average drop in drug and alcohol treatment services, with over 90 per cent expecting budgets to stand still or fall.
There are thought to be more than 600,000 alcohol-dependent adults in need of support across England, but the number of people receiving treatment has dropped steadily in recent years since the government transferred public health responsibility to cash-strapped councils.
Multimillion pound cuts have hit particularly hard in areas of high depravation, and among elderly people who increasingly bear the burden of addiction problems.
While alcohol-related admissions are actually falling among the under-50s, this has been matched by a relentless rise in baby boomers with substance abuse problems.
Dr Tony Rao, an addiction specialist at the Royal College of Psychiatrists, said the combination of council cuts and elderly people in need of services was "a recipe for disaster".
He warned that these people are falling through the cracks in the absence of services that can deal with substance disorders as well as the complex array of medical problems seen in older people.
"They might say to someone 'come to see us at our base' – but a lot of older people can't get out – or 'come to group therapy', and older people don't like that kind of thing," said Dr Rao.
2.6 million children with alcohol-dependent parents
The data on council cuts and A&E admissions were compiled following a nationwide Freedom of Information request by Labour MP Liam Byrne to mark Children of Alcoholics Week. He said the figures revealed the "false economy" of budget cuts.
"We're spending money dealing with A&E admissions when we should be trying to tackle the addiction that lands people in hospital in the first place," he said.
The findings came as the National Association for Children of Alcoholics revealed there are 2.6 million children in the UK living with an alcohol-dependent parent.
Mr Byrne's campaign to raise awareness about alcohol misuse was backed by Mr Ashworth, who has spoken out in the past about growing up with an alcoholic father.
"As I know from my own personal circumstances, alcohol abuse can have a devastating impact on families, especially children," said the Leicester South MP.
"We are seeing more admissions to hospital where alcohol is a primary cause, deaths from substance misuse at high levels and yet rather than expanding specialist treatments services, deep cuts will be imposed on them again.
"This fails some of the most vulnerable in society. Government ministers must reverse these cuts as a matter of urgency."
Plummeting public health grants
Public health grants are made to councils to cover public health programmes including drug and alcohol services, initiatives to tackle obesity, sexual health and children's services.
The core public health grant has fallen by 25 per cent per person since 2014/15, amounting to a £900m real terms reduction over five years, according to analysis by the Health Foundation.
A Local Government Association spokesperson said councils are committed to ensuring people across the nation can access the right support and treatment.
"We have long argued that reductions by central government to the public health grant in local government is a short-term approach and one that will only compound acute pressures for the NHS and other services further down the line," they said.
In response to the findings, a spokesperson from the Department of Health and Social Care referenced the "heartbreaking" numbers of children growing up in the UK with alcohol-addicted parents.
"In December we committed to fund the National Association for the Children of Alcoholics' helpline expansion, so that more children in this difficult position have rapid access to support and advice," they said.
"Robust government action has led to a fall in alcohol consumption in recent years – but we remain committed to tackling alcohol-related harms and protecting the innocent victims of addiction such as children of alcoholics."
[link url="HTTPS://WWW.INDEPENDENT.CO.UK/NEWS/HEALTH/ALCOHOL-DEATHS-COUNCIL-FUNDING-CUTS-DRUG-ADDICTION-SERVICES-AUSTERITY-JONATHAN-ASHWORTH-A8772301.HTML"]UK facing 'addiction crisis' as councils cut funding for treatment while alcohol-related deaths soar[/link]