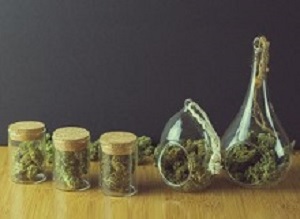 Despite the law change on 1 November, few patients in the UK will be able to access medicinal cannabis because the legal implications of prescribing products that cannot be tested or licensed in the same way as conventional medicines, means that most are refusing to do so.
Despite the potential to help thousands with conditions like epilepsy, multiple sclerosis and nausea from cancer treatment, it has been learned that most doctors are so far refusing to prescribe.
Medicinal cannabis prescriptions have already been approved for Alfie Dingley and Billy Caldwell, two boys with rare forms of epilepsy whose parents' campaigns were instrumental in changing legislation. But, the report says, other families in a similar position who have applied for licences through a temporary approval panel are being "frustrated" by flat refusals from their doctors.
Alfie Dingley's mother, Hannah Deacon, helped coordinate a public campaign to access the cannabis extract helping Alfie "live a normal life" and now works as an ambassador for cannabis campaign group End Our Pain. She has been working with 16 families who have been trying to access cannabis for their epileptic children, but in all but two cases the families were refused by their doctor when they asked to try the treatment, while the families who had their paediatrician's support were rejected by the temporary approval panel and told to try a medicine not currently licensed in the UK. "It's very frustrating because all the families are coming back to me saying 'my doctor still says they won't do it'," Deacon added. "They have all tried everything available to them, and their children are still very, very sick. So, they're prime candidates for trying cannabis medicine – it might not work for them like it does for Alfie, but when you're in that situation you just need to try everything."
The report says the cannabis treatment used by Alfie is a "whole plant extract" which contains dozens of cannabinoids and chemicals called terpenes. Many patients report greater benefits from these extracts than cannabis-derived pharmaceutical products which contain just one or two cannabinoids, but they cannot be tested or licensed in the same way as conventional medicines.
This could pose legal problems for doctors, the report says. "If a neurologist prescribed private, medicinal cannabis for a multiple sclerosis symptom, and some side effect or harm happens to the patient, even if it's mild, then legally that neurologist is in great difficulty if there is no license for that (cannabis preparation)," Dr Waqar Rashid, a consultant neurologist at St George's Hospital specialising in MS said.
In Rashid's view, the only system that could protect doctors and their patients would be to prescribe through a registered medical trial – potentially limiting numbers and increasing costs.
"To say people can prescribe this from November is not correct, really," he is quoted in the report as saying. "Even with the best will in the world we're looking at very selective numbers of neurologists prescribing this and it would need the infrastructure to support it."
[link url="https://www.independent.co.uk/news/health/medical-cannabis-uk-marijuana-weed-nhs-doctor-law-change-treatment-alfie-dingley-billy-caldwell-a8609126.html"]The Independent report[/link]