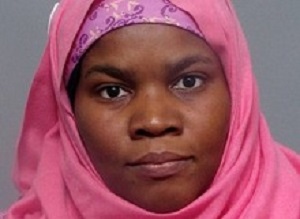 More than 1,500 UK doctors have signed a letter expressing 'deep-seated concerns' at junior doctor Hadiza Bawa-Garba being struck off the medical register following a manslaughter conviction, arguing that this threatens the 'culture of openness' that is critical to learning from medical error through honest self-appraisals.
A crowdfunding campaign has been launched to pay legal costs for a junior doctor who was struck off the medical register following a conviction for manslaughter. The Guardian reports that more than £160,000 has been raised in support of Dr Hadiza Bawa-Garba, who was found guilty of manslaughter by gross negligence in 2015 over the death of six-year-old Jack Adcock.
The boy, who had Down's syndrome, died 11 hours after being admitted to hospital following a heart attack brought on by septic shock due to a virulent form of pneumonia. Bawa-Garba was sentenced to two years in prison, suspended for two years, and had originally been given a 12-month suspension from practising medicine.
However, the the General Medical Council (GMC) appealed against that decision at the High Court in London and called for Bawa-Garba's "erasure from the medical register".
The report says the decision was welcomed by Adcock's parents, but it has angered thousands of doctors and supporters who say Bawa-Garba was partly convicted on the basis of evidence used from her own self-appraisal as part of her e-portfolio. More than 1,500 doctors have since signed a letter expressing their "deep-seated concerns" at their colleague being struck off. In the letter, they argue that the ruling threatens the "culture of openness" that is critical to learning from medical error and would result in others not being honest in their own self-appraisals.
The CrowdJustice campaign was set up by the junior doctors Moosa Qureshi, James Haddock and Chris Day, who said they were raising the money so that Bawa-Garba "can be offered additional independent expert legal advice in respect to challenging the decision that she be permanently erased from the medical register". They also plan to seek advice about her criminal conviction for gross negligence manslaughter. The doctors are quoted in the report as saying: "Dr Bawa-Garba's case has extraordinary ramifications, with large numbers of doctors recognising that her conviction puts all doctors at risk in the context of a healthcare system which is clearly bearing enormous stress at a national level.
"The case also has implications for patient safety across the UK because healthcare professionals will henceforth be reluctant to share knowledge openly or reflect on clinical errors for fear of criminal prosecution."
Bawa-Garba's former educational supervisor, Jonathan Cusack, said in the report: "This case is crucial to patient safety and as those supporting Dr Bawa-Garba we would welcome a fully independent legal opinion."
In response to the support Bawa-Garba said she was "overwhelmed with gratitude" and that she plans to employ a top legal team to review the High Court's decision as well as the criminal conviction.
The report says the GMC's CEO, Charlie Massey, defended its decision to push for erasure and said: "We know the strength of feeling expressed by many doctors working in a system under sustained pressure, and we are totally committed to engendering a speak-up culture in the NHS.
"Doctors should never hesitate to act openly and honestly if something has gone wrong."
GP Survival has written to British Medical Association chair Dr Chaand Nagpaul warning that 'hundreds of colleagues' had told the organisation they would no longer take part in 'meaningful written appraisal' after the GMC won the bid to strike off Bawa-Garba. GP Online reports that the letter comes as BMA GP sessional subcommittee chair Dr Zoe Norris – who works as an appraiser – said she would advise all doctors to consider amending their appraisal reflections to read: 'I am happy to reflect on this case one-to-one with my appraiser. However, following the unjust treatment of a UK doctor by the GMC on 25 January 2018 I am not prepared to reflect in writing.'
The report says concern over the handling of Bawa-Garba's case comes after reflective writing from her e-portfolio was used in evidence in a crown court case that found her guilty of manslaughter by gross negligence in 2015. The manslaughter conviction related to a case in which a six-year-old boy died at Leicester Royal Infirmary in 2011.
GP Survival warned that the outcome of the case against Bawa-Garba showed that the blame for system failures in an overstretched NHS was being placed unfairly on individual doctors.
The report says GP Survival chair Dr Alan Woodall wrote the "unforgivable" decision to strike her off meant that "no doctor can now feel safe in agreeing to cover rota gaps, and no sensible doctor can agree to take on additional work to cover for the failings of the system".
The letter calls on the BMA to ask the House of Commons health select committee to investigate whether the GMC is fit for purpose, to lobby government for "legislative change to combat the increasing trend to criminalise medical error", as well as calling for support to boycott reflective entries for appraisal. Woodall wrote: "I have rarely seen such anger and demoralisation as I have over the past week among all professionals in the NHS. Radical and urgent reform of regulation is needed to change the culture that has evolved before it causes wholesale collapse of the NHS."
The report says Woodall's letter comes amid widespread concern over how Bawa-Garba's case was handled and its implications.
Health secretary Jeremy Hunt has said he is "perplexed" at how the GMC has behaved in this case, and expressed deep concern over the potential impact of the decision on "learning and reflective practice" and how this could undermine patient safety.
The report says leading medical organisations have also spoken out about the impact the case could have on patient safety.
Nagpaul said: "This is a tragic case for all those involved. However, the implications of this ruling, and the GMC's approach, have caused widespread concern among doctors who are increasingly working in an NHS under extreme pressure.
"The case also raises questions and concerns about how doctors' reflections, which are an important tool for learning and professional development, are used. It is important that patient safety is not undermined through clinicians being deterred from engaging with reflective practices about patient care for fear of reprisal."
Whilst the Academy of Royal Medical Colleges did not wish to comment on the specifics of the case, it has outlined issues which it says must be addressed as a matter of urgency, says a report on the National Health Executive site. It argues that doctors in training must be given adequate supervision, even in stressful, pressured environments.
The report says the Academy argued that decision making must have sufficient consultant oversight in order to protect both junior doctors and their patients, whilst allowing them to work and develop. Safe and effective care is delivered through systems, each part of which must function. The Academy has warned that this includes safe staffing levels, functioning IT, and supporting those returning to work.
It added that these systems must be "scrutinised as a whole and improved in the light of near misses, safety incidents or patients being harmed."
Nagpaul said that the medical profession is at "crunch point" and echoed the sentiment that the case has raised wider concerns about how to protect patients and support doctors working in a health service which is under "extreme pressure."
He explained that a number of factors, including a lack of resources and staff shortages, combine to impair clinicians' abilities to provide safe, high quality care. "It is vital that these critical system pressures are addressed by politicians, as well as this being fundamental to the GMC's aim of ensuring patient safety."
The Academy added that staff must be able to reflect honestly, openly and safely, without fear of recrimination as part of the learning process: "The threat of this being used in a potentially negative way may potentially promote a lack of candour as well as loss of learning opportunities."
Nagpaul also expressed concerns that how this important professional development and learning tool is used: "It is important that patient safety is not undermined through clinicians being deterred from engaging with reflective practices about patient care for fear of reprisal.
"It is vital that we promote a culture of support and openness in the NHS that addresses the root causes of the pressures undermining doctors' ability to do their best for patients."
Dr Punam Krishan, a GP in Glasgow writes in a Pulse Today report: "As a passionate and dedicated doctor and as an equally tired and often exhausted mother, I read the verdicts of our GMC and judicial system about a fellow doctor mum with gut wrenching sorrow and insurmountable rage.
"A little baby has died, never an outcome wished by anybody. I cannot imagine how the family are feeling and truly pray that wee Jack rests in peace. On the other side, there is a mother who has been robbed of her entire existence with a criminal record and is now a blacklisted doctor. How is she? What is her life now? What future do her kids have? I cannot even try to imagine the darkness over this family. A death of many sorts, something that has left us – as a nation – numb.
"This could have been me. It could have been my friend. It could have been any doctor anywhere in the world who goes out to work every-day with the sole intention to do no harm. Never does it cross our minds that anything less than perfect is acceptable. We are intuitively this type of person. This then gets engrained through military medical training and further through our daily practise. We do not want to harm.
"We wake up in panic, we obsess over detail. We cry into our pillows and pray only to deliver our best. Many of us end up on medication to manage our work-related anxieties because we are terrified of this very outcome that we have watched take place in modern day Britain today.
"To go beyond the duty of care is a concept we understand, for we do it on repeat every single day. We leave our own babies, our own elderly, unwell or vulnerable relatives, our own domestic turmoils at home to come out and take care of all of yours. Is this even a consideration for mankind these days?
"I understand, from speaking to several paediatric colleagues, that Dr Bawa-Garba was arrested two weeks post-partum, torn away from her exclusively breastfed baby on a charge of manslaughter. Questioned for over seven hours, putting her own baby at risk of dehydration, this has been allowed in our country today. Is this what our society now accepts as right? Prior to this the same people would have praised her for being an exceptional and outstanding doctor. Left hung out to dry by a blame culture profession and an unforgiving society, this is the fate of medics today.
"We are doctors. We are not God. We are not superheroes and do not have special powers to transform life. We can also make mistakes but the difference between our job and every other person's job out there, is that our mistakes can directly harm life.
"That is why when we say, 'we are tired working these horrifically long hours back to back', the government needs to listen to us. When we say we are hungry, having not had a bite to eat in 12 hours, management needs to factor in time for our breaks so we can feed ourselves. When we are stressed, the NHS must recognise the need for support to be given to us. If we cannot have these basic rights, how can we be expected to perform at 110%? How can we never misjudge or make an inadvertent error? We are struggling as a profession and yet today we witness brutality to someone who was trying her best to medically manage many sick patients without any senior support.
"Even at a supermarket checkout, one customer gets managed at a time. Everyone is happy to wait their turn. People still go off sick with stress. We manage a hundred patients a day, sometimes at the same time. We have hundreds of results thrown at us all to be actioned there and then. We have bleeps going off every few minutes, charts being presented, relatives questioning, managers moaning and not to mention the ticking clock constantly echoing in our ears. We are one person. Help us.
"We don't moan for money, we moan for our sanity because long after our patients leave us, we still go over their story in our heads and reflect on anything else we could've done to be that extra bit more perfect.
"We get let down by everyone and are respected by few. The only one thing we all had until now was hope that our own medical council would look out for us; that our council would review the blame culture and understand a team is what delivers good patient care, not an individual person. Our council needs to look beyond inaccurate data and look at the facts without fear of what 'everyone will think'.
"For the public to understand, we do what our medical council set out for us as good medical practice. We can recite these principles for they are our daily mantra. We do our annual appraisal and we log our personal development journey, which is experiential. We are the most self-critical beings out there who are constantly striving for perfection. We rarely compliment ourselves but rather focus on our flaws. But now we learn that all of this could actually be used as evidence to condemn us of crime in the absence of professional integrity by fellow colleagues. Wow!
"Moving forward, shall we be practicing defensive medicine or shall we be doing the right thing? Will the right thing cause us harm later down the line? We are truly damned if we do and damned if we don't. I don't think a junior doctor will ever want to reflect again which is a sad, sad loss to what was a highly effective and useful personal development tool.
"A message to those senior doctors too who are out there, who may find it easy to sleep whilst their juniors are doing their work, afraid of not wanting to disappoint their bosses. Let this case be a learning point for you. Do your job, be where you're meant to be and never forget your professional integrity and responsibility to your trainees. They look up to us to teach them through example. Let us all work together and support one another because the powers that be will never do this. If we can't take care of our own, we may as well all quit medicine and live with mistakes that won't tear us away from our entire existence."
[link url="https://www.theguardian.com/uk-news/2018/jan/28/hadiza-bawa-garba-doctor-struck-off-over-six-year-old-boy-death-crowdfunding-drive"]The Guardian report[/link]
[link url="https://www.gponline.com/gps-boycott-reflective-entries-appraisal-bawa-garba-case/article/1455704"]GP Online report[/link]
[link url="http://www.nationalhealthexecutive.com/Health-Care-News/dr-bawa-garba-case-reveals-deeply-concerning-issues-in-nhs"]Report on the National Health Executive site[/link]
[link url="http://www.pulsetoday.co.uk/your-practice/practice-topics/legal/dr-bawa-garba-could-have-been-any-one-of-us/20036066.article"]Pulse Today report[/link]